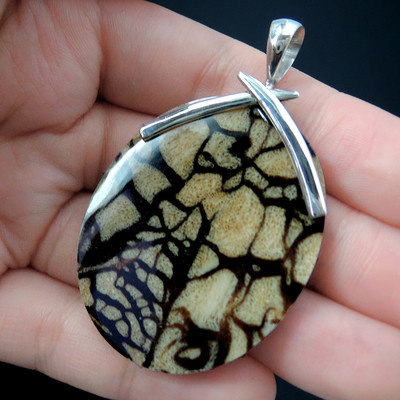 Tiger Coral is a term used to describe the spongy Southeast Asian Red Coral that has been treated with heat. The original Red Coral is a deep red with orange patterning and when treated with heat changes in colour to a light creamy-brown with black or brown patterning. The resulting coral is beautiful and unique and can be used to make wonderful and original coral jewellery from a natural material from the sea. As with Red Coral, Tiger Coral must also be injected with resin to a) protect the coral from humidity, b) to provide a smooth polished surface which is more suitable for the creation of beautiful jewellery, and c) occasionally to enhance the colour of the coral.
The tiger coral jewellery usually displays the porous nature of the coral. For jewellery requiring larger pieces of tiger coral, sections of coral may be joined together to form a larger coral piece more suitable to making larger pieces of silver jewellery.
Examples of Tiger Coral jewellery can be found in our collection of solid 925 sterling silver jewellery which include pendants, earrings, bracelets and rings.
Below are some photos showing a piece of natural red coral that has been subjected to heat. It becomes "Tiger Coral":