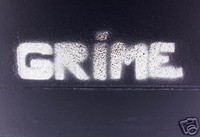 UK Grime is a genre of music which has been developing in London's underground since 2002. Grime's tempo is around 140 beats per minute. Style of flow also varies but its most common for rappers or MCs to "spit" double time or aggressively over the beat.
Grime can often be dark and aggressive, featuring MCs as opposed to singers and getting rid of the R&B influences of earlier the UK Garage music.
The success of uk grime has got a lot to do with the pirate radio scene in London, with many performers practicing their skills and getting an underground reputation before going 'mainstream'.
Before uk grime there was the uk garage music scene in the UK. But when certain producers and MCs started talking things to a new darker, harder and more aggressive level there was a clear split in the scene. Hence in around 2002 the term grime was born and since then the scene has grown and strengthened.
The Pay As You Go Cartel were arguably the first crew to make a name for themselves through pirate radio. The 'crew' mentallity meant that MCs would work in groups with just one or two DJs to develop a unique style together. The Pay As U Go was a crew from the East London. The Cartel had ten members aged between 19 and 23, with DJs Target, Slimzee and Geeneus, and six MCs - Wiley, Major Ace, Plague, Gods Gift, Flow Dan, vocalist Dom P and Maxwell D. The crew even had top 40 chart success in the UK in 2002 with 'Champagne Dance' which took them to a performance on Top Of The Pops.
Since 2002 the crew culture has really taken off in London with now well known crews such as Roll Deep, Nasty Crew, Ruff Sqwad, East Connection & More Fire Crew all recieveing some form of commercial success.
However there has only been one grime mc to really take their career to the next level - Dizzee Rascal. He began his MCing when he was 15 on pirate radio in East London and eventually joined the Roll Deep crew where he teamed up with Wiley who is now recognised as being one of the founding producers of the uk grime scene. After having an underground hit with 'I Luv U', Dizzee Rascal signed to XL Recordings and his debut album gained worldwide critical acclaim. Since then he has gone on to perform all over the world and is now working on his third album.
With Dizzee Rascal paving the way, other MCs have gone on to sign record deals and release albums such as Wiley from Roll Deep and Kano from The Nasty Crew. But the current trend in the uk grime scene is for MCs and producers to release Mixtapes as well as the traditional appearances on the pirate radio circuit. Artists such as Tinchy Stryder, JME, Demon, Ghetto, Bruza and many more have released profesionally produced UK Grime Mixtapes.
Show your support for the UK Grime scene and vote for this guide below!!