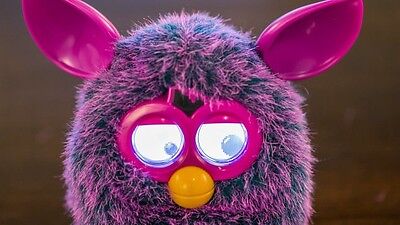 A neon animatronic gremlin toy designed to be handled regularly by children. If you're familiar with the Furby of 1990s infamy, it's pretty much the same deal—only everything has been thrown through the Large Hadron Collider, accelerated to an unconscionable degree of loud, bright, and wiggly. It has LED eyes. A toy for kids has eyes filled with liquid crystal diodes and an unfathomable number of transistors.

Using it
----------

You don't really "use" the Furby so much as you willingly subject yourself to it. The Furby makes almost constant noise in its own native language, Furbish. Chortles, whistles, grunts, whines, moans, screeches, incoherent speaking in biblical tongues. Occasionally it'll drop in a charming English fragment like "Me hungry!" or "I funny," but these are the exception. Furby claims it will learn more English the more you speak to it, but over two weeks of attentive Furby-sitting, this simply didn't happen.


Who Is It For?
--------------------

Children. Young adults .. I think all ages inculcing us adults

Overall this is a great toy for children of all ages and the adult kids that want to have a little bit of a childhood toy back.
Prices vary on websites but the best prices ive seen have been on ebay with good reviews.