There are 3 main differences Between the boots even though a lot of boots can be worn for both.
1) Rugby boots have a wider platform to transfer more power when rucking and mauling as well as running as you push more from the front of the foot.
2) The Studs for rugby in most counties have to have the Kitemark on them, where football you can have anything really(Nylon Banned in some areas)
3) Football boots are made for kicking, Rugby boots are made for power transference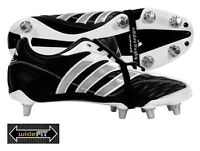 In rugby the front-row players use boots that goes up to their ancles, not the same with back-row players.
Football boots have smaller studs and some of them even have a different shape of stud.

Front row ruggers usually wear the higher-cut boots and the back rows can usually wear regular ones.
Football Boots tend to have a much lighter feel and a lot more colour.