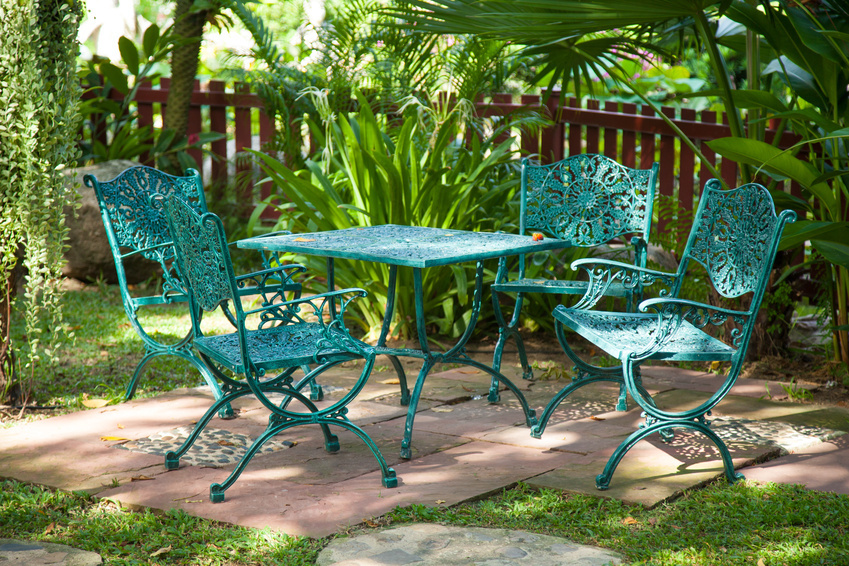 Furnishing your garden is a fun part of owning a home. As you think about various types of garden furniture, consider selecting some metal garden chairs. Do some research on the chairs to discover what styles are available, what materials you can choose, and how the garden chairs hold up under various kinds of weather. Once you have that information and you know the style you want, you can select beautiful metal chairs to provide seating in your garden.
Materials for Metal Garden Chairs

Aluminium is one popular material for garden chairs since it is lightweight and resistant to corrosion. You can clean aluminium easily, so it is perfect if you want a low-maintenance set of garden chairs. Another popular option is steel. The flexibility of the steel allows designers to create chairs with complex, beautiful shapes and patterns. Choose galvanised steel or stainless steel chairs to keep rust at bay. Steel garden chairs last for years and hold up well under heavy wear. Keep in mind that steel is heavier than aluminium, yet lighter than iron, the third popular option for metal garden chairs. Heavy cast-iron garden chairs are extremely durable and work well for regions that endure high winds or severe storms.
Colours and Designs for Metal Garden Chairs

Next, think about the look of your metal garden chairs. For a quaint, old-fashioned garden, you may want some lovely antique chairs with floral or scrollwork designs in wrought iron. A minimalist mid-century garden looks good with angular chairs, possibly in a steel mesh. Use contrast to advantage in your garden, placing gleaming silver garden chairs against dark walls or dark hedges or positioning dark cast-iron chairs against a white or light grey stone wall. For a more dramatic look, select aluminium chairs that combine silvery-grey with black stripes.
Benefits of Powder-Coated Metal Garden Chairs
As you shop, notice the metal garden chairs that feature a special finish known as powder coating. Manufacturers spray powder-coated chairs with a special electrostatically charged substance. Then they place the chairs or other furniture pieces into an oven to cure them. The powder coating includes resin as well as pigment, so the process can yield chairs of any colour, depending on the chosen pigment. With a powder-coated finish, metal garden chairs are much less prone to flaking or chipping paint. They look sleek and fabulous and are much more resistant to scratches and regular wear and tear.