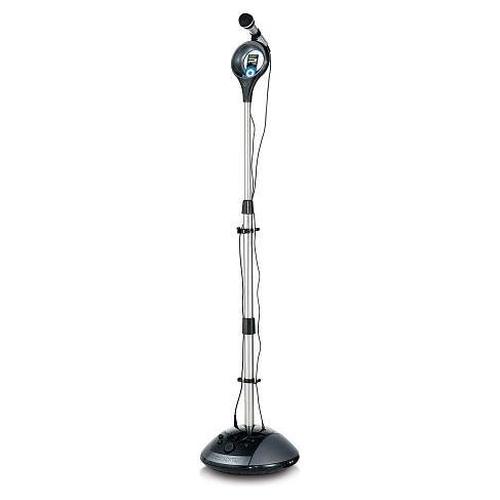 The term karaoke derives from two Japanese words: kara, "empty", and ōkesutora, "orchestra". It refers to a form of entertainment involving a recorded version of a pop song from which the lead vocals have been removed. Amateur singers sing along through a microphone; the instrumentals and live vocals are then mixed and played through a public address (PA) system. Karaoke systems include a graphic element, with pictures or video, and a display of song lyrics to guide the singer. Karaoke emerged in both Japan and the Philippines in the 1970s as a form of entertainment and amusement at parties. Its popularity spread throughout Asia and other countries worldwide, where it is featured at nightclubs and also as home systems.
There are many different options when it comes to setting up a karaoke system at home. Fortunately, there is something for everyone, from inexpensive all-in-one machines to elaborate professional setups. Consumers should research their choices and decide which make the most sense given their intended use, space availability, and budget. Doing so helps them find a karaoke system that is right for them.
Karaoke Formats
One of the first steps when choosing a home karaoke system is to understand the different formats of karaoke music and graphics. Karaoke CDs were the standard for years, but as karaoke evolves along with technology, the options are expanding.
CD+Gs
With the development of the compact disc, the CD+G became the dominant format for karaoke songs. These discs usually feature about nine songs, with an additional information layer containing song graphics that appear as video content. Buyers should beware of discs that claim to contain thousands of songs, since these most likely contain MIDI music rather than real instruments; in addition, most disc players are not MIDI-compatible.
CD+G discs require special players that can read their graphics layer. While ordinary DVD or CD players may play the music, they cannot read the additional information.
DVDs
Karaoke DVDs are another popular choice, compatible with all DVD players, as well as multi-format karaoke players. These are a convenient choice for people who already have a DVD player; however, to complete the karaoke system, additional equipment is necessary, such as a microphone and speakers.
MP3+G
MP3+G files are an increasingly popular format for karaoke music. MP3+Gs are ripped from CD+G tracks into a compressed form using special software. Karaoke MP3+Gs are available for purchase, and can be stored on a hard drive for easy access. MP3+G files can be played by a karaoke machine with a hard drive, or through a laptop computer.
The Karaoke Cloud
The so-called karaoke cloud is an online library of karaoke songs that can be used through various subscription services. Users pay a monthly or annual fee, which allows them to access tracks via smartphones, laptops, or other devices with an internet connection.
Different Home Karaoke System Setups
Choosing a home karaoke system can be daunting, given the range of choices. Users should first decide which format is best for their personal needs, as discussed above. Next, they should evaluate their home audio components, and think about how they plan to use their karaoke system.
All-In-One Karaoke Systems
All-in-one karaoke systems are perhaps the easiest way to acquire a complete home karaoke setup. These systems contain the major components, including a player, mixer, and amplifier, as well as required cables. All-in-one systems differ in their completeness, however. Some include a display screen, speakers, and a microphone, while others need to be connected to a television and external speakers.
Magic microphones are a space-saving option. These setups consist of a main station that connects to a laptop or high-definition television for display, and one or two wireless microphones, which can also function as remote controls. These units generally come with a library of songs, as well as a USB port to upload additional files and save their own recordings.
Karaoke systems come with different functions and controls. These may include features like recording, various playback modes, personalised video and picture displays, key modulation, echo, graphic equalisers, and more. When comparing models, consumers should consider what features are most important to them. They should also verify which formats the system supports (CD+Gs, DVDs, and/or MP3+Gs), and whether their laptop or television is compatible with the device.
All-in-one players combine convenience and portability, and some can be quite affordable, making them a good choice for occasional use or easy transport. However, the sound performance is generally of lower quality than professional home systems, which are discussed below.
Professional Home Karaoke Systems
A more professional-style karaoke system features separate components, including a player, a mixer-amplifier, microphones, and speakers. Graphics are generally displayed through a television or laptop computer, to which the player is connected. The main advantage with this type of system is that, by selecting quality components for the sound system, home karaoke users can enjoy the powerful performance of a professional system.
Components of Professional Home Karaoke Systems
Professional home karaoke systems are broken down into four main components. The following chart outlines the basic function of each.
| Component | Function |
| --- | --- |
| Player | Reads song and graphics information from a given format |
| Microphone | Picks up the singer's voice and converts it to electric signals, which then travel to the mixer; can be wired or wireless |
| Powered Mixer | Mixer combines and modulates audio signals from microphone and player; amplifier increases loudness of audio signal, which is then sent to speakers |
| Speaker | Electric audio signal is converted to sound: signal causes movement in driver (speaker) cone, which in turn sends out sound waves |
Choosing quality components can make a significant difference in a home karaoke system's performance. Buyers should familiarise themselves with some basic specifications for each one.
Cables are needed to connect the various components; in many cases, these need to be purchased separately. Check product specifications for details on which type of cable is required.
Karaoke Player Options
There are several different types of karaoke players. They differ in supported formats, features, and price. Multi-format units are designed to handle CD+Gs, DVDs, and, in some cases, the more rare VCD (video compact disc). Most newer models are also equipped to play MP3+Gs, and even convert CD+Gs to MP3+G format, which can then be stored on USB stick, memory card, or external hard drive. They generally feature options such as various ripping speeds, song list creation, recording, and a remote control.
Hard-drive karaoke players streamline karaoke music collections by allowing users to import and store thousands of songs. This eliminates the need for discs, which can be an excellent option when space is limited, and for those who do not already have an extensive karaoke disc collection.
DVD players are capable of reading karaoke DVDs. This eliminates the need to buy a separate karaoke machine, but limits the user to one kind of format.
Laptop computers can also function as karaoke players, provided that they have the proper software. This option can be ideal for limited spaces, allowing users to download, upload, store, and play karaoke files, all on one device. For those interested in a karaoke-cloud subscription, this is also a good option. Karaoke software, which must be installed on the laptop, has many of the standard features, including title searching, singer history, and more.
When selecting a player, consumers should note the connectivity options. They must be compatible with other system components. Multi-format and hard-drive players usually have composite video outputs, which work with most televisions. Laptops may have an s-video or HDMI output. For older televisions that support VHF (very high frequency) format, a radio-frequency (RF) converter can be used to connect to convert s-video or composite video to VHF. Finally, depending on the sound system used, consumers should check whether the player is equipped for stereo or surround sound.
Karaoke Powered Mixers
Powered mixers let users adjust different audio signals to create the perfect balance, and then amplify the power of the signal before sending it to the speakers. This can make a big difference when it comes to creating a polished, professional sound.
For home karaoke systems, buyers should look for powered mixers that have at least four channels, and an output rating of over 400 watts.
Consider Speaker Power
In addition to the powered mixer, large speakers are a vital component of any professional home karaoke system. Stereo speakers are not as equipped to carry live vocals as professional PA speakers are.
Three-way PA speakers are ideal. This means that each cabinet contains three speakers: a mid-range for the middle frequencies, a tweeter for higher frequencies, and a subwoofer for low bass sounds. Having a dedicated driver for these different frequency levels means better clarity, power, and dynamics. Buyers should look for subwoofers with a circumference of at least 30.4 cm (12 inches).
The combined power output, which is the sum of the individual speakers' outputs, should exceed the output of the powered mixer.
Choose Quality Microphones
Finally, consumers should invest in a pair of quality wired or wireless microphones, such as those made by AKG or Shure. Wireless microphones allow singers more freedom of movement, but there is not much of a difference beyond that.
Buying a Home Karaoke System
Home karaoke systems are available in electronic appliance shops, music supply sources, and through specialty karaoke equipment suppliers. Many karaoke suppliers offer online or telephone ordering and home delivery. Good deals on new and used equipment can also be found through online websites like eBay.
How to Buy a Home Karaoke System on eBay
Once you have decided which kind of karaoke system you are interested in, you can browse eBay's extensive listings for all kind of home karaoke equipment, from laptop software to complete, all-in-one setups. Starting from eBay's homepage, enter keywords, such as "multi-format karaoke player", into the search bar. You can then refine your results by choosing price range, item condition, seller location, and more. eBay Shops is another good option for easy online shopping.
When you have found something you are interested in, always read the item description carefully, checking for product specifications, seller's return policy, and postage conditions and fees. You can also contact the seller with any questions you may have.
Finally, get to know a little more about the seller by looking at their feedback score, and reading comments from prior buyers. Once you have received your karaoke system, you can leave constructive feedback yourself.
Conclusion
A home karaoke system can add excitement and fun to small and large gatherings, proving hours of interactive entertainment for all ages. There is a wide range of karaoke systems available, for everyone from the casual, occasional user, to professional-level karaoke enthusiasts. Given the number of choices, buyers should carefully consider their individual needs before shopping for a karaoke system.
Deciding on which formats they want to use is the first step, as this dictates what kind of equipment they will need. Next, they should assess whether a simple, all-in-one setup is right for them, or if they want to invest in a more elaborate, professional system. Those opting for the latter need to decide what kind of player best fits their needs, and should look for a quality sound system that includes quality microphones, a powered mixer, and PA speakers equipped for live vocals.
By informing themselves of their options, consumers can find a home karaoke system that will be the life of their next party.