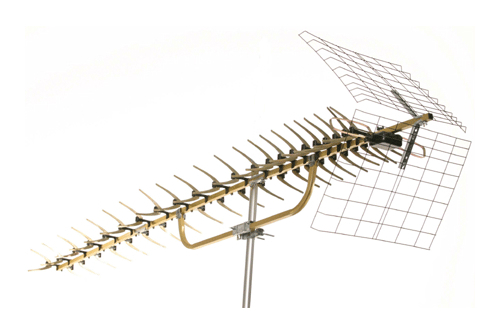 By using a TV aerial, one can receive various local and national television channels. Depending on the type of aerial one chooses for a particular location, the reception should be clear and strong. When buying a TV aerial, there are several options to consider. The two more common types are indoor and outdoor aerials. Aerials may be directional or omnidirectional, depending on their location in relation to the transmitting stations. Many buyers have aerials that pick up VHF or UHF signals, and the position of the TV aerial and interference can affect the ability to transmit a clear image. Some buyers choose digital or amplified aerials to receive greater picture quality.
When buying a TV aerial, a shopper can head to specialty audio visual stores, electronics stores, or hardware stores, where one should find a wide range of aerial options. Alternatively, buyers may choose to shop online for new TV aerials. eBay is an online auction site where buyers can find the desired TV aerials at competitive prices.
Indoor and Outdoor TV Aerials
A consumer has the option of buying an indoor aerial or an outdoor aerial. Choosing which type depends on whether the consumer is limited as to where the TV aerial can be installed. Both indoor and outdoor aerials offer their own sets of advantages and disadvantages that may be appealing to different segments of consumers.
Indoor TV Aerials
An indoor TV aerial is called a dipole aerial and is more commonly referred to as bunny ears. Traditionally, it consists of a base with two wires extending out of it. These wires are extendable and are designed to be positioned in order to get the best reception. Some indoor aerials look different from the bunny ear type. Some aerials are box shaped, while others look more like a miniature version of an outdoor aerial.
Buyers have the option of buying digital indoor aerials or amplified indoor aerials. A digital indoor aerial takes up less space than traditional bunny ears and is easier to position accurately. A digital aerial is designed to receive digital television signals as opposed to just picking up analogue signals. An amplified indoor aerial helps to pick up a stronger signal than a traditional indoor aerial is capable of. It is useful for those who are unable to get a clear signal with any other type of indoor aerial.
The advantage of using an indoor TV aerial is that it is inexpensive as well as easy to install and set up. The disadvantage of using an indoor aerial is that it is more susceptible to radio interference from building walls and other wireless devices in the home.
Outdoor TV Aerials
Outdoor TV aerials are more commonly used than indoor aerials. An outdoor aerial is usually installed on the roof and consists of bars set at a specific width apart in order to pick up a signal. Outdoor aerials can be VHF, UHF, or a combination of both frequencies. The size of an outdoor aerial is much larger than that of an indoor aerial. The advantage of an outdoor TV aerial is that it is much more powerful and able to pick up signals from a greater distance away. Although outdoor aerials are more expensive and take some time and knowledge to install correctly, they offer better reception and are less prone to interference than indoor aerials. An outdoor aerial must be positioned at as high as possible to ensure less interference and greater signal strength.
Directional and Omnidirectional TV Aerials
Choosing between a directional aerial and an omnidirectional TV aerial depends on one's location. If the consumer lives in an area when signals come from one direction, a directional indoor aerial or an outdoor aerial may be suitable. For the person who lives in an area where signals are received from a range of different directions, an omnidirectional indoor or outdoor aerial may work better.
Directional TV Aerials
Directional TV aerials are ideal for those who are located in such a position where all stations are sending signals from the one direction. In this case, a directional aerial points directly to one spot. This type of aerial offers better signal reception and less interference if it is pointed directly towards the source. Many outdoor aerials are directional.
Omnidirectional TV Aerials
An omnidirectional TV aerial is useful when station signals are being transmitted from various directions. The majority of indoor aerials are omnidirectional. Buyers may choose outdoor omnidirectional aerials if they are able to place the aerial on a roof to receive signals from various directions.
VHF and UHF TV Aerials
Digital television signals are sent via either VHF or UHF radio frequencies. VHF stands for Very High Frequency and UHF stands for Ultra High Frequency. Some aerials are VHF only, others are UHF only, while some are both VHF and UHF compatible. The following table provides some useful information about the differences between VHF and UHF TV aerials.
| Aerial Frequency Type | Description | Frequency Spectrum |
| --- | --- | --- |
| | Designed to receive channels at the lower end of the frequency spectrum. VHF aerials may be directional or omnidirectional. Many television stations transmit in VHF. | 41-250 MHz |
| | Designed to receive channels at the upper end of the frequency spectrum. May be directional or omnidirectional. Also commonly used by television stations to transmit their signals | 470-960 MHz |
When choosing between a VHF and an UHF aerial, it is recommended that buyers check with their local television stations to find out the radio frequencies the stations transmit on. If several stations transmit on a combination of both frequencies, which can often be the case, a buyer may choose a combined VHF/UHF TV aerial.
TV Aerial Position and Interference
When buying a TV aerial, it is important to understand how one can position the aerial correctly in addition to learning about factors that can cause interference to the signal. When an aerial is not positioned correctly or has to cope with interference, the signal strength and quality of picture is reduced. When it comes to positioning of an aerial, the higher the aerial is positioned, the stronger a signal it is able to pick up. Also, an aerial located closer to the transmitting station receives a stronger and clearer signal.
An aerial's reception quality can suffer interference from surrounding buildings, hills, and other objects that cross over a signal's direct line of sight. Other wireless signals can also interfere with an aerial's ability to pick up a strong and clear signal.
Before making a final purchase decision, a buyer should become familiar with aerial positioning options and the potential for aerial interference. An understanding of these two aspects can ensure that the right type of aerial is purchased in order to receive optimal picture quality.
Other Types of TV Aerials
For those who are unable to pick up a quality signal through an aerial and wish the aerial to be more powerful, there are a few options available. Digital and HD aerials are becoming increasingly popular, as are amplified TV aerials.
Digital and HD TV Aerials
The availability of digital and HD TV aerials is becoming increasingly prevalent. However, it is important that buyers understand that digital aerials are the same as VHF and UHF aerials. Although they are designed specifically with digital HD televisions in mind, they still receive the same signals as a VHF or UHF aerial. Indoor digital aerials do offer better signal reception over the traditional bunny ears, but they still may require some movement and positioning to receive quality images.
Amplified TV Aerials
An amplified TV aerial is ideal for those who have trouble receiving a strong signal. With an amplified aerial, the strength of the aerial is boosted electronically. The disadvantage of an amplified TV aerial is that it may also amplify other interfering signals, if any.
Buying a TV Aerial on eBay
To find a TV aerial for sale on eBay, simply type "TV aerials" into the search bar on the homepage. Searching by this method allows a buyer to get an overall view of the TV aerials that are available for sale on the website. Those who want to search more specifically, for example, to find a caravan aerial or a digital VHF aerial, may enter either of these phrases into the search bar. Alternatively, shoppers can use the search category options available on the website. These search categories allow a buyer to search by condition, price range, seller, or buying format.
In order to make buying easier and more convenient, eBay offers mobile applications. With this feature, buyers can have eBay at their fingertips, enabling them to shop anywhere at anytime. It allows users to stay current with their eBay activities and use alerts and notifications so that one does not miss out on that great deal. Downloading the applications is simple, free, and quick, and it is available for iPhone, iPad, Android, Blackberry, and Windows Phone users.
Conclusion
A TV aerial allows one to watch television without having to pay for expensive monthly satellite channels. With a TV aerial, one can receive access to free-to-air channels. Buyers have a range of TV aerials to choose from. Each type of aerial is designed to offer optimum transmission power within different settings and locations. TV aerials are divided into two categories: indoor aerials and outdoor aerials. TV aerials can also be directional or omnidirectional, depending on their location and the signal strength they can receive. The position of the TV aerial and its location can interfere with an aerial's ability to receive a strong signal, so a buyer needs to take these factors into consideration during a purchase. One may also consider the digital TV aerials or amplified aerials that incorporate newer technologies.
Many consumers find shopping on eBay a useful way to find the desired aerial at a competitive price. With eBay's simple search methods, reputable sellers, and secure payment options, finding the right TV aerial of one's home need not be a challenging undertaking.