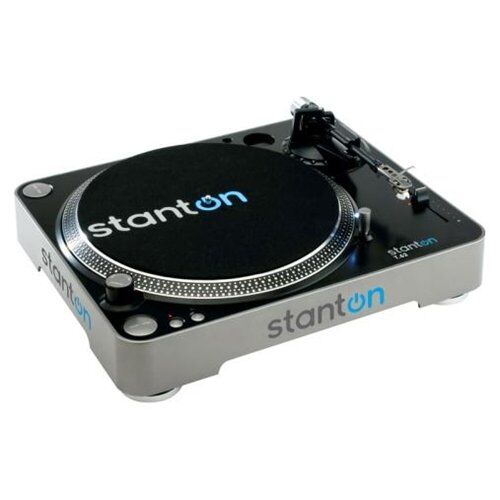 Anyone who enjoyed music during the 1960s and 1970s were most likely owners of a stereo system that included an audio turntable. While eight-track and cassette tapes provided audiophiles with ways to listen to music, turntables were overwhelmingly the choice for enjoying high-quality audio. The advent of compact discs during the early part of the 1980s slowly eroded the popularity that turntables had for nearly two decades. Once considered a dinosaur among audio equipment, turntables are making a surprising comeback as an integral part of contemporary home entertainment systems. At the most rudimentary level, turntables smoothly spin vinyl records. However, turntable performance hinges on many factors.
Consumers can find turntables at electronics shops that specialise in selling stereo components. They can also find turntable bargains on the leading online auction site, eBay. Some eBay sellers may offer nearly mint condition turntables at discounted prices because they either purchased the wrong model or they changed their minds about making a turntable a part of their stereo system. Before buying an audio turntable, consumers should learn about the reasons that turntables have made a comeback, the most common parts of turntables, some of the more popular models and their performance features, and the numerous factors to consider during the turntable buying process.
Reasons for Buying an Audio Turntable
Audio turntables are in the midst of a popularity renaissance not because of the retro movement that has pervaded the fashion world. Turntables have made a comeback because the newest renditions provide consumers with functionality. While the reasons for buying an audio turntable vary amongst consumers, there are three common impetuses behind the rebirth of the audio turntable.
Better Sound Quality
Serious audiophiles, especially those who work in the music recording industry, understand that turntables provide users with incomparable high-quality music sound reproduction. Audio turntables allow users to upgrade sound quality by changing the turntable cartridge, adjusting the platter, reconfiguring the tone arm, and enhancing the power source. Audiophiles also promote turntables as a music source that projects a warmer and richer sound. The analogue versus digital debate continues to rage, but any serious audiophile who reads Internet forums finds that an overwhelming number of music fans prefer vinyl.
Digital Downloads
For those who cannot wean themselves off of digital music, take solace that it has become a music industry standard to include digital downloads with vinyl records. Buying the dual format of the same album costs just a bit more than buying the digital download alone. Consumers who go the dual route can also judge for themselves which playing format produces the better sound.
The Human Touch
While many people lament the dehumanisation of technology, they fail to recognise how playing vinyl records is, as one music critic wrote, "immersive". Thumbing through a record collection until the fingers land on the spine of an album chosen for play involves more sensory perception than simply clicking a download button to listen to digital music. From blowing dust from the stylus to carefully setting records on the platter, audio turntables provide more opportunities for interaction with the music.
Parts of a Turntable
Consumers cannot expect to find the right turntables if they do not learn about the basic parts of an audio turntable. Even though technology has created new turntable components, the following parts are standard on most turntables. Manufacturers may introduce nuanced differences, but the purpose of each part remains the same.
Dust Cover
One of the greatest threats to a record's sound integrity comes from dust, dirt, and other debris that can land within the very narrow grooves of a vinyl disc. Turntable dust covers prevent records from becoming soiled or scratched, as well as protect records from larger, falling objects.
Arm
Often referred to as the turntable tone arm, the arm sits on a latch at the side of a turntable until the user picks it up and moves it over the spinning record. Manufacturers design turntable arms with counterweights on the opposite end of the arm to prevent the needle from digging too deep within a vinyl record.
Platter
Records sit on a circular, black disc in the middle of a turntable. The platter spins at different speeds called revolutions per minute (RPM). The most common RPM speeds for consumers are 16, 33, 45, and 78. Disc jockeys often utilise turntables that possess two platters for faster transitions between songs.
Turntable Performance Factors to Consider
Manufacturers construct most audio turntables with numerous components that seamlessly interact to provide users with high-calibre sound projection. Certain component combinations enhance turntable performance. The following chart summarises the components found in the five most popular turntables.
Feature

Aurora

Calypso

Resolution Classic

Resolution

Sovereign

Advanced DC10 motor supply

Yes

No

No

No

No

Upgrade platter mat

No

Yes

Yes

Yes

Yes

Fully suspended sub-chassis

No

No

Yes

No

No

High-performance armboard

No

No

No

Yes

Yes

Upgrade transformer

No

No

No

No

Yes

DC 200 motor

No

No

Yes

Yes

Yes

Heavyweight chassis

No

No

No

No

Yes

Maximum decouping on main bearing

No

No

Yes

Yes

Yes

Weight and dimensions

12.75 kg

45 x 38 x 13 cm

12.75 kg

45 x 38 x 14 cm

12.75 kg

46 x 35 x 8 cm

15.6 kg

45 x 38 x 15 cm

32 kg

45 x 38 x 16 cm
Resolution and Sovereign turntables typically cost a little more than competing brands. This is because Resolution and Sovereign turntables are constructed with more high-performance components. Consumers can find bargains on the two high performers by looking for models that are in near mint condition.
Audio Turntable Buying Factors to Consider
After the lengthy turntable hiatus, manufacturers developed new technologies that have created more decisions for consumers. The variety of factors to consider before buying a turntable may seem overwhelming, but focusing on the most important factors simplifies the buying process. Many of the following features come down to a decision premised on personal preference.
Belt or Direct Drive
Turntable belt drives rotate platters on top of a bearing. With the motor located to the side, the platter connects to the motor with a rubber belt that spins the record. Platter isolation from the motor prevents unwanted noise and vibration. Belts also act as shock absorbers that reduce shock waves. Direct drive turntables place platters directly on the motor shaft. Therefore, a belt is not needed to spin vinyl records. Audiophiles prefer this type of drive because the consistent platter speed produces a more accurate sound replication.
Manual or Automatic Operation
Convenience is the reason to choose an automatic turntable operation. Simply set the record on the platter and push one button. Then, the turntable arm lifts and moves directly to the album's first groove to commence playing the record. Once the album ends, the automatic turntable returns the arm to its original position. Manual turntables require users to lift the arm, and then gently lower it into the first record groove. This option provides users with more flexibility to skip songs, but it also brings in the element of human error that can damage record grooves.
Phono Internal or External Preamp
Turntable needles generate minute voltages as they move across a record's groove. The voltages must be amplified to send the music through a system's speakers. Since turntables fell out of consumer favour, most receivers lack the inputs to accommodate turntable connections. Consumers who own receivers that lack phono inputs must choose turntables that possess built-in phono amplifiers or add an external preamp to the current stereo system.
USB Interface
A USB connection is a great option for users who want to transfer vinyl recordings for computer file storage and downloads. Some USB interfaces plug directly into desktop computers, while other USB interfaces record to a USB thumb drive. Most USB interfaces include software that allows users to edit and organise music as it records.
Cartridge
A turntable's cartridge comprises a number of magnets and wires that are enclosed by a housing unit, called a stylus, that mounts to the end of the tone arm. The quality of a cartridge depends on how the bundle of magnets and wires interact to replicate high-quality sound. Higher-end cartridges can add significant cost to a turntable's final price. Most cartridges should provide users with between 500 and 1,000 hours of playing time.
Speed Variation
Speed variation measures record spinning speed deviation. Album speed spinning deviation affects sound quality by changing music pitch or causing an audio wavering. Speed variations should be below 0.25 per cent.
Signal-to-Noise Ratio
Most manufacturers provide consumers with a number that indicates the level of background noise. Look for a number above 70 decibels that indicates a turntable provides more music signal than background noise.
How to Buy Audio Turntables on eBay
Audiophiles can find a wide selection of audio turntables on eBay. Simply use eBay's search engine to look for sellers who match your buying criteria. Type specific keywords into the search engine to reduce the number of search result pages. For instance, typing "Technics turntables" or "Rega turntable" reduces the amount of time you spend on an eBay turntable search. Once you find a seller who meets your buying needs, navigate to the seller's product page to review the accepted payment methods, delivery terms, and return policies.
Search for eBay's Top-Rated Sellers. These sellers have established strong reputations for selling high-quality products and running fair auctions. eBay designates the top-rated sellers by placing an electronic ribbon by seller product photographs on the main search result page. You can also review customer feedback found on seller product pages. Look for sellers who have compiled positive reviews over the past year and have eBay experience selling stereo components. Once you build a business relationship with an eBay seller, ask the seller if he or she has an eBay Store where you can directly purchase products, thus forgoing the auction process.
Conclusion
The digital age was supposed to be the death knell for anything analogue. This included the once venerated turntable, the stereo component that spun and played vinyl records. Once a mainstay of 1970s discos and home stereo systems, the turntable gave way to digital technology and it eventually faded from public view. The turntable's recent comeback is mostly due to the recognition amongst serious audiophiles that the stereo component produces superior sound quality compared to MP3 players. Moreover, turntable users can digitally download the same music that they spin from a record.
Turntables may have undergone some changes, but they still come with three primary parts: dust cover, platter, and tone arm. The quality of each part plays a significant role in determining sound quality. Consumers who are searching for the right turntable should review the performance factors of the leading models that include Aurora, Rega, and Resolution. In addition, consumers must consider a number of buying factors and rank each factor in terms of importance. Some of the turntable buying factors than can ultimately sway consumer preference include cartridge, USB interface capability, and the type of drive.