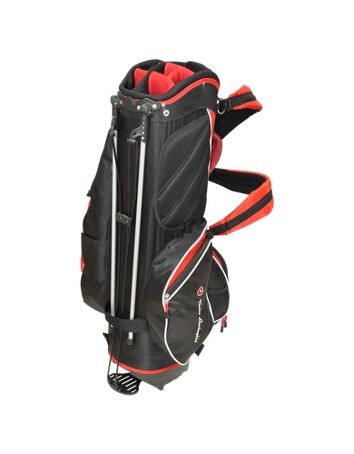 From young children to retired adults, golfers of all ages can be seen playing a round on golf courses – and television sets – in many places around the world.
There are lots of reasons why people enjoy playing the game – a wide range of beautiful courses, developing technique or even simply spending time outdoors with friends are just a few of the motives for picking up a golf club.
Golf equipment comes in a range of different sizes, styles and added features. Whilst golf is easy to get to understand, choosing the correct equipment is not always as straightforward.
When looking to buy golf accessories, there is a wide range available on eBay – including equipment such as golf bags, golf clubs, golf balls and many more.
Use this guide for reference when deciding which travel bag would be most suited to the requirements of a golf bag.
Types of Golf Bag
There can be a lot of equipment needed in order to play golf - and possessing a range of different golf clubs is crucial in order to develop and play the game properly.
Carrying just a couple of clubs can be an inconvenience on the course - therefore it is advisable to purchase a golf bag to make it all easier.
Components of a Golf Bag
Many golf bags have different features, which are designed to help store and carry equipment. These can include a combination of:
Lightweight materials
Pockets and compartments
Dividers for separating clubs
Wheels
Handles and straps
Different Golf Bags
There are three main classifications of golf bags.
Cart Bags:Cart bags are suited when travelling around a course using a golf caddy or other form of transport. They incorporate additional compartments and sections within the bag in order to store more equipment. This, however, means the bag is heavier and best used when not walking.
Stand Bags:Stand bags are named after their most convenient feature – their legs. These allow the bag to stand upright whilst playing a round, making access to balls and clubs very easy. They often include shoulder straps and are made of lightweight material for easy carrying.
Staff Bags:Staff bags are much larger in size and are suited to players with an extensive number of clubs and equipment. Often used by professional golfers, they can hold a full set of clubs and have large, spacious compartments.
Travel Bags for Your Golf Bag
Playing golf and experiencing different courses may require more travel than other sports. Golf bags alone may not be able to accommodate travel across larger distances – such as flying on a plane or long train journeys.
If travelling or playing in harsher conditions, for example, it is important to assess the need for a travel bag.
Benefits of Using a Travel Bag
There are various reasons why a travel bag can assist with golfing problems and needs. They can:
Prevent golf clubs from excessive movement – which in turn helps stop damage
Protect from harsh weather conditions
Store large amounts of additional equipment securely
Allow for safe travel on an aeroplane
Enable convenient movement using wheels, handles and straps
Types of Travel Bag
There are different types of golf travel bag available and it is important to check the specifications before making a purchase.
Golf Luggage Cases: Golf luggage cases are ideal for long golf trips in which flights or train journeys may be required. They are designed to absorb any shock and impact that may occur in luggage compartments.
Soft-Sided Cases: Soft cases have the ability to be flexible whilst still providing a high level of protection for your enclosed golf bag. Storage of the case is also convenient as many are able to fold flat.
Hard-Sided Cases Hard cases store golf bags in a similar way to soft-sided cases except that they are made from sturdy material for added protection. They also often feature secure locking systems to prevent the case opening unexpectedly.
Features of a Travel Bag
Although different travel bags can be aimed at certain types of travel issues, common components and features include:
Durable material – whether it is flexible or solid
Large outside compartments to store equipment
Wheels for easy ground movement
Handles and straps for when carrying is required
Straps and compartments for secure holding of golf clubs
Waterproofing for liquid and weather resistance
Other Important Golf Equipment
In addition to golf travel bags, there are many other items of equipment available that can help improve golfing performance and aid convenience. These can include:
Golf Balls
Golf Clubs
Clothing
Golf Tees
Golf bag travel hoods
What to Consider When Buying a Travel Bag for Your Golf Bag
There are many different items of equipment available to golfers and each can have their own specific uses and specifications. It is therefore important to take the following requirements into consideration when looking to purchase a travel bag for a golf bag.
Travel: It is important to consider various travel factors when looking to purchase a travel bag. Distance, time and destination can all be obstacles that require consideration.
Weather:Weather such as rain and wind can potentially damage golf equipment and a travel bag may be the answer when looking for protection.
Size of Golf Bag:As a travel bag is designed to enclose a regular golf bag, it is important to account for its size. A travel bag needs to be large enough to contain the golfing equipment whilst being able to be fastened up correctly.
Storage:Ensure there is an appropriate place in which to store the travel bag and golf accessories when they are not in use. Prolonged exposure to moisture and sunlight could weaken the bag material – cool, dry places are the best for storage.
Equipment: The amount of equipment that the travel bag needs to store is an important consideration – more golf accessories may mean more compartments are required.
Other Accessories:Take time to consider any additional items that may be required – such as umbrellas, balls, tees and clubs.
Price: Be sure to shop around to find the best possible price when looking to buy golf equipment such as travel bags. If purchasing with eBay, compare products from different sellers and take into account how much time is left on an auction – a great deal could be just around the corner.
Conclusion
Golf is a popular sport that is enjoyed by many different types of people who all possess different abilities and equipment. As a consequence, knowing which travel bag to purchase for your golf bag can be a difficult decision to make.
When looking to buy a golf travel bag, take into account this guide and consider the different requirements that are needed. Decide which variation is the most suitable and shop around online to find one at a price that is within a suitable budget. Be sure to read reviews of the product, as discovering other people's first-hand experience is always invaluable.
eBay provides a wide range of golf accessories at an affordable rate and if deciding to go down this route, then take the recommended precaution by using PayPal for a safe and secure transaction.