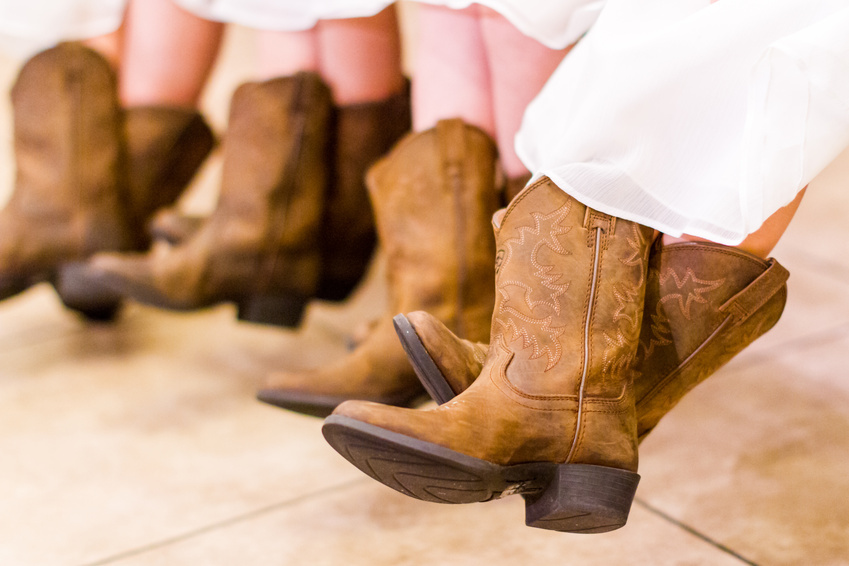 A nice pair of boots adds a finishing touch to any outfit. Cowboy boots give jeans, T-shirts, and dresses a western flair. Some cowboy boots are versatile and can be worn with casual or stylish clothing. To decide what to wear with cowboy boots, buyers should consider the occasion and the desired look.
Cowboy Boots with Jeans

Cowboy boots are the perfect complement to a pair of jeans. Wearers can tuck a pair of skinny jeans into the boots. Cowboy boots add height when worn with flared or boot-cut jeans. Wearers can pair the jeans with a baggy shirt and chunky jewellery for a casual look or a shiny waistcoat and stylish handbag for a night out. Women's cowboy boots in a dark brown or black are neutral enough to match most outfits. A pair of bright red cowboy boots adds a splash of colour.
Cowboy Boots with Shorts

In the summer, wearers can pair leather cowboy boots with shorts. Calf-length boots flatter the legs, while ankle-length cowboy boots provide a girly look. Simple denim shorts and checked shirts are standard western gear, and the look can be updated with a sequined vest top and bright yellow shorts for a summer picnic. Rhinestone cowboy boots add sparkle to any ensemble.
Cowboy Boots with Dresses and Skirts
Wearing vintage cowboy boots with dresses creates an air of effortless style. A plain dress in a solid, neutral colour keeps the focus on the boots. To show off the legs, wearers should choose a knee-length skirt. If it is brightly coloured or features a busy pattern, pair it with neutral cowboy boots.
Cowboy Boots with Leggings
For a modern style, wearers can pair cowboy boots with leggings or tights. Choose plain leggings to wear under a patterned top that matches the boots. For a pair of bright leggings, wearers can choose cowboy boots in a solid colour, such as black or grey. Wearing hairbands and other accessories that pick out certain colours in the detailed stitching on cowboy boots is a great way to complete a look.