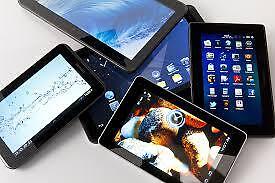 Technology.....
As we all know tablets,phones & technology in general can be a hell of a mine field when it comes to knowing what is best however i hope this guide will help you to find the best suited tablet for you.
So what tablet will be best for me?
Most if not all tablets use apps however what apps you use will also make a diffrence on what tablet to get.
If your using it for gaming then you will need a high performance tablet however if your only using it for browsing and facebook then most tablets on the market will do that job fine.
Sound confusing still ?
Well lets make it really simple if you buy a high performance tablet you get the best of everything so you can do the occasional facebook whilst also using the latest apps and not have to worry about upgrading it too soon.
A tablet is designed for portability so the last thing you want to do is have a tablet that takes ages to load something when your out and about or a tablet that is costing you money each year just to replace for the latest version.
So instead of listing all tablets i have listed 2 with prices that i recommend as high spec and performance tablets but for 2 diffrent budgets.
Low Budget
ASUS MeMO Pad 7"
SPECIFICATION
Processor Intel® Atom™ Processor Z3745 (1.33 GHz, 186 GHz with Burst, quad-core)
RAM 1 GB
Storage 16 GB
Price: £99.99 - £119.99
Medium Budget
SAMSUNG Galaxy Tab
Processor: Quad-core (1.2 GHz)
RAM 1.5 GB
Storage: 8 GB
Price: £159.99
High Budget
Nvidia Sheild 8"
Processor: NVIDIA® Tegra® K1 192 core Kepler GPU, 2.2 GHz ARM Cortex A15
RAM: 2 GB RAM
Storage: 32 or 16gb
Price: £239.99
Thats it...
Upon writing this guide the 3 tablets i have listed above i have deemed are the best value for money at the chosen budgets. If you see another tablet similar to any above compare the specifications as there may be others that are just as good but these are good examples to compare with so your not left blind in all the jargon.
I hope this helps.