Types of seed beads
Definition:
Seed beads are small beads, measuring from less than 1 millimetre up to a few millimetres. They can be made from various materials, but are generally glass. Their uses range from spacer beads to complex beadwork. Seed beads vary hugely in quality. They can be hand-made and irregular (often with coatings that quickly rub off), or precision-made by machine. If you are looking for quality, stick to Czech or Japanese-made seed beads.
Types of Seed Beads
Japanese are generally considered the more superior, in quality and in regularity of size. Czech are good quality beads and fairly regular in size. The main difference in shape between Japanese and Czech beads is that Japanese seed beads are more cylindrical and have a larger hole than Czech beads - which are often described as doughnut-shaped. (see figure 1)

A comparison of size 11 seed beads: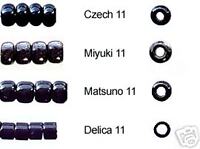 Click here for information on seed bead sizes
Types of Japanese seed beads
There are three major Japanese companies supplying seed beads – Miyuki, Toho and Matsuno.
Toho
Toho produce a range of seed beads, bugle beads and other shapes, as well as their equivalent to Delicas – Toho Treasures. They also now produce an even more regular cylinder bead called Aiko, as well as some Charlotte-cut and 3-cut beads (see under Czech seed beads for definitions)
Miyuki
Miyuki produce seed beads, bugle beads, Delicas and other shapes such as cubes and triangles. In shape, Miyuki seed beads are somewhere between cylinder and doughnut and more regular than Matsuno seed beads.
Miyuki Delicas
Although Miyuki Delicas get included under the heading of seed beads, they are not the same as Miyuki seed beads. They are cylindrical and very regular, making them ideal for use with intricate patterns and weaving. The large hole makes it easier to pass the thread through several times.
Detail from beadwork using Miyuki Delicas: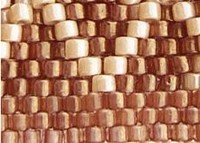 Matsuno
A popular brand of seed beads, perhaps because they are less expensive than Toho and Miyuki. In shape, they mimic Delicas, but are not as regular and the holes are not as large.
Types of Czech seed beads
The main producer of Czech seed beads and bugle beads is the Ornela company. Sizes range from the tiny size 15 to size 1 and larger. Czech seed beads often come strung on hanks, making them easier to thread onto a needle.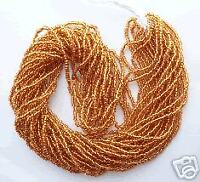 There are a few interesting variations on the standard Czech seed bead:
Charlotte-cut or 1-cut beads
These beads have one cut (sometimes more) on each bead which means they twinkle when they catch the light. Traditionally, charlotte-cut meant size 13, but as they are now available in sizes 8-15, the term gets used more generally.
2-cut beads
These actually have 6 sides, are usually 2mm in length and are also known as hex-cut. Czech 2mm cube beads get described as 2-cut as well.
3-cut beads
These have at least 3 cuts (or facets) and the end result is quite an irregular-looking bead, but one with lots of sparkle. These usually come in sizes 8-12.