Please check the diameter of your wheels to establish the correct diameter required for the wheel trims.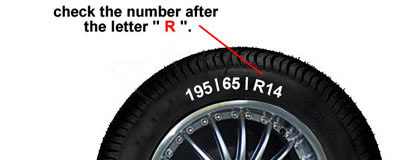 Add a caption
Welcome to 2carfix2 we specializing in the sale of wheel trims for cars and vans.If you have a question contact us!
If you have a question please contact me here: Ask a question
To confirm your wheel trim size, please check your size by reading the numbers on the outside wall of your vehicle Tyre. The last set of number (14) is your trim size.
i.e. 205/55 R16 indicates 16 inch wheel trims.

Wheel Trim Fitting
Before installing a wheel trim remove the old trims and clean the inside of the wheel rim.
Place the expansion ring so the curve for the Tyre valve is in place with the hole on the wheel trim. Slot the ring into the sockets of each of the clamps. (1)
Again being careful to line up the gap left for the Tyre valve, install wheel trim firstly into the lower part of the wheel holding it in with your knee. (2)
Slot the two most upper clamps into the wheel then press the rest of the wheel trim into place along the circumference. (3)

Our wheel trims are designed to fit most cars exactly but in some cases the fit may be either too tight or too loose. In such cases adjust the diameter of the ring by expanding
(4A) or squeezing
(4B) it at the curved area that allows for the Tyre valve