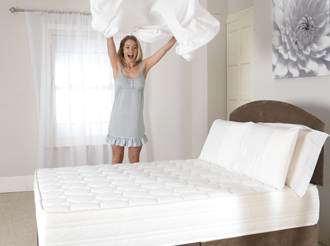 Don't compromise.

A good mattress can last up to 10 years, so it's a serious investment. But you should buy the best you can afford: when you think that every £100 you spend on a mattress represents just 2 .7p a night over 10 years, it's a small price to pay for a sound night sleep. Ebedz mattresses are made for us by leading UK manufacturers so they all offer exceptional quality and outstanding value.

Match mattress to divan base
Our mattresses and divan bases are designed to complement each other. The right mattress and divan base combination will promote the correct posture and provide support where you need it most. If you already have a bedstead in good condition you may only need a mattress. However, if you have a divan, a new mattress alone won't give you the full benefit. It's advisable to replace both.

Divans act as bases for mattresses and either have springs which allow the mattress to adapt to the body's contours, or a solid top which provides firmer support. A divan base is useful if you are tight for space in your bedroom as they often have drawers for storage - or you prefer a more neutral look.