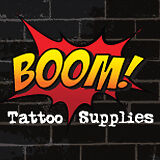 Starting out.
Being a Tattooist/Tattooer/TattooArtist, seems to be the new cool job to have for todays youth. But as with most things in life,its not as easy or simple as it looks on the TV. But with hard work practice and the right equipment some of you will go on to be the next big thing in the Tattoo Industry.
But it all starts here. No matter how good someone might be at their job,they still need the right tools to do it with.
Don't just buy the cheapest option. Remember "A good Tattoo is NOT Cheap, and a Cheap Tattoo is NOT good" this also relates to your equipment. So to start out don't buy the best you can find BUT you should always buy the best you can AFFORD. Spend that little bit more if you can because in the long run it will pay you back 10fold.
Here at BoomTattooSupplies we have used over 50 years combined experience in the Tattoo Industry to bring a range of products that are made and or built using quality components to bring you Quality goods but at an affordable price. Most of what we sell is made or produced by us here in the UK. And we use most of it in our own studios and have done for 30+ years.