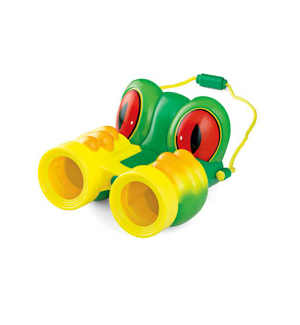 Encouraging children to exercise and have fun in the open air is often wise, and binoculars are a great way of promoting outdoor enjoyment, education, and health. Children can use binoculars to study foliage, spot birds, and see high up onto mountain tops. When buying binoculars specifically for a child, there are some considerations to make that would not be necessary if buying for adult use.
Why Can't Children Use Adult Binoculars?
There are a number of issues with standard adult binoculars that make some brands and models unsuitable for use by children, both physically and physiologically. Firstly, a child's small size tends to make the larger, traditional binoculars challenging to hold, manipulate, and focus, so size and weight are important considerations.
Secondly, many binoculars are designed for adult eyes, which are mature. This means that adult eyes can easily adjust to magnification and changes in focus. Children's eyes are still developing, and while they can accommodate such changes, there is a chance that some binoculars could put too much stress on the immature eyes, possibly leading to problems with vision in the future.

There are plenty of binoculars on the market that are suitable for children, it is just important to know what to look out for, and what to avoid. The biggest misconception is that the smallest binoculars with the highest magnification are ideal for children, but this is actually not true. In fact, it is advised that children avoid compact models, and use a low magnification for best results.
Choosing Binoculars for Kids
There are a number of considerations to make when buying binoculars for children. The size, weight, and even material are important factors, along with magnification, and exit pupil which is perhaps the first aspect parents should think about. There is a concern that if the binoculars are not suited to a child, binocular education could end before it has even begun. Some parents prefer to choose from a budget range initially to find a good fit.
Interpupillary Distance
Interpupillary distance is the measurement between the exit pupils of the eyepiece of the binoculars. Due to a child's smaller size, their IPD is much smaller than adults', and many binoculars are designed to meet an adult's measurement. A quick trip to the opticians can determine a child's IPD, and can also detect any vision problems that would affect the desired IPD of the equipment.
| | |
| --- | --- |
| 50mm | Some binocular models come with a double hinge rather than single, meaning they create the lowest IPD possible. These are often known as compact binoculars and are good for very small children, but older children may find the exit pupil too small. |
| 53mm - 57mm | Typically, children aged under ten years will have an IPD of between 53 and 57 millimetres, so binoculars with a similar IPD would be a perfect fit. These binoculars will usually have a double hinge. |
| 57mm - 60mm | IPDs within this range are usually accommodated by 8 x 30 binoculars, and are suited to older children and some adults. They are relatively commonplace on the UK market. |
| 60mm - 70mm | Binoculars with an IPD range between 60mm and 70mm are the most common type. If the IPD is not listed in the item specification, chances are it is within this range. This IPD is often too large for children, and may even be too large for some adults. |
Magnification
Many parents tend to think that the higher the magnification, the better for children. The reasoning is understandable: for children learning to use binoculars, larger objects would be easier to see. However, high magnification limits the field of view, and children are actually more likely to see more with a lower magnification.
| | |
| --- | --- |
| 4- 7x | Although this is the lowest magnification of binoculars, it is considered best for children. While the image is less magnified, the field of vision is wider allowing children to find an object more easily. |
| 8 - 9x | This magnification is also suitable for children. The field of vision remains larger, and the image tends to be brighter and less affected by shaking hands and arms, so children should be able to see a relatively clear view. |
| 10 - 14x | Binoculars with this level of magnification are quite vulnerable to movement, and often require a very steady hand to maintain focus. Children are often not able to retain steadiness for long enough to view a clear image. |
| 15 - 19x | As magnification increases, the expectation on the eyes to adjust to the focus is high. It is generally advised that children's developing eyes should not be put under such pressure, and long term use of these binoculars is not recommended. |
| 20 - 25x | Very high magnification is not recommended for children. The field of vision is very small, so although adults would be able to focus on a small object, children might find it too difficult. |
Other Considerations
When buying binoculars for children, there are a host of further considerations to make which will make the use of the equipment easier, safer, and more enjoyable for children. Be sure to check the product specifications in detail for these aspects before purchasing.
| | |
| --- | --- |
| Weight | In order for a child to adequately and comfortably hold, move, and steady binoculars, a lightweight pair should be considered. Binoculars under 500 grams are considered to be best for small arms and hands. |
| Size | Along with weight, size is also an important factor for holding and using the equipment. A 7 x 18 or 7 x 21 pair would be good for most children, while older kids may prefer a larger 8 x 32. |
| Material | Look for a material that is not too heavy, but still maintains structure. Cheap, lightweight plastic generally is not recommended unless specifically looking for toy binoculars. |
| Durability | It is worth paying extra for added durability in both the body and the lens of the binoculars. When used by children, it should be expected that the equipment will be dropped so it is important to buy binoculars that can withstand a bit of rough and tumble. |
What to Avoid
Although compact binoculars may seem like an obvious choice for children as they are small and lightweight, their low interpupillary distance is often too small for many children to feel comfortable with. It is best to look for binoculars with a low IPD that are not specifically marketed as compact equipment. It is also best to avoid auto-focus or one-time focus binoculars. It may seem ideal as it prevents the need for children to manually focus the image, but if the focus is not right, long term use could put added pressure onto the eyes. Finally, if the binoculars are intended to be a usable pair, do not be tempted to buy toy binoculars. While cheap and lightweight, toys do not compare to real binoculars in terms of quality or durability.
Finding Binoculars for Kids on eBay
The search for binoculars for children on eBay begins in eBay's Electronics store. From here, buyers should select the Telescopes & Binoculars category which produces a list of all visual magnifying devices for sale through the website. To see binocular results only, select Binoculars & Monoculars, followed by Binoculars. From here, the results can be filtered to show only those items that would be specifically suited to children by choosing preferences from the left hand menu, including magnification level and overall design.
Buying from eBay is a simple process, but be sure to take some aspects into account to ensure a positive buying experience. For example, choose a seller with good feedback, and if the size, weight, or IPD of the equipment is not listed in the items description, be sure to use the Ask a Question feature to be absolutely sure that the item would be suitable for use by a child.
Conclusion
Unfortunately, other than toy binoculars, there are relatively few binoculars designed specifically for children on the UK market, which means parents need to look into standard adult binoculars with certain features, or a lack thereof, which makes the equipment easy, enjoyable, and safe for use by children. Important aspects to consider are the size, weight, and durability of the binoculars, along with exit pupil measurement and magnification. Do not make the mistake of assuming that compact binoculars with a high magnification are best for kids, as often children would do better with slightly larger equipment and less magnification but a greater field of vision. Binoculars with these characteristics can be found for sale on eBay, where the buying process is as easy, if not more so, as purchasing from a traditional electronics or gadget store.