What is a Jumperoo?
A Jumperoo is a entertainment chair with the ability to bounce, jump, twist and fling! These are usually combined with colourful and fun toys for your baby to play with as well as with lights and sounds. These are brilliant for when moms and dads are busy and are needing their child to be entertained while they are in another room or just need a bit of space. These can help baby grow strong leg muscles and help towards their development. Everything does have its warning signs however, with the majority of these being "crotch dangler" it can put a backward turn with their development in rare occasions (I had my child in a Jumperoo from 4 months old and had no issues what so ever, doesnt mean it doesnt happen though!

There are many makes around on the market at the moment all with different price tags depending on what is available with them.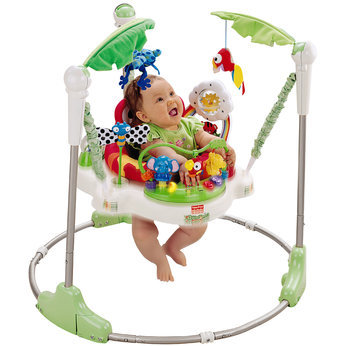 Fisher Price Rainforest Jumperoo
With a £75-£100 price tag this one doesn't come cheap, however every mother who has bought this for their child with give you nothing but great reviews about this Jumperoo (me included) This is by far one of the safest ones on the market at the moment.

The seat adjusts as the child grows so this can last as long as you need it, I had mine for well over a year until she became too big for it. Comes with lights and animal sounds which are also controlled by babies bouncing. A Twisting elephant at the front with flashing lights and a dangling monkey to. The seat which the baby sits on also rotates so baby is able to twist round to the other toys which are behind them! not only that but a cute dangling blue frog and a parrot. This jumperoo is great for encouraging your baby to develop the necessary reaching & grasping skills and motor skills. The only downside to this toy is even folded up, its still pretty large and takes up a lot of space.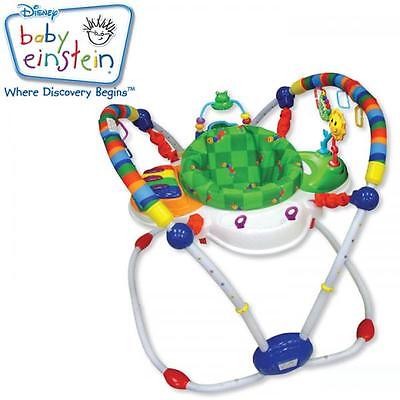 Baby Einstein Musical Motion Activity Jumper
a high quality jumperoo and overall an EXCELLENT choice. The activity jumper's four point spring system makes it very sturdy and safe, so parents do not need to fear about it tipping over. The frame has four height adjustments for your growing babies, so parents can expect to use this jumperoo for a long time. The entertainment options on this jumperoo are numerous, starting with a piano keyboard that activates different songs. Then there are loops for additional toys that can be swapped in or out for your babies favorite teethers and toys for the day – watch your baby entertain themself for hours with this great jumperoo! You are looking at spending high end for this Jumperoo especially in the UK with the only price tag I am finding is around £250!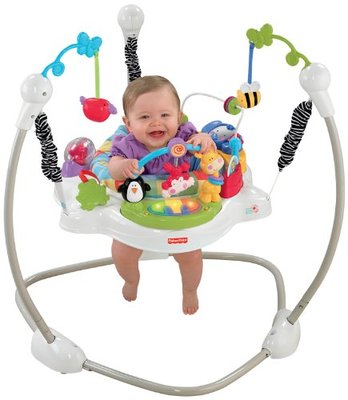 Fisher Price Discover 'n Grow Jumperoo
Your little one will love bouncing around and playing in the Fisher Price Discover 'n Grow Jumperoo. The Fisher Price Jumperoo encourages your little one to move around and develop their leg muscles by rewarding jumping with flashing lights, music and fun sound effects. The seat has three different height positions to follow your little one's development until they reach 12kg in weight.

With five different toy stations including the main station with light up characters, your little one will never grow bored of playing in the Discover 'n Grow Jumperoo. The seat rotates 360 degrees, allowing your little one to access all of the toys and encourages more movement and building of strength and coordination. Two overhead toys hang for your little one to bat and grab at. The seat cover is removable and washable for your convenience.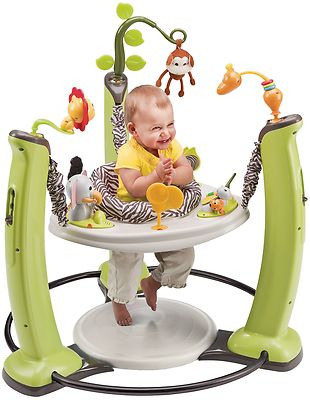 Exersaucer Jungle Quest
offers parents a safe and stable environment for their children to jump, learn and play. A variety of age-appropriate toys were developed in conjunction with the Child Development Institute to help baby achieve important developmental milestones. Spin and jump actions also provide baby with plenty of exercise to strengthen gross motor skills. The unique balance base helps to build core strength and coordination.

Comes with 17 different activities for your baby to play with as well as a balance pad which allows baby to have a soft landing when they are bouncing, 3 height setting which grows with baby as well as the seat being machine washable!
These are just a selection that I know are pretty good, there is a wider range of jumperoos and walkers out there which will be more than suitable for your baby. Always remember to do your research first if there is a particular one you like.

Happy Shopping!