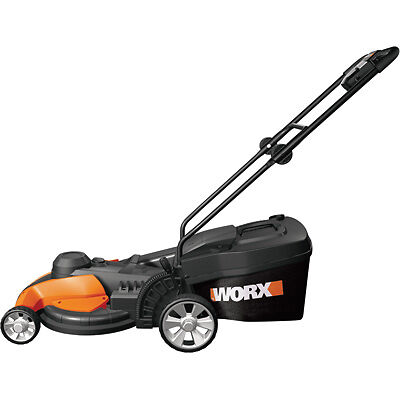 Whether your lawn is a carefully tended square of beauty, a hard wearing playground for children and pets,or a rolling acre in the countryside,having the right lawnmower makes keeping it under control and looking its best a breeze. The type of lawnmower needed is influenced by a variety of factors,including the type of grass that needs cutting,the size and shape of the lawn,and the type of cut required.
To find the best lawnmower for your needs,learn about the different types available,including power options and features that make these machines easier to use. Consider the cutting width and height required,and whether you need a grass trimmer to finish the areas around flower beds and edges. Learn which optional extras are available and how to stay safe while using a lawnmower. Lawnmowers are available from DIY shops,gardening supply stores,and from online sources,such as eBay.
Types of Lawnmower
Lawnmowers come in three basic types: rotary,cylinder,and hover. The table below gives a short description of each and explains which type is best for particular lawns and cuts.
Lawnmower Type

Description

Lawns and Desired Cut

Single fast moving,horizontally rotating blade

Blade cuts like a scythe

Cut grass is thrown from the back

Versatile

Most often mains powered,but available in other power forms

Effective on longer grass,slopes,and hillocks

Good choice for average family lawn

Single fixed horizontal blade and several rotating vertical blades

Blade combination cuts like scissors

Available in a range of power options

Not suited for long grass

Best for frequently mown,level lawns

Produces even,close cut for a manicured look

Moves over the grass on a cushion of air

Similar to rotary lawnmowers

Light and easy to use

Works well on small or awkwardly shaped lawns

Good choice for family lawn,but typically does not have grass collector boxes
In addition to the machines discussed above,hand mowers are available. These lawnmowers work without power and are pushed back and forth to activate the cylinder cutting mechanism. They have no cables and are eco-friendly,but require more effort to use than powered lawnmowers. Hand mowers are suited to small,flat lawns.
Lawnmower Power Options
Rotary,cylinder,and hover lawnmowers are available in electric mains powered,petrol powered,or battery powered models. The table below compares the three power options available.
Electric Lawnmowers

Petrol Lawnmowers

Battery Operated Lawnmowers

Clean

Light

Require minimum maintenance

Not suitable for wet conditions

Need a power source and residual current detector (RCD)

Power measured in watts

Higher wattage means more power

Best for small or medium lawn

Tend to be more expensive and heavier than electric mowers

Need more maintenance

Need a supply of fuel

No power source needed

No cables

Recoil starter may be difficult to pull,but self starters are available

Best for larger gardens

Engine capacity measured in cubic centimeters (cc)

Greater power output means more powerful mower

Clean

Cheaper than petrol models

Light

No cables

Can cut average size lawn on power from single battery

May require second charged battery for large lawn

Best for flat lawns that are cut often

Not suitable for long grass

Not as powerful as petrol mowers
As can be seen from the information in the table above,electric lawnmowers are best for small to medium lawns and petrol mowers work well for large gardens. Battery operated or cordless electric lawnmowers are suitable for small to medium lawns without long grass.
Factors to Consider for Lawnmowers
A number of factors should be considered when deciding which lawnmower is best for your needs. The lawnmower chosen should be easy to use and store. Also,it should be just right for the size and type of lawn. Choose a lawnmower with a rear roller to give the lawn a traditional lined look. Consider buying an extra battery for a cordless electric mower,especially if the machine will be used on a large lawn. This allows you to mow the entire lawn without interruption.
Ease of Use for Lawnmowers
Lightweight hover mowers are recommended for elderly users as they are easy to manoeuvre and store. Self-propelled lawnmowers move across the lawn without the user having to push the machine. The speed setting can be adjusted to match different walking speeds. A good lawnmower features a handle that can be adjusted to suit the user's height. Using a lawnmower that forces you to work with a stooped back is a sure way to be in agony once the lawn has been cut. Switches should be easy to reach and conveniently situated,and the grip handle should be comfortable.
Storing a Lawnwower
Garden sheds and storage rooms tend to draw and breed clutter. If storage space is a problem,choose a lawnmower that is designed to hang on a hook or with handles that fold away for easy storage.
Lawnmowers for the Size of Lawn
The lawnmower's cutting height and width should be taken into account. For a small lawn of up to 50 square metres,opt for a lawnmower with a 30 to 33 centimetre cutting width; for a medium lawn of up to 150 square metres,choose a machine with a cutting width of 35 to 40 centimetres; for a large lawn of up to 250 square metres,choose a petrol or battery operated mower with a cutting width of at least 40 centimetres. Extra large lawns that are bigger than 250 square metres require a cutting width of 46 centimetres or more and a self-propelled petrol or battery operated mower should be considered.
Lawnmowers for the Type of Lawn
Most lawnmowers allow users to set the height of the cutting blade. This is especially handy when mowing more than one lawn with different requirements or for choosing an appropriate lawn length for the season. If this feature is needed,look for a wide cutting range for increased versatility. Due to the neatness and precision of the cut,a cylinder type lawnmower is best for a lawn that features ornamental grass types. Family lawns that are planted with ryegrass are best trimmed with a rotary lawnmower. For heavy duty work,like moving paddocks or overgrown areas,use a rotary lawnmower with four wheels. Hover lawnmowers work well on uneven lawns with small spaces as they are easy to move around.
Additional Features of Lawnmowers
In addition to the mowing action of the lawnmower,there are other features to consider,such as collecting the mown grass and keeping the cable safe. Some fastidious gardeners may also like to use a grass trimmer to neaten edges after mowing the lawn.
Collecting Grass for Lawnmowers
A grass collection box collects the grass that has been cut for convenient disposal. The larger the box,the more grass it can store,but the heavier it makes the machine. Choosing a box with a window on top allows you to see how full the box is,making it simpler to judge when to empty it. A mulching lawnmower cuts up the mown grass and distributes it across the lawn,adding fertiliser as you go.
Cables for Lawnmowers
When buying an electric lawnmower,choose a mower with a cable that is long enough to allow the machine to reach the entire lawn. If the lawn is too big to allow this,buy an outdoor extension cable. Do not forget to add an RCD adapter to avoid accidental shocks. An integrated cable tidy is always a good idea as this allows easy storage of the cable.
Grass Trimmers
Grass trimmers are used to tidy the edges of lawns after cutting for a neat finish around flower beds and edges. The type of grass trimmer chosen depends largely on the size of the lawn. Electric grass trimmers are best for small gardens as they require mains power. Cordless trimmers allow greater freedom of movement and are better for larger gardens. Petrol trimmers have the most power,making them ideal for tough jobs like trimming long grass or rougher plant growth.
Lawnmower Safety Tips
Always read the manufacturer's instructions thoroughly before using a lawnmower. Never mow the lawn while barefoot or wearing open-toed shoes. Aside from the danger posed by the mower's blades,debris may shoot out from under the machine,causing injuries. It is also advisable to wear long trousers to protect the legs. Check the lawn for rocks and fallen branches before mowing to avoid clipping large objects and injuring yourself or those around you,or causing damage,such as a broken window.
When using an electric mower,ensure that the grass is dry before cutting. Electricity and water do not go together. Plug the machine or the extension into an RCD adapter that has been tested to ensure that it is in working condition. Avoid running over the cable with the machine by trailing it away from the cutting direction. It is usually easier to start closer to the house or power source and work away from it as less cable needs to be let out.
Switch off the lawnmower before trying to remove jams in the blades. It is best to unplug an electric mower in addition to switching it off. Switch off the mower before removing the grass collection box for emptying,and never leave an unattended lawnmower running. Children and pets should be kept away from the lawnmower while it is in use.
Buying a Lawnmower on eBay
Buying a lawnmower on eBay is simple: type a keyword or phrase,such as "petrol rotary lawnmower&",into the search box,which is available on every page,to view the listings. Choose the most appropriate category and features to narrow the number of results displayed.
Evaluate the Item and Seller
Before committing to a purchase,take a moment to evaluate the item and the seller. All the information you need to do this can be found on the item listing page, which is accessed by clicking on an individual listing. Read the item description and take note of details such as bidding and buying options,the seller's accepted payment methods,and postage and packaging costs. Some sellers allow local collection,so keep an eye out for sellers in your local area.
Check the seller's feedback information to learn what other buyers have to say about a particular seller's products and customer service. Detailed seller ratings give additional information about aspects such as the seller's communication and the reasonableness of postage and packaging costs.
Conclusion
Finding the best lawnmower for your needs is a simple process. Consider the size,shape,and type of lawn to be cut,the weight of the lawnmower,and any additional features required. For a small lawn,choose an electric,hover,or battery powered lawnmower with a cutting width of 30 centimetres,or opt for a small,easy to store hand mower. For an average size lawn,an electric,battery powered,hover,or small petrol mower with a 35 to 40 centimetre cutting width will suffice. A lawnmower with a cord is impractical when mowing a larger lawn,so consider a petrol or battery operated mower with a 40 to 46 centimetre cutting width for a large lawn. Opt for a petrol mower with a 46 centimetre or larger cutting width for an extra large lawn.
Rotary lawnmowers are more powerful than cylinder and hover models. As a result they are best for long grass and tough cutting. Cylinder models produce the neatest cut and are best suited for cutting manicured lawns. Hover lawnmowers are less powerful,but are easy to use on uneven surfaces and fit between flower beds and into small spaces. Elderly or infirm users should choose light,self-propelled lawnmowers. Choose additional accessories,such as a grass collection box or RCD adapter,required to mow the lawn safely. eBay sellers offer a wide selection of new and used lawnmowers.