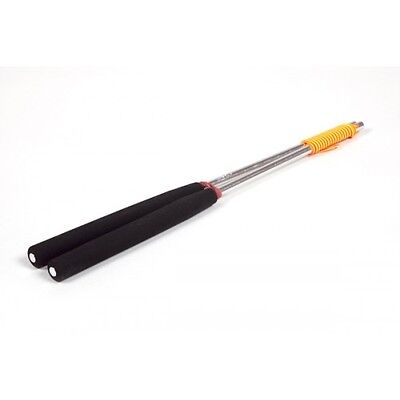 Henrys Sticks

So you've got yourself a diabolo, managed to get it going and even mastered some tricks. What are these metal sticks they're all talking about and why do You need some? They're talking about Henrys Aluminium Handsticks.

They're great because they're shorter than the wooden ones that you got with your diabolo so you have more control over your diabolo. They're also thinner so you can grind the diabolo on the stick and they make mastering some of the more complicated string tricks so much easier.

Henrys have been making these aluminium handsticks for over 2 decades onsite in their factory in Germany and they are probably the most copied (but never beaten) aluminium handsticks on the market. They're definitely the only ones that are now certified lead free. And because they are stronger than any others, you won't have the problem with the string fraying at the ends and they won't bend. The comfortable foam handles will never come unglued.

So how do you know that they're Henrys? Look for their embossed logo in the aluminium just above the handle. They also come fitted with their trademark orange and yellow stripy string which you won't find anywhere else.