I'm a nike collector for more than 10 years, my be-loved collection is Air Zoom Flight 95, which is the one Jason Kidd was wearing before. I got all colors of that kicks, now still here.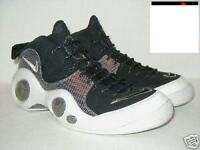 And lately, I started to sell shoes on ebay. that fulfill my buying desire, I owned them then I sell them. I used to buy kicks out there @ the shop, but the prices has been pushed up so crazy. Even retro Jordan, when it first released in the 90's, it still won't cost that much to people. compare to the price right now. almost cost me 200USD a pair. (back in the 95, I bought the Air Zoom Flight 95, only cost me 100USD)
so now I start going up on ebay and see how much cheaper could be and how many model I can find on the ebay. Ebay is such a great internet worldwide platform for everything. I found so many old style shoes up here. even new models are cheaper than stores out there, average 20 USD cheaper than "footlocker", "finishline","Royal Sporting House", include the shipping. But how could that happen? Those shoes are the authorized dealer, they should make the better deal than Nike Town, Nike Shop anywhere in the world. Even they got the wholesale price. it's a way too cheap than the original.
So how could those people on ebay could sell kicks that cheap? That might be another options. Some people buy nike shoes from outlet. what do they get? a pair of Grade "B" quality shoes, some dead stock production or defeated items. But some seller do emphasize 100% real Nike. yes it is 100% real Nike, but if that's Grade "B" quality, I'd rather go for another pair with higher price.
I've purchased a pair of retro Jordan XI on ebay, which is a classic to anyone kick lovers. the price is only 80USD shipped. I was worrying about that could be fake after I purchased the item. Since the seller got a lot of pairs in the listing and price is way to cheap than the retails. when the item arrives, I've checked all the detail parts very carefully and compare with my old one. I won't say that's a fake pair, so I e-mail the seller to ask about the price and where did it make it from. and the seller said it was sent out from the factory Asia country. I was shocked at the first place, that could be a pair of replica of Jordan XI. I was a bit upset with the answer, and I took that pair to Nike Town in Beverly Hills and ask them check up.
I didn't state at the first place I bought it from ebay and the seller told that it was from the factory. I've asked them to check if this pair is from Nike, and does it pass the Q.C. of Nike. after a while, the store manger has come out to meet me, cos it's a bit weird to ask such thing to Nike. he checked up on the Jordan XI, he could tell. it should be a Grade "B", just like the quality in outlet. i do feel better on that, cos it like I bought it from a nike outlet and it's not fake.
I do wear that Grade "B" Jordan XI for my basketball training, which gave me a great performance and works the same as my old pair of Jordan XI. now I just wear the new one i bought and keep the old one as collection.
After the story above, it did give me a reason to buy shoes on ebay. why people buy Nike on ebay? becos they want to find a better deal up here. but the true thing is, once they found the good deal, the shoes might not be real..? that do discourage alot of people trying to buy a pair on ebay. I've read those reviews up here, telling people how to buy a real Nike and the steps. which I do strongly recommend to all the ebayer who want to buy a real deal in here. but dont forget, buying a real Nike and Grade "A" Nike, it does cost you money. Don't think you can find a cheap pair, if you dare to try, go buy yourself a pair in the store around you, wait until they got seasonal sales. that makes you the best deal and 100% real grantee.
So people
For me, I do got hook up with the Nike staff now.