The Citroen Relay is a large van sold as the Citroen Jumper elsewhere in Europe. Based on the same platform as the Fiat Ducato and the Peugeot Boxer, this versatile van is available in different configurations. There are several compelling reasons to consider a Citroen Relay, including its choice of efficient engines, big payload capacity, and variety of configurations.
Many Model Choices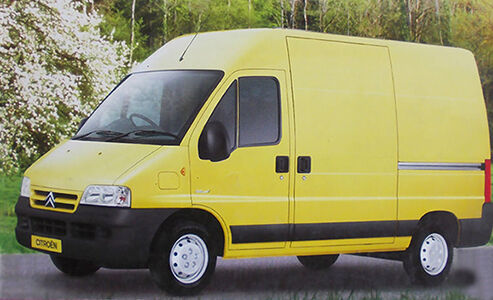 Citroen released the first Relay in 1994 and offered goods transport, passenger transport, and combi configurations. The second generation, which corresponds with the third generation Ducato, also came in several variants for transporting goods and people. Refreshed for a third time in 2014, it featured a revised front grille and headlights that mimicked those of newer Citroen cars. The 2014 Citroen Relay is available as a panel van, chassis cab, chassis crew cab, and specialist models. The newer Relay can also be converted into a number of ready to run configurations, including tippers, freezer vans, and minibuses. Moreover, it comes in four lengths with the shortest load deck 267 cm in length, and the longest 407 cm. Buyers can opt for any of three available roof heights, from 166 cm to 217 cm.
Large Payload
The Citroen Relay is one of the largest vans in its class. The 1994 Relay goods transport configuration offers 12 cubic metres of cargo space, while the passenger transport has seats for six to nine people. The 2006 version carried on the large payload tradition with variants rated for 3, 3.3, 3.5, and 4 tonnes of gross vehicle weight. The 2014 Relay comes in models with load space ranging from 8 to 17 cubic metres. The smallest model offers a payload capacity of 1,155 kg and the largest 1,995 kg. Every model can hold three Euro pallets and offers a 187 cm internal load width, one of the largest in its class. The newer Relay also makes it easy to load cargo. Apart from the large rear doors, every variant has a full-height side load door and low load sill heights.
Efficient Engines
Earlier Citroen Relay vans offered petrol and diesel engine options. However, the newer 2014 model focuses on powerful and efficient HDi (High-pressure Direct Injection) diesel engines. Three options—the HDi 110, 130, and 150—are available. A fourth larger option, the HDi 180 is available for ambulances. All 2014 models are Euro 5 compliant.
Extra Features
The 2014 Citroen Relay offers several features that add to driver and passenger comfort and safety. The seat is an ergonomic multi-adjustable one with height, rake, reach, and lumbar adjustments. It also includes a height-adjustable armrest. All models include dual passenger seats, remote central locking, heated electric mirrors, and electric windows as standard equipment. The Relay Enterprise adds air conditioning, rear parking sensors, and a full steel bulkhead.