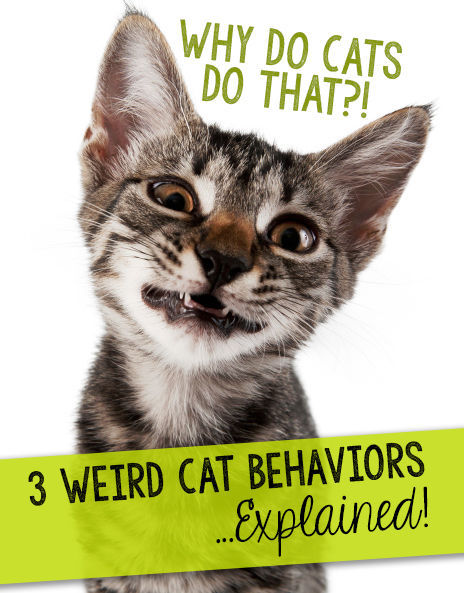 1. Why do cats open their mouths after smelling something?

Have you ever noticed your cat sniffing something and then making a strange face, with his mouth slightly open, his nose wrinkled and his lip curled back? You may have thought it was a look of disgust or just intense concentration but there's actually a very cool scientific explanation for what he's doing!

Your cat, along with other big cats and a few other animals - including horses and snakes - has a tiny, cigar-shaped organ in the roof of his mouth behind the front teeth called the Jacobson's organ. And when he makes that funny face, he's using what's known as the Flehmen response to draw an interesting scent - usually the pheromones of another cat - into the Jacobson's organ to get a better whiff.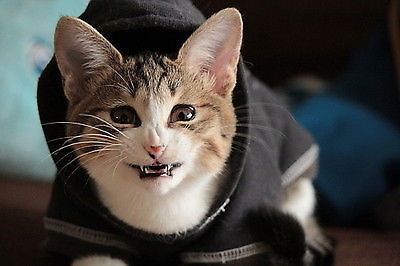 Cats most often "make the face" after smelling where another cat has sprayed. It's thought that, by using the Flehmen response, cats can identify certain information like the cat's identity, if it's a stranger, if the cat is male or female, and if he or she has been spayed or neutered. If your cat is a boy, he can tell by using his Flehmen response if a female cat is in heat and ready to mate. Amazing, right?
If you're noticing your cat making this funny face a lot, it could be a sign that one of your cats is marking urine around the house and you don't realise it. Cat's noses are a lot more sensitive than ours! Check the spot your cat sniffed with a
black light
to see if it glows. Cat urine will glow a yellow or greenish colour under UV light. A good enzymatic cleaner will eliminate any spots and discourage future marking.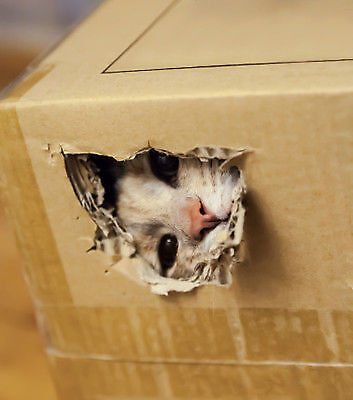 2. Why do cats chew on weird objects, like plastic and cardboard?
There's a medical term for cats chewing on nonfood items, and it's quite common. It's called pica. Pica in cats can be caused by quite a few different things - anaemia might cause some cats to eat their litter, pica has been associated with Feline Leukemia and FIV, some cats are genetically predisposed to it, and in many cases the cats are just bored or compulsive and chew inanimate objects to entertain themselves.

Sometimes pica can pose a danger to your cat. If he's simply suckling a blanket or occasionally gnawing on the corner of a cardboard box, he's probably safe. But when your cat tries to actually eat inedible items, it could lead to some serious consequences, like poisoning or intestinal blockages - both of which can be costly or even deadly.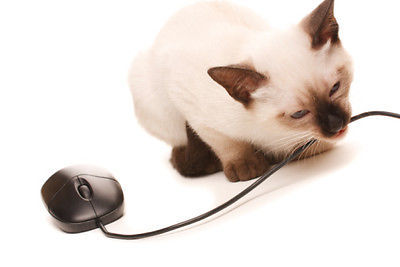 If your cat has pica, you should first talk to your vet about ruling out any medical reason for it. Then, obviously, keep the dangerous stuff out of your cat's reach. If that's not possible, make it unappealing, with a deterrent like Bitter Apple or even hot-sauce. If your cat chews on cords, protect the cords with split tubing. Additionally, give kitty something safe to chew on. How about some
cat grass
? If your cat's pica is a compulsive behaviour, he might benefit from some Feliway plugins throughout your home.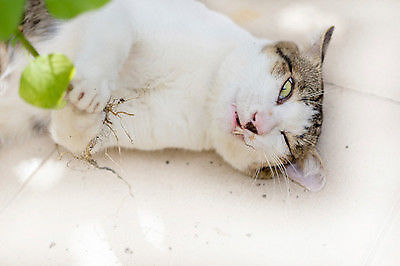 3. Why does catnip make cats act so silly?
Chances are, if you've got a cat you've offered her catnip. And roughly half the cat population responds in euphoric ecstasy to it - by writhing around, drooling, rolling and twisting and rubbing their faces on it, and generally flipping out. So what's the deal with catnip anyway?

Catnip is a member of the mint family. The chemical in catnip called nepetalactone is what's responsible for giving cats that familiar "buzz." Interestingly, although some cats like to eat it, the most intense experience is had when a cat smells catnip. Often compared to marijuana or LSD, catnip isn't harmful to cats - they can't overdose on it. The "high" only lasts for about 10 minutes before it wears off and then you have to wait about two hours for it to have any effect on your cat again.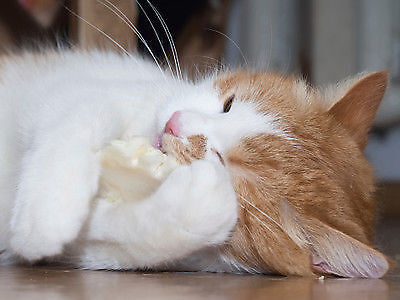 If your cat is one of the lucky 50% who genetically inherited a penchant for the 'nip, you're in luck! There are tons of
adorable cat toys stuffed with catnip
to keep kitties entertained. Or, if you've got a green thumb, you can grow your own catnip from seeds.
Is your cat one that doesn't react to catnip at all? There are quite a few alternatives you should try, like
Valerian
, Silvervine, the sawdust from Tatarian Honeysuckle, and Lemongrass!
What other weird behaviours does your cat do? Tell us about them!
Meanwhile, see these other guides by The Catington Post: