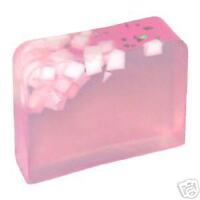 Why buy handmade soap when there is so much soap on the shelves in your local supermarket? The answer is simple really, handmade soap is often made in small batches, by hand where the person selling it is usually the one who made it, unless they have purchased the soap wholesale to resell. The advantage of this is that by making soap in small batches no two bars are ever the same, each is unique in its own way, whereas soap that has been mechanically manufactured will have been made by a machine so that all bars are identical.
Handmade soap often means, especially with Natural soap such as The Crafty Soap Company's 100% Natural Collection, its packed full of wonderful nourishing ingredients from Olive Oil to dried flowers to Essential Oils, each with their own beneficial properties.
These soap are made with a real love of the product, and by handmaking them it means that we are able to constantly improve each product ensuring you receive the best soap possible.
It also means that time can be spent making a real eye catching design and great attention to detail, a good example of this is our Almost Edible Cherry Bakewell Soap...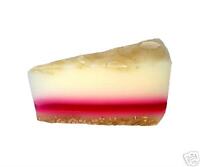 Each layer is made then allowing enough time to set until an additional layer is added, with beautiful fragrance oils, an oat base and almond topping it becomes a unique design, something that although time consuming is a very effective finished product. Of course it isn't always that easy and we had many failures before successes but in the end we got there.
It would be very difficult for a machine to make these soaps but with an eye for design and creativity it is possible to handmake and produce a great visual soap that is also luxurious to use.
Visit our shop to see the sort of designs that can be achieved with a little time and a lot of patience.