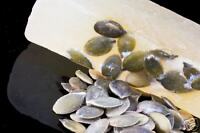 Peppermint is tremendous for your feet and legs, it stimulates the cells and revitalises your tired and weary feet and legs after a hard day. We, at Purdie's Scottish Soap Company have included Shea Butter in our soap as a natural moisturiser to work long after you have scrubbed way at your feet because that's what tends to happen when people wash their feet. They scrub, and so they should as your feet dispels most of the really bad impurities from you body.
We also include Pumpkin Seeds in our soap to work as a natural exfoliant. These are very effective and really gets into the hard bits of skin but amazingly will not hurt or nick you, they are effective yet gentle.
Peppermint also contains anti-fungal properties and this is a must for washing your feet.
Always remember to dry your feet thoroughly between your toes. It is the dampness that nasties love to live off!