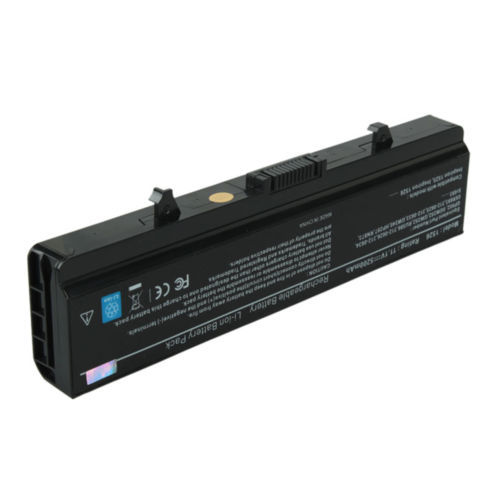 Laptop batteries have a limited lifespan. Most can be expected to last for two or three years, depending on how often they are charged and discharged, and the type of battery. Each charge and discharge cycle makes a battery lose some charging capacity, so over time the battery simply cannot hold charge the way it did when it was new. A battery that used to last for three or four hours suddenly runs down after an hour or less. If you own or manage a business that is dependent on staff using laptops in remote locations or working while on the go, replacement laptop batteries become a necessity.
Learn about the benefits of buying wholesale laptop batteries, why this is recommended, and who should consider buying in larger quantities. Knowing what types of batteries are available and how to choose replacements simplifies the buying decision. Finally, learn how to get the most out of your laptop batteries. Wholesale laptop batteries are available from specialist suppliers and online from eBay.
What is Wholesale?
Wholesale is the sale of goods to retailers; industrial, institutional, commercial, and other professional users; or to other wholesalers. In short, wholesalers sell to everyone except ordinary consumers. They generally do not have showrooms or shops and tend to sell directly from a warehouse. Some warehouses do open to the public, but may charge a subscription fee or require membership through a registered business.
Benefits of Buying Wholesale Laptop Batteries
The greatest benefit in buying wholesale laptop batteries is the price advantage. Wholesalers sell exactly the same products as retailers, but at far lower prices.
Low Prices
As they do not have to bear the costs of merchandising, shopfitting, and staffing that regular retailers do, wholesalers' prices remain low. They also buy in large quantities, which means that they receive substantial discounts that are passed on to their customers. In addition, the wholesaler may offer excellent prices on other laptop accessories, allowing you to buy what you need from one supplier at competitive prices.
Bulk Purchases
Many wholesalers do not have minimum purchase requirements or have very low minimums. This means that you can buy anywhere from two batteries to twenty. If you have a number of laptops in service that all require replacement batteries, buy in bulk to save on per unit and delivery costs. Buying this way also saves time. Instead of sourcing each battery individually, the replacement units are ready and waiting when they are needed.
Resale Advantage
If you are operating a computer repairs business or resell computer spare parts and accessories, buying wholesale makes even more sense. Most wholesalers' largest customer base are retailers. These products are intended to be resold, whether as part of a refurbished laptop or on their own. The size of your business does not matter; it can be big or small. If you find that a wholesaler has very high minimum purchase requirements aimed at larger businesses, simply move on and try the next one.
Types of Laptop Batteries
If you are buying replacement batteries for different laptops, check each laptop's manual for information on the type of battery used. Lithium-ion batteries offer the best performance, but may be slightly more expensive than older designs. In some cases, batteries can be upgraded with a different type, but it is best to research the feasibility of doing this for each laptop before buying batteries. In many cases, battery types cannot be swapped around. There are three common types of laptop batteries.
Nickel-Cadmium Laptop Batteries
Nickel-cadmium (NiCd) batteries were common in earlier laptops, but are not used in modern devices. These batteries are heavy and prone to the memory effect. The memory effect refers to capacity loss caused by recharging without fully discharging the battery first. These batteries contain cadmium, a toxic heavy metal, and should be disposed of responsibly. They generally cannot be swapped with a different type of battery.
Nickel-Metal Hydride Laptop Batteries
Nickel-metal hydride (NiMH) batteries were designed to replace NiCd versions and do not contain cadmium. They also suffer from the memory effect, but not to the same extent as NiCd batteries. They require less maintenance and as they offer higher energy density than their predecessors, their capacity is higher. In some cases these laptop batteries can be upgraded, but always check the laptop's manual or consult the manufacturer before doing so.
Lithium Ion Laptop Batteries
Lithium ion (Li-ion) laptop batteries are the next generation in portable power cells. They are lightweight when compared to their predecessors and produce the same amount of energy as NiMH batteries. They do not suffer from the memory effect and do not contain toxins. However, they do contain lithium, which ignites easily. Where possible, buy Li-ion batteries as these offer the best blend of performance and value for money.
Getting the Most Out of Your Laptop Batteries
Even if you look after your laptop batteries they still have to be replaced every 500 to 1,000 cycles. Although many people recommend removing the battery while using the laptop on mains power, opinion is divided on this practice. Some claim that the battery acts as a large capacitor, protecting the device against voltage peaks while connected to the mains. Never take the battery out of the laptop and carry it in your pocket or purse where it can come into contact with metal objects, such as car keys or hair clips. This could short circuit the terminals, causing injury or damage to the battery pack. Always follow the manufacturer's instructions regarding charging and storing batteries.
Avoid Extreme Temperatures
Temperature extremes are not kind to batteries. Exposing your laptop to heat or cold could shorten the lifespan of the battery. Never leave a laptop or battery in direct sunlight. Avoid leaving a laptop or battery in the boot of your car for extended periods; it will bake in summer and freeze in winter. Keep the battery away from moisture or water and humid areas.
Carry and Store Carefully
Dropping batteries causes damage, so take care when transporting the units and never throw them. Store batteries in a cool, dry place. Consider sealing them beforehand and follow the manufacturer's instructions on the charge level for the battery type before storing.
How to Buy Wholesale Laptop Batteries on eBay
Finding wholesale laptop batteries on eBay is simple. Type a key phrase, such as " job lot Dell laptop batteries", into the search field, which is located on every page, to see the items for sale from eBay sellers. Since this shows all products tagged with the keywords chosen you may have to refine your search by choosing the most appropriate category and item specifications. To see only lots for sale, choose the "listed as lots" option. For more search options, use the advanced search feature. Alternatively, browse eBay Shops to see items listed by sellers who specialise in particular products.
Before You Buy on eBay
Before buying on eBay, take a moment to evaluate the item and the seller. Click on a listing to view the item listing page where you find all of the information you need to do this. This includes details such as the full item description, buying options, payment choices, the terms of the seller's returns policy, postage and packaging costs, and the seller's feedback information. If you have any questions about a listing, contact the seller by clicking on the " Ask a question" link.
eBay ' s seller feedback feature makes it easy to see what other buyers think of a seller's products and customer service. Click on the number next to the seller's username to see this information. Also take note of the type of products sold previously and view individual comments from buyers.
Conclusion
Buying wholesale makes sense if you want to save money and know exactly what you want. Since wholesalers buy in bulk and do not have to spend the same amount of money on operating costs and overheads, prices are often significantly lower. Some wholesalers have warehouses that are open to the public, while others may require customer registration through a legitimate business. Many wholesalers have no or low minimum purchase thresholds and these often apply only to the first transaction.
If you own a business and have a number of laptops that need replacement batteries, buying these wholesale saves time and money. If you repair laptops or sell components, you should be buying from a wholesaler in order to maximise profits. Even if you are looking for one or two laptop batteries for personal use, a wholesaler can offer great discounts.
Know what type of battery you need before you shop. Check your laptop's manual for the part number and product specifications. Since wholesalers do not have the same staffing structure as retailers it is best to know exactly what you need as the seller may not be willing or able to advise you. If possible, buy a lithium ion battery. Some batteries can be upgraded from one type to another, but it is essential to confirm this before buying a different type of battery. Proper care and storage prolongs the life of your laptop battery. eBay sellers offer a range of wholesale laptop batteries.