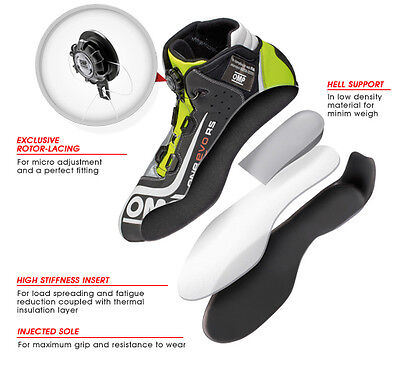 Why do I need a racing shoe?
When a driver straps himself into the cockpit of a race car, the link between him and several hundred horsepower is the accelerator pedal, which, of course, is controlled by the driver's right foot. Take away the driver's feel for the pedal, via the foot, or make the foot uncomfortable, and you've impeded the driver's ability to go fast and make sound judgments on the track. The same goes for the accelerator pedal's close neighbors, the brake pedal and clutch pedal. A driver simply must have a good feel for the pedals in front of him. That is the essence of the need to select proper footwear for auto racing, as the foot's feel for the pedal can't be over-emphasized.


What to look for
Although many factors go into selecting racing apparel, safety should be of primary concern. Be sure to look for a shoe that is FIA approved, meaning it has met minimum standards set for its flame-retardant abilities. The biggest features are design, comfort, and protectionbut it has also developed where style and appearance is as important. Of course, you want it to be a fire-retardant shoe. As far as safety features, your biggest concern is that it's flame retardant.



Add a caption
Three basic styles of boot; low top, mid top and high top
Style and fit
Racing shoes are available in three basic styles: low-top, mid-top, and high-top. Again, the choice here is a matter of personal preference. Once you've decided on a particular style and make of shoe, taking into consideration the aforementioned factors, simple fit and comfort are primary concerns. The shoe should feel comfortable when you put it on It can be a little tight and you know it's going to loosen up a little bit. A racing shoe shouldn't be uncomfortable, but you want it tight enough to do the job. You don't want a shoe that's too big; it's not going to help you when going from one pedal to another if your foot's moving and your shoe isn't.
Use the size chart below to determine your size if your unsure what is the best shoe for you then please get in touch.