From advertisements to billboards to banner ads, companies have found every way to advertise bullion. I guess I haven't had a carrier pigeon deliver an ad to me just yet, so there's that. But with so many precious metal retailers, how do you know which company to choose? Where can you find a good deal while knowing that they have your best interests in mind? Look no further than the eBay logo in the corner of your screen.
eBay is one of the most trusted marketplaces for
gold bullion
because you have the benefit of searching for the very best deals and you, the buyer, are always protected. Here are a few reasons you can put your mind at ease when buying bullion on eBay.
Top Sellers
If a seller delivers incredible customer service consistently on eBay, they have the opportunity to become a Top Seller. These sellers have had at least 100 transactions and have met very specific requirements set by eBay. Buyers benefit from buying from Top Sellers by knowing these sellers have a track record of reliable and high quality sales. Even better? Top Sellers may offer fast and free delivery. So if you're in the market for bullion, check to see if the Top Seller inventory has the gold you're looking for.
Money Back Guarantee
Despite all the safety measures eBay has in place, sometimes mistakes happen. And when they do, eBay's got your back. When buyers do not receive the bullion they ordered, or it doesn't match up to the item description when they bought it, eBay's Money Back Guarantee kicks in. eBay will cover both the purchase price and the delivery cost, leaving the buyer with a complete refund. No harm done. That peace of mind is hard to match in the precious metal world and it's just another reason why your gold coin and bullion buying should start with eBay.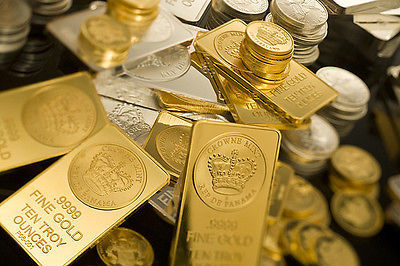 Daily Deals
eBay's Daily Deals helps make sure you get the very best bullion at the very best price. Gold, silver, and coins are listed at discount prices, and the deals change on a daily basis, so you can check back from day to day to see if the bullion you've had your eye on is on sale. You can even sign up for Deal Alerts to ensure you're the first to know when new deals arise.

So whether you're in the market for gold or silver, eBay is the bullion marketplace for you. Their wide selection of buying choices helps you find just what you're looking for, and their Top Sellers, Money Back Guarantee and Daily Deals create a buying experience that any bullion buyer can trust.