Remembering to buy another blade for your razor can be an inconvenience. Instead, some men choose to stock up on disposable razors so that they always have the shaving tools they need readily accessible. If you like to have razors on hand for travel, for work, or for everyday use at home, explore the options available from Wilkinson.
Wilkinson Sword Quattro Titanium Sensitive Disposable Razors

The Quattro Titanium Sensitive disposable razors offer you the sturdy feel and polished style of a regular razor. The typical package of Quattro Titanium Sensitive disposable razors contains three razors, each with an effective four-bladed design. Every razor features a pair of tiny conditioning strips that supply vitamin E and aloe for skin moisturisation and enrichment. The ergonomic handle and slim, swivelling head of the razor allow you to easily manoeuvre the razor across your face and achieve just the right angle for an even shave on all areas of the face. The rubber guard bar draws the skin tight to get the closest possible shave. With the special edge on the backside of the razor, you can carefully contour your beard, sideburns, and moustache as needed.
Wilkinson Sword Xtreme 3 Sensitive Disposable Razors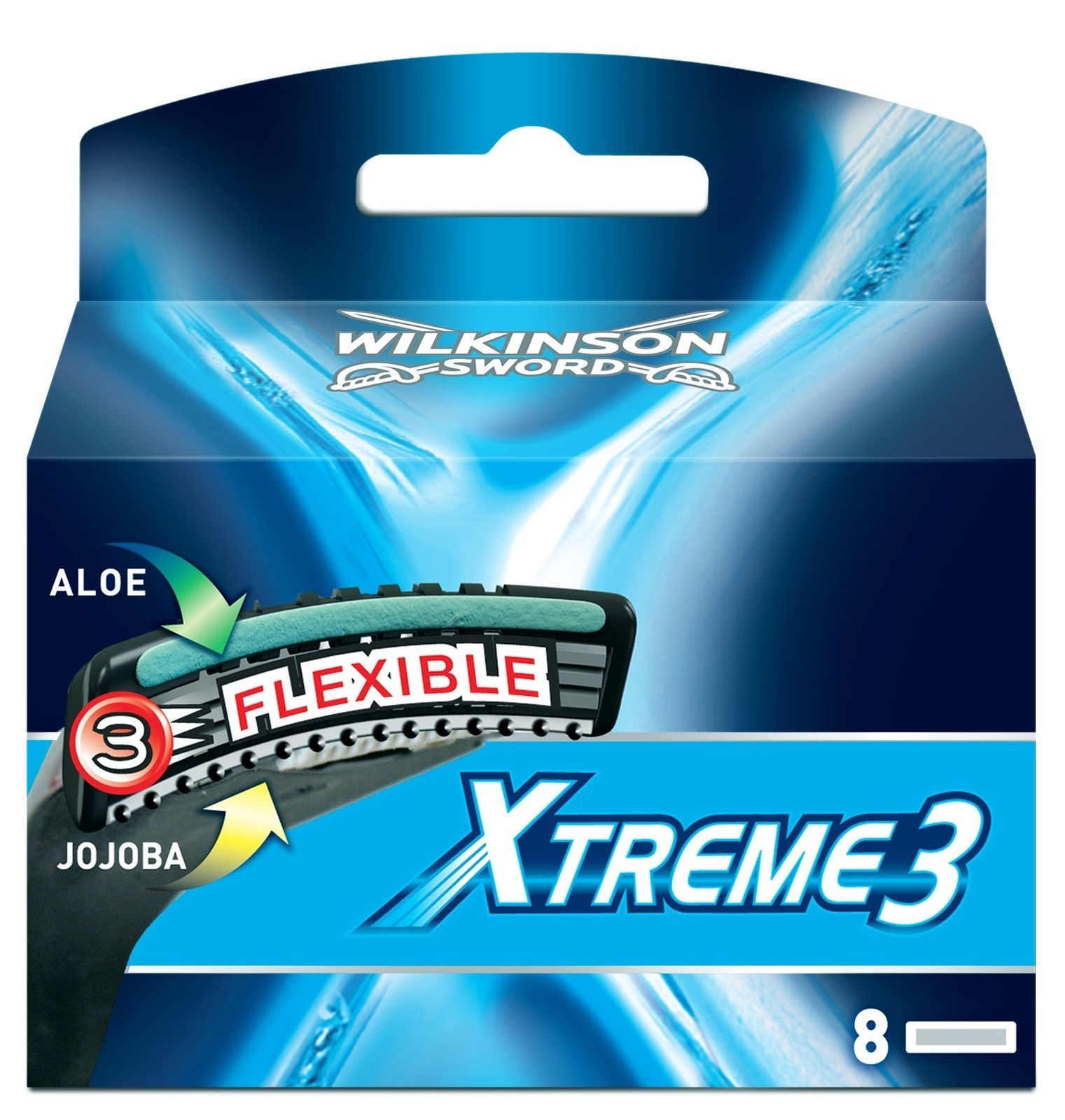 Wilkinson also produces the Xtreme 3 Sensitive disposable three-bladed razors, available in packs of four. Each razor has a movable head that pivots and glides smoothly over the contours of your face. Like the Quattro Titanium Sensitive disposable razors, each razor includes a pair of conditioning strips enhanced with vitamin E and aloe vera. Although this type of razor does not boast the same durable feel as the Quattro line, it offers ample serviceability. The rubber part of the handle keeps it from slipping during use.
Wilkinson Sword Extra 3 Sensitive Disposable Razors
If you are looking for value rather than durability, try the Wilkinson Extra 3 Sensitive disposable razors. Each package contains four three-bladed razors. In between the razor blades, strips of jojoba and aloe compound lubricate and enrich the skin for smooth, harmless shaving. Light, slim handles and small heads make these razors perfect for travelling.
Wilkinson Sword Extra 2 Sensitive or Precision Disposable Razors
Among Wilkinson's budget options are the Wilkinson Extra 2 Sensitive disposable razors. They come in packs of 10 double-bladed razors. Thin handles with rubber grips and a lubricating strip enriched with vitamin E make shaving easier on sensitive skin. The Wilkinson Extra 2 Precision disposable razors are similar, but they lack the vitamin E strip. Instead, these men's disposable razors focus on precise, close shaves for men with moustaches, sideburns, goatees, and beards.