Summer vs Winter
Whilst in summer you may have received between around 6-8 hours of light per night from your light, it is very rare that you will receive anywhere near as much charge come winter. Obviously the days are shorter, and the sunlight is much weaker too. Whilst once your light was receiving sunlight from maybe 7am – 9pm, it now has a much shorter window of 9am – 4pm at the height of winter, with much less powerful sunlight to charge with too.

Of course it isn't an issue if you do still want to use your solar product throughout winter, as they are waterproof, but the maximum light time expectancy is often around 1-2 hours, and none at all on some days in the dark depths of winter.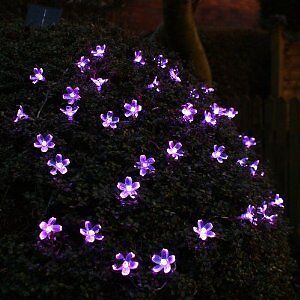 Add a caption
Our solar fairy lights, perfect for summer illumination!
Decorative Solar Lights
When it comes to defining decorative solar lights, these are what most people would think of when asked to describe a solar light. They are generally something that has a less practical use, and is normally used to visually enhance an area on a garden or path. Solar fairy lights are a classic example of this.

For lighting like this, the solar panels are general smaller, and integrated onto the product. Whilst these lights can be left outside throughout the winter, we would not normally expect a huge amount of light from them at this time. Their most productive time of year is certainly in the spring and summer months. This isn't to say that they won't work in winter at all, and some lights do perform better than others, but their running time is usually drastically reduced to around an hour maximum in winter, as opposed to 6-8 hours in summer.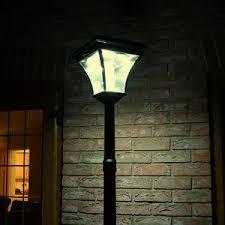 Add a caption
The solar lamp post, designed to last through winter.
Practical Solar Lights
This type of solar lighting is much more suited to the winter months, and has often been built and designed with winter in mind. Products in the practical bracket might include the likes of solar lamp posts and security lights. Items like this are designed with thicker, durable outer frames and better solar technology, and are expected to last through our harsh winters!

As with all solar products, it is unrealistic to expect them to last as long as they do in the summer months, simply due to the lack of daylight hours they have to support them. On the majority of these lights, a PIR Sensor is included, or an (infared sensor for its more common name.) This ensures the light only turns on when movement is detected nearby, like a traditional security light. Even with a constant ON setting you can expect a 1-2 hours charge in winter, but in PIR mode this should remain active throughout the night. This is another feature that ensures these lights are more advanced than their decorative counterparts.