Why You Need a Wind Deflector:
Wind deflectors are one of our top selling car accessories, adding both a practical and style element to your car.
Wind deflectors allow occupants to open windows during rainy weather, while preventing rain from getting inside the car.
As the name suggests it also deflects wind away from the car, reducing the noise created from open windows.
They are also very easy to fit and don't require any specialist tools.
Purchasing Wind Deflectors on eBay:
To ensure you get the correct wind deflectors for your car, enter the registration number, or select your car from the drop-down menus on this page.

The most important thing to look-out for is the fitment attribute in the description of the deflectors. Some wind deflectors are only designed to fit cars that have a certain number of doors (the number of doors impacts on the length of the deflectors e.g. a 3 door car will have longer doors than a 5-door version of the same car).

The screen-shot below illustrates the 'fitment attribute' highlighted in yellow. Another point worth mentioning is that all our wind deflector sets, unless otherwise stated are sold as pairs (for the 2 front windows only).
Brands:
Here at MicksGarage we stock a most of the popular wind deflector brands namely G3, Airvit, Team Heko & Farad.
Fitting Your Wind Deflectors:
We have listed your instructions in steps below, but if you rather, you can watch our fitting video below instead!
Add a caption
MicksGarage show you how to fit wind deflectors on video.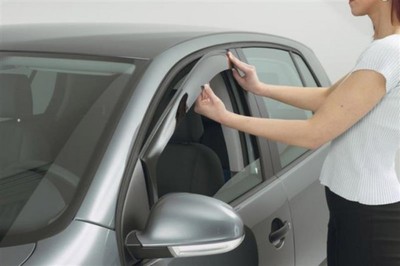 Step 1:
With your window in the down position, clean the frame and channel where the wind deflector will fit into. Use a window cleaner or a mild solvent to ensure nothing will obstruct the installation of the deflectors. You may also use a flat head screwdriver to gently scrape way the dirt in the slot.
As the rubber around the door frame can become hard and perished. Using a product like
Gummi Pflege
is highly recommended to condition and soften the rubber. After applying
Gummi Pflege
leave it to work on the rubber for at least 20 minutes before the next step. This will make fitting the wind deflectors a lot easier.
Step 2:
Now we are ready to fit the deflectors. Firstly, place the front edge of the deflector into the window channel and then work your way back by gently pushing it into place. Make sure that the wind deflector is securely fitted. Most of our wind deflectors come with additional clips to secure them into place, however they are not needed on every car so you may not receive any clips. If your wind deflector came with fitting clips continue onto step 3, otherwise skip to step 4.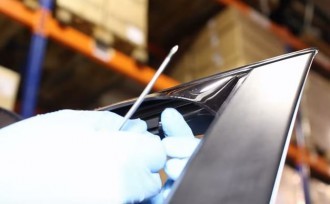 Step 3:
The clips will have a smooth side and side with small barbs or catches on them. The clips fit with the smooth side facing outwards or away from the car. Push the clips up with a screwdriver until they're securely fastened between the deflector and the door frame. The fitting instructions will indicate where each clip should be fitted.

Step 4:
Once finished, it is important to check that the windows function and close properly and that the deflectors are not interfering. This is especially important for electric windows. In rare cases, it can trigger the anti-trap security feature while the window is closing. This safety feature is to prevent fingers or other objects getting trapped while closing the window. To rectify this problem it's best to get a second pair of hands.

As you wind the window up, place the palm of your hands on each side of the glass and gently assist the window to rise up to it's fully closed position. Be careful not to force or damage any component and keep fingers and hands away from areas where they may get trapped. Once the window is closed fully, leave it in this position for at least 24 hours. This will give the rubber seals time to mould themselves around the wind deflector and the next time you operate your window it'll work perfectly.

*Note: The wind deflectors may look as if they are scratched when you take them out of the box initially. However, they come covered in a clear plastic film and when you peel it off the deflector underneath will be in perfect condition!

Before you remove the plastic film it is best that you hold the deflectors up to your car door to check that they are the right size and shape.

Why Choose MicksGarage?
MicksGarage
offers some of the best online prices, with over one million car parts and accessories available through
our eBay shop
.
Our 99.4% customer satisfaction rating and "Top-Rated Seller" rating from eBay (which guarantees a track record of excellence to all our customers), and our amazing 30 day return policy money back guarantee ensures you you are in good hands.
Should you have any queries, our customer care team are here to help.
MicksGarage
; car parts & accessories on time, as described and all guaranteed. Enjoy shopping with us on
eBay
!