Wind Turbine blades, proven high area & speed profile can be used on Futurenergy and Renewable components pmg 6ft 7inch (2.02 meter).
2 of this same highly successful profile can be seen driving a f/Energy pma on u tube wind4watts 'channel', these have 50% more area for best low - moderate wind outputs, carbon fibre rein forced, made to order as required as these are time consuming and are hand made in North West England. over double the working area of other cheaper blades! Please inquire.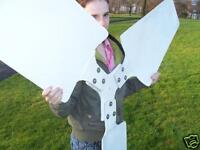 9 STAINLESS STEEL FITTINGS & WASHERS / BOSS INCLUDED AS SHOWN.




My Delco pma chassis & blades, (alloy or g.r.p.) on solid steel flat bar boss!.



FOR DELCO/ EAGLE /WIND BLUE/ HORNET PMA, same area as 5 air x blades at a fraction of weight and cost, superb rpm due to their custom field tested angles. The black thin tipped Air X hydrogen appliance/ type blades (3) could only ever manage 200 watts maximum on the air X, which has a TRUE maximum of 200w NOT 400watt as wrongly advertised (i have the U.S. test graphs) it doesn't take an Einstein to realise that they are a very poor choice to drive any 3-6 times larger Delco 500w-1000w pma.

That is why my customers have complained that these thin tipped black blades only work well at 30-50mph wind speed!, what about the other 85-90%% of the time when most areas only get 9-25 mph?, = little or no charge at all then.

I CAN SUPPLY DELCO CHASSIS UNITS AND BLADES SETS AT 'UNBEATABLE' PRICES, ALL WELDED STEEL CONSTRUCTION.


THESE 1.4 MTR DIAMETER GLASS FIBRE LIGHTWEIGHT BLADES GO STRAIGHT ON A FUTURENERGY PMG, WITH AN M10 BOLT (ON THEIR STEEL MOUNTING BOSS), AND MAKE SAME OUTPUTS AS ORIGINALS DUE TO HIGHER AREA AND MUCH LOWER WEIGHT, ALSO ABOUT HALF THE PRICE OF THE STANDARD UNITS. simple fitting and balance instructions & nuts /bolts washers included.




My blades have great starting torque and have high rpm capability for use with available pmg's wind blue futurenergy types e.t.c. to produce more power at lower windspeeds.
These rotors/ blade units have angles of incidence (a.o.i.) modelled on current leading computer designed units, and so turn at low windspeeds and with similar sometimes better high wind outputs. My rotors are 'carrying' a lot less weight than others, e.g. my blades for the futurenergy pma shown above are a quarter weight of the standard £241 1.8 mtr 5 blade plastic unit, please see my other 'wind turbine help guide' or see U-Tube videos member name wind4watts