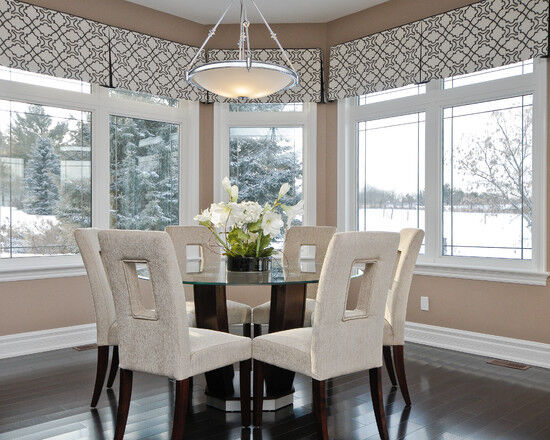 Add a caption
Less is more with modern window valances
Click to edit caption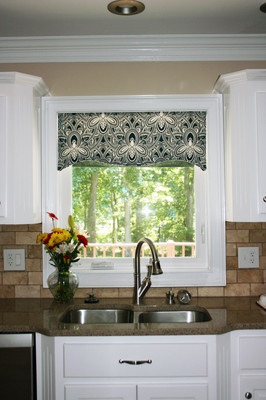 Add a caption
Kitchens suit simple window dressings
Click to edit caption
Kitchens and bathrooms
By the very nature of kitchens and bathrooms, the window dressing should be fairly simple and easy to clean. We really don't want a window full of fabric and what we do have needs to be practical. However, it can still be attractive and there is no reason why we shouldn't fit a simple valance here – a non-pleated version with simple scalloped edging suits modern kitchens and bathrooms, particularly with a strong print like the one above. For a country kitchen, go for shabby chic fabrics with a more traditional skirt. You could pair this with the colour or fabric of your tablecloth.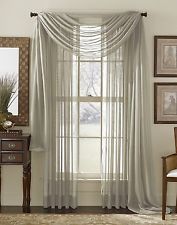 Add a caption
Soft and sweeping suits a bedroom
Click to edit caption
Bedrooms
Master bedroom
You can afford to be extravagant in your boudoir – this is your personal room of luxury and styles can be sumptuous and romantic. Go for sashes and soft floaty fabric, picking out colours from your
bed linen
and co-ordinating with scatter cushions. If modern and minimalist is more your style, a simple, straight valance hung on an iron bar will suit the window perfectly. If you have high ceilings then position the bar higher up – this enhances the height of the wall and makes your windows look bigger.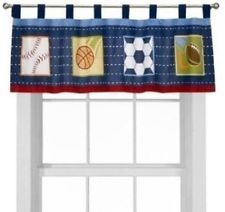 Add a caption
A tab-top valance is relatively easy to make
Click to edit caption
Kids' bedrooms
You can have a lot of fun decorating kids' rooms. There are some great contrasting colours and fabrics to work with – choose a really exciting fabric for the valance, then a block colour for a roman
blind
(please note the safety advice re blind cords and children) and then a secondary print for the curtains, which contrasts with both the blind and the valance – stripes, for example. Go for a modern tab-top valance like the example here. This is a great style to make yourself as the pattern is relatively simple. Also, with this sort of style, it is easy to change the valance when your child grows out of it, but you could leave the blind and curtains.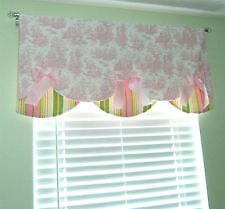 Add a caption
A pretty valance teamed with wooden blinds looks great and is a practical options for kids
Click to edit caption
Another idea for a child's bedroom is to fit wooden blinds with a valance over the top. The wooden blind shuts out light well, which is great for light mornings, and the valance shapes the window. This beautiful valance below would look gorgeous in a little girl's bedroom.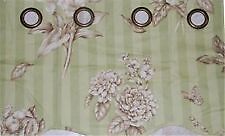 Add a caption
Ring top valances are easy to put up and take down
Click to edit caption
Living room
The living room is the showcase of your house and, depending on the style of your windows, you should choose your valance wisely. Make sure the design of the valance suits your style of furniture and accessories – a mismatch could be disastrous as you could be left with no alternative but to change one or the other if it really doesn't work.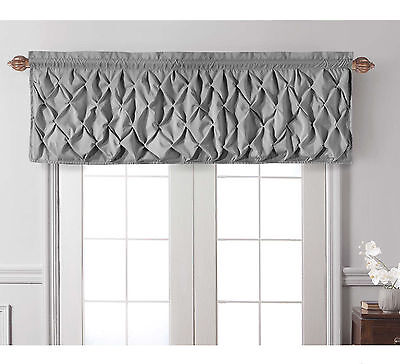 Add a caption
A modern take on the pleated valance
Click to edit caption
A valance could tie in with your cushions or lampshades, or you may prefer using the same fabric as your curtains. Natalie Shaw, soft furnishings expert and a professional curtain maker, offers advice for a stunning living room style: "You can create a great look if you make the valance from the same fabric as your curtains, but you add contrast by choosing a main colour out of your curtain fabric to use for the piping on the valance." If you want a decadent style, opt for something like the one above, which uses diamond pleats – a far cry from the old, heavily pleated styles, but still very dramatic.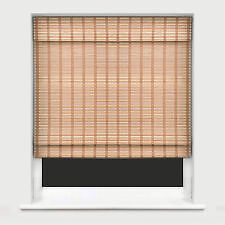 Add a caption
Bamboo blinds can be pulled up to give a valance effect
Click to edit caption
Conservatory/garden room
These rooms tend to have lots of smallish windows next to each other that can generally accommodate blinds, so a simple valance style will keep a sharp, uniform look. A valance with no blinds may be all you need to shape these windows. You can also cheat by buying some
bamboo blinds
that you can roll up to the same level to give the appearance of a valance, but will also double up as shade if you need to roll them down in very bright conditions.
Fitting your valance
The fittings you require for your valance will depend on what kind of valance you choose. The valance itself should fit over the top of your curtains or blinds. Some will require a pole, like the tab-tops, for example. This type of fitment would be better when the valance is dressed with blinds rather than curtains, otherwise you may end up with two poles over your window – in which case you will need to replace your curtain pole for simple curtain track.

For other valance styles, you will need special valance rails. These need to be slightly longer than the curtain track along the length (approximately 2cm each side) and then they are bent at each corner so they hang proud of your curtains – you will therefore also need to measure how far your curtains hang out from the wall.