Microsoft® Windows™ 7 launches on October 22nd of this year here's a quick guide to the complexity of buying options out there.
There are three versions of Windows 7 which will be available to buy in shops, additionally PCs may come with a slimmed down Starter Edition which is not available to buy separately. The new editions of Windows 7 are Home Premium, Professional Edition and Ultimate Edition. To save considerable amount of space here I'll refer to these as HP, PE and UE from here on.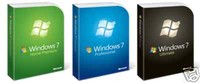 Vista with Upgrade Voucher
Currently (4th July) there are only two ways to buy Windows 7 - to buy a copy of Windows Vista which includes and Windows 7 upgrade voucher or to buy a new PC which comes with an upgradable version of Windows Vista. These PCs come with a copy of Windows Vista Home Premium/Business Edition/Ultimate Edition and an Upgrade Voucher for Windows 7 HP/PE/UE. The voucher can be redeemed on-line and when Windows 7 launches Microsoft will start sending out the upgrade packs.
Caution!
- Currently there are a number of PCs being sold on eBay with a claim of "Windows 7 installed" - unless a PC comes with Windows Vista Home Premium, Business Edition or Ultimate Edition and a Windows 7 Upgrade Voucher you are being deceived! Most of these computers come with the Windows 7 RC1 (Release Candidate 1) installed, this is an unfinished version of Windows 7 released freely to the public for testing purposes and has a license valid until June 1st 2010. If you are interested in using RC1 it can be found at the Microsoft website by searching for 'Windows 7 RC1' - you should never pay for a copy of this software.
Pre-Order
Starting on July 15th a limited number Windows 7 pre-orders will become available. Japan recently had their pre-order date and copies sold out within 48-hours. In the UK pre-ordering an upgrade to Windows 7 HP or PE will cost £49.99 or £99.99 respectively.
Launch
October 22nd is when Windows 7 will launch for real and copies can be bought in shops. Prices will then be HP - £79.99, PE - £189.99 and UE - £199.99.
Beyond
Strangely after December 31st 2009 Microsoft will
increase
the price of Windows 7 to HP - £149.99, PE - £219.99 and UE - £229.99.
In conclusion then there is only one rule of Windows 7:

buy as soon as you can!

And if you can't wait for a new PC make sure you get one of those with the Windows 7 Upgrade Voucher included.
Thanks for reading! If you've any feedback to give or suggestions for future topics I'd be glad to hear them.
Douglas
Sword Computers