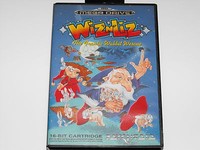 Wiz 'n' Liz Review for the Sega Mega Drive

Released in 1993 this is one of the most fun platform games on the Sega Mega Drive.
You play as one of two magicians Wiz or Liz and have to search the planet Pum for wabbits (rabbits) and have to collect them,fruit / vegetables,letters and stars.
You must save all the wabbits before the time runs out otherwise they will eventually explode.
Once fruit or vegetables have been collected you can mix two together in a cauldron in your homeworld.
Doing so will create a spell which will create a mini-game or a strange game bonus and there are loads of different spells to mix.
The fruit and vegetables will only hang around for a few levels so be sure to use them before they disappear!
After each set of lands are completed you will have a boss / monster to battle before moving on to the next set of lands.
This is a very addictive game and has gameplay in abundance which some more modern games lack.
The later levels require you to have the reflexes of a fighter pilot as you frantically run about the levels trying to save all the wabbits.
It is such a fun and enjoyable game that I would recommend anyone who owns a Sega Mega Drive to give it a try.
Believe me you will not be disappointed!
I have been playing this game again this month (May 2012) as I wanted to complete a list of what all the 100+ fruit mixing spells are and what they do!
Still a thoroughly enjoyable game and brings a smile to my face every time I play it.
I hope that you have found this review useful and please don't forget to vote as it is free to do so and only takes a moment.
The more votes I receive the more inclined I am to spend my valuable free time writing more eBay Guides and Reviews for you.
If you have less than 5 feedback unfortunately you won't be able to vote (Sorry eBay rules and not mine!)
Many thanks.