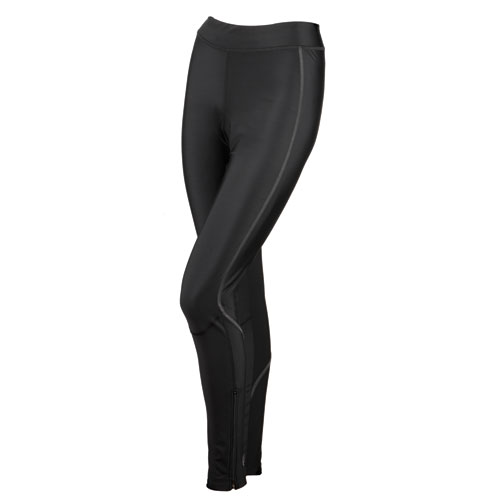 Cycling tights are a form of compression sportswear worn by professional and amateur cyclists across the world. Cycling tights can be beneficial to a cyclist by improving speed and prolonging stamina. There are a number of key points that all buyers should be aware of before beginning a search for cycling tights, including the sizing of the tights and the materials used to manufacture them. There are many brands that specialise in women's cycling tights , and at times it can seem confusing when trying to decide on a pair.
Buyers are advised to search for cycling tights on eBay as opposed to cycling stores and specialist sites, as the site has a large selection at unbeatable prices. The following guide shall examine the key points to consider when searching for women's cycling tights, and how to find a suitable pair on eBay.
Tights vs. Shorts
Many manufactures make both cycling tights and shorts, and some buyers may be confused as to what the difference is between them. Cycling tights extend down the leg, usually to the ankle, and are specifically made to provide warmth and protection in cold and bad weather conditions.
Cycling shorts extend down to the middle of the thigh and are more suitable for use in warmer weather. Both types of garment should be worn instead as underwear and without an additional bottom layer.
Cycling Tights
As mentioned above, tights are worn in cold weather and during the autumn and winter seasons. Cycling tights will protect the legs from rain, wind, sleet and hail and prevent numbness from occurring by stimulating blood flow through the muscles.
It is also a good idea to wear cycling tights when cycling at higher altitudes as it counteracts a rider's veins from thinning. There are two types of cycling tights available, and picking one over the other is generally a matter of personal preference. These are:
| | |
| --- | --- |
| Waist-High Tights | Waist-high tights are worn from the waist down and usually extend to the ankle. It is possible to buy waist-high tights that extend to the knee or three quarters of the way down the leg. Although this type of design is very popular among men it is probably the least favoured of the two by women. |
| Bib Tights | Bib tights get their name from their bib-like suspender design. Two straps of material extend from the tights up over the shoulders keeping everything fitted and in place, akin to a wetsuit's design. Bibs are favoured more by women than the high waisted design because they offer more support, and are generally more comfortable. These tights are generally more expensive than waist-high tights, but plenty of reasonably priced new and used bib tights can be found on eBay. |
There are also a number of tights made specifically for use with mountain and off road biking . These tights tend to be looser than the above tights, as they have to absorb more impact. Mountain biking tights are also made from heavier and thicker materials, so the cyclist will be protected if they crash.
Women's Cycling Tights Sizing Guide
Buyers will find that cycling tights sizes are not in standard numerical values, but instead use the 'small', 'medium' or 'large' style of measuring. Always buy an appropriate size, as buying cycling tights that are too small will cause chafing and irritation, and buying tights too loose will cause sagging and reduce speed.
| | |
| --- | --- |
| Waist Size 6 | XXS |
| Waist Size 8 | XS |
| Waist Size 10 | S |
| Waist Size 12 | M |
| Waist Size 14 | L |
| Waist Size 16 | XL |
Materials
This is probably the most important aspect when it comes to choosing cycling tights, as the material in which the tights are made from will influence price, performance and also the environment that they will be most suitable for.
The majority of women's cycling tights sold today are comprised of more than one material allowing cyclists to experience the advantages of both fibres. It is recommended that buyers aim to buy tights made from more than one material, and although these tights will be more expensive than single material options they will be of greater benefit.
There are plenty of different materials used in the manufacturing of women's cycling tights, so buyers are advised to spend some time reading up about them. Below are the three most commonly used today:
Polyester

Polyester is the most frequently used material in the manufacturing of garments worn when cycling. Polyester is used to make tights, shorts, jerseys, gloves and overshoes. The reason polyester is so popular is due to its high elasticity, its strength and that the material has excellent sweat wicking properties.

Women's polyester cycling tights can be bought for inexpensive prices, but the more money that is spent, the more comfortable and better fitting the tights will be. Polyester tights can be used in average to cold temperatures.

Lycra

Tights made from lycra are very popular, and this material is extremely thin and light, making it suitable for use in warmer weather. However, it is not advised that one uses tights made from lycra alone in cold temperatures, as the material is not thick enough to trap and distribute body heat evenly. Lycra tights can be bought for very low prices and are ideal for those looking for their first pair of tights.

Roubaix

If cycling in cold temperatures or in wet and windy weather, try using tights made from Roubaix . This material is also ideal for use at higher altitude or along mountain roads. Roubaix brushed on the inside, giving it a fleecy quality. Roubaix is excellent at trapping air and keeping a cyclist's body heat at a steady level, regardless of the temperature around them.

If buying Roubaix then look for some that are combined with another material, such as lycra or nylon, as this will keep it form fitting and flexible.
Chamois
Chamois is padding that is sown into the bottom of the tights. These are very helpful and add comfort to the saddle and keep the backbones supported and stress free. Chamois can be made from a number of materials including polyester, and most employ some form of foam or gel padding. Chamois are also anti-bacterial and are designed to move moisture away from the body. Although a chamois will increase the price of the tights, all buyers are advised to buy tights that have one.
Cycling Tights Features
Many of the tights made today are available with a number of features aimed at improving the quality of the ride. These include:
Zips along the ankles make it easier to put the tights on and take them off. They also give the cyclist the option of rolling the tights up if they become too warm.
Foot loops are used to hoop the feet into the ends of the tights and pull the material down into the shoes. These are great in cold weather and will stop the legs of the tights from riding up.
Waterproof coating is common in cycling tights, and will keep the cyclist dry regardless of the weather. However, wearing these tights in weather conditions other than those they are recommended for can increase perspiration. Only wear waterproof tights in rainy weather.
Various panels, that have been stitched together, can give tights maximum flexibility. The more panels a pair of tights has, the more flexible and comfortable they will be. Buyers can expect cycling tights with multiple panels to be considerably more expensive than those without.
Searching for Women's Cycling Tights on eBay
Buyers will find a large selection of women's cycling tights on eBay at much lower prices that those in cycling stores. To begin browsing for cycling tights take the following simple steps.
· Log onto eBay.co.uk and click on the 'Shop By Category' tab that is located beside to the left of the search bar.
· Click on the Cycling title found below Sporting Goods, and on the following page click on the Cycling Clothing link.
· Scroll down to the Tights & Trousers filter found towards the bottom of the filter table. Clicking on this will listing cycling tights only.
Type Women's Cycling Tights into the search bar and press enter.
· If searching for tights made from a particular material then remember to enter this into the search as well, e.g. 'Women's Roubaix Cycling Tights'.
· If searching for a particular brand then enter this into the search.
· Scroll down to the 'Description' box on an item's listing page to find additional information about e.g. the size of the tights.
Conclusion
Women's cycling tights can greatly improve a cyclist's speed, stamina and performance while keeping legs warm and protected from bad weather. Cycling tights are available in two forms, and choosing waist-high or bib tights is a matter of personal preference.
Buyers should spend some time thinking about what materials would suit their cycling conditions best, and if possible try to buy tights made from a combination of more than one fibre. Buyers should also try and purchase tights that have a chamois, as this will increase comfort and straighten the backbones, while also keeping the tights bacteria and odour free.
There are plenty of stores and websites that women's cycling tights can be obtained from, but all buyers are advised to search for these garments on eBay. The site's extensive database of users allows buyer to shop for new and used tights at very reasonable prices.