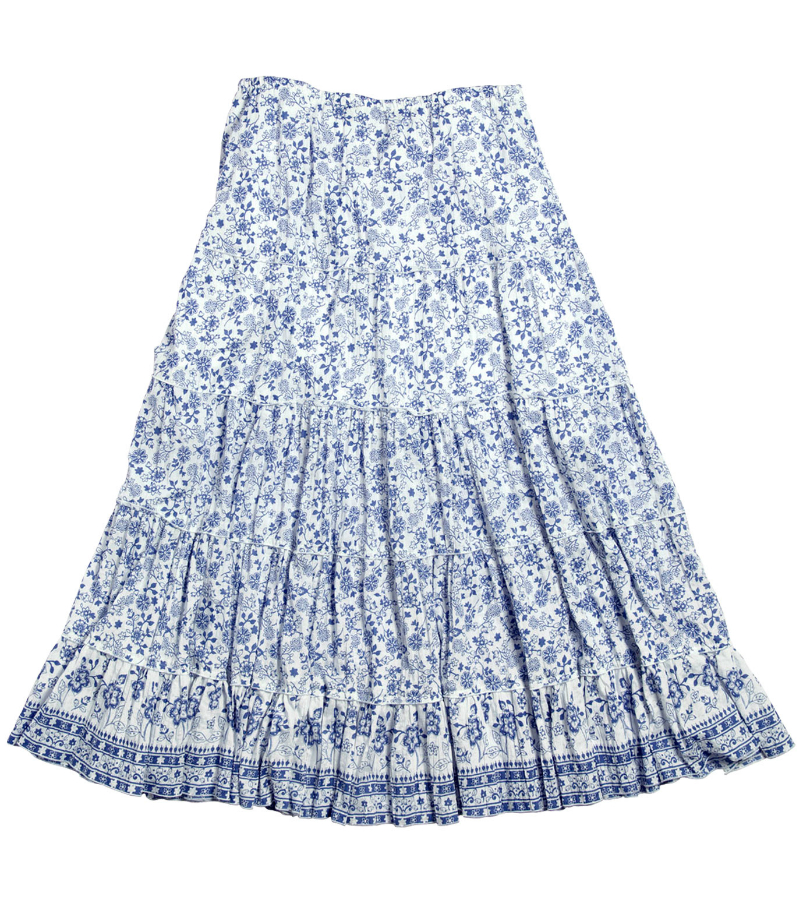 Shopping for plus-sized women is not an easy task. First, most local women's stores only carry a limited selection of plus size clothes, including plus size skirts. Secondly, some stores that do offer plus size collections feature shapeless, unappealing clothing that does not look good on anyone. Finally, many plus sized women struggle with insecurity about their body type, an idea that is only reinforced by the lacklustre selection of full-sized clothing found in most retail stores. Thankfully, in recent years many designers have started to specialise in creating clothing lines just for full figured women. The Internet is a great place to find plus size clothing, and some websites such as eBay have an extended clothing selection from all over the country. The key to buying a plus size women's skirt is to focus on the style, colour and fit for a fabulous, beautiful look that highlights a woman's natural curves.
Sizing Plus Size Skirts
One of the most important aspects of plus size clothing is buying the correct fit. Buy a size too large, and the skirt looks baggy and ill-fitting. Buy a size too small, and the skirt look too tight across the hips. Plus size clothing often starts at size 16 and goes all the way up to size 26. Of course, finding the right size is not always easy even when shopping in a store where a woman can try the clothes on in the fitting room. Designers sometimes fudge on the sizes, so while a woman may be a size 18 in Ann Taylor can be a size smaller or higher in other designer labels.
Add onto this problem that some designers do not put dress sizes on their skirts, instead choosing to label them as large, extra large, or extra extra large. However, online shoppers don't always have the luxury of trying on their clothes before they buy. This is where a piece of measuring tape and a size chart come in handy. For skirts, a woman should measure herself around the waist and the hips. Check the size chart of each designer to see what size the measurements fall under. The chart below lists the average sizing measurements for plus sized clothing.
| Size | Waist (cm) | Hips (cm) |
| --- | --- | --- |
| 16 | 83 | 103 |
| 18 | 90.5 | 116 |
| 20 | 98 | 123.5 |
| 22 | 104 | 129.5 |
| 24 | 110 | 135.5 |
| 26 | 116 | 141.5 |
Now that one is familiar with the sizing scales, getting into the length of the skirt would be the next task up to tackle.
Skirt Length
When it comes to skirts, the length is also important. Some women enjoy showing off their legs, while others do not. Furthermore, some short skirts such as the mini skirt are not suitable for wearing to the office. Full figured women with wide legs need to keep in mind that the length of tight fitting skirts will actually be higher on their body since the fabric has to stretch around both their hips and legs. The chart below lists the average skirt length sizes based on type, but if length is going to be a problem always check with the seller when purchasing skirts online to see how long the skirt actually is before purchasing.
| Skirt Type | Average Length (cm) |
| --- | --- |
| Mini Skirt | 35 |
| Midi Skirt | 45 |
| Knee Skirt | 55 |
| Calf Skirt | 75 |
| Maxi Skirt | 95 |
After noting this important feature, finding the desired style of skirt is the next item on the list of things to do.
Choosing a Plus Size Skirt Style
The most flattering pieces of clothing are those designed for a woman's body type. These clothes minimise certain areas and accent others for a fabulous fit in the perfect style. If a woman is unsure about her body type, measure the bust, hips and waist. No one should fall victim to the belief that plus sized women do not have a body type. In fact, most plus size women with their elegant curves actually fall into the hourglass body type, the most desirable body type of all. Hourglass figures have bust and hips that are about the same size, and both areas are larger than the waist. Another common body type for full figured women is the pear, where the bust is smaller than the waist or hips. Less common for plus sizes are the apple type, where the bust is bigger than the hips and waist, and the banana type, where bust, hips and waist are all the same size.
Plus Size Skirts for Hourglass Figures
The ideal hourglass figure looks good in almost anything. Check out a fashion magazine for full figured women and marvel at all the plus sized models wearing the same fashionable clothes as their skinnier counterparts. All styles look lovely on this figure, but there are several options for buying flattering clothing. Choosing a skirt with a belt that accents the small size of the waist in comparison to the flare of the hips. Pencil skirts with their straight hemline block out the hips and waist, creating a long, elegant line that elongates the legs. Any colour is fine with hourglass figures, but most fashion experts recommend staying away from creating big blocks of colour for plus sizes. For example, if a woman purchases a brown top, then she should buy a skirt in a different colour. A highly popular designer is Monif C, who produces a lovely line of clothes made just for plus sized women.
Plus Size Skirts for Pear Figures
Pear figures are slightly bigger on the bottom than they are up on top. The shapeless clothing often sold in plus size stores does absolutely nothing for this figure. Instead, women need to embrace clothing styles for large hipped women and find the perfect skirt meant just for them by following a few suggestions. First, when purchasing a skirt, choose a dark colour and pair it with a light top. Dark colours minimize areas, while light colours maximise them. However, this does not mean that every skirt has to be a boring shade of black, which often looks too severe. Have fun picking out skirts with a bit of colour using brown, navy, and other dark shades. Low waisted skirts cut the hip area in half, making it seem smaller. A-line skirts, which flare slightly around the hemline, give the illusion that the hips are smaller than they actually are. However, stay away from tapered pencil skirts, as this style only makes the hips seem bigger. The same also goes for skirts with a high waist.
Colours
Forget the old fashion rule that plus size women should wear black. While it is true that dark colours give the illusion of a smaller body area than light colours, there is no reason why black needs to be the only option here. For one thing, black is a very draining colour. It is not flattering on many skin types, making many women seem overly pale. The first step for a full figured woman to truly feel comfortable in her own body is to go against the grain. As mentioned above, while pear types need to stick with dark clothes for their skirts, they can choose from plenty of other dark shades besides black. Hourglass types can choose from any shade of the rainbow, from bold purple to demure white and everything in between.
Buying Plus Size Skirts on eBay
The Internet revolutionised buying clothes for many full figured women. Once, a plus size woman had to settle for whatever she could find in her size at a local shop. Now, the entire world of fashion is at her fingertips. eBay is simply amazing for Internet shopping because its electronic platform brings together sellers of all different backgrounds from all over the country. Women can find skirts from all the top designers and high street retailer such as Marks & Spencer in their size sold in either new or used condition. The used option comes in handy when a woman is on a budget, and eBay offers an unparalleled selection of used women's clothing, including skirts.
Getting the Right Size on eBay
A key component to shopping on eBay for plus sized skirts involves ensuring that the customer purchases the correct size. Use eBay's search engine to help narrow down the thousands of auctions going on simultaneously into an easily manageable page. For example, if you are searching for a size 20 skirt, start by typing in "size 20 skirt&". This pulls up all results listed under size 20. However, buyers need to keep in mind that, as mentioned previously, sizes sometimes vary based on different designers. Therefore, the buyer needs to carefully check the auction's listing. Some sellers list an actual measurement of the item's waistline on the information page, but others do not. You can always ask the seller for this information, but if you do not want to wait, then get the designer's name. Search the internet for the designer's webpage and find their own sizing chart to get the most accurate sizing measurement possible. If there is no sizing chart online for a particular designer, then use the one that came with this guide. Ensuring the item fits correctly leads to a happy buyer.
Conclusion
There is no reason plus size women have to settle for unappealing and unflattering clothing, including skirts. With so many modern designers creating great styles for full figured women, it is truly a crime not to take advantage of some of these exceptional items. The first part of buying a skirt online is ensuring the fit is correct by using a sizing chart and a measuring tape. Women need to also measure themselves to determine their body type. Purchasing skirts meant to fit and flatter their body type ensures that each woman will look wonderful. Finally, there is no need to stick to old fashion notions such as black being the perfect colour for plus sizes. Purchase a colour for its appeal and how it will work with the rest of the wardrobe. eBay allows plus sized women access to many clothes they simply cannot find in local retail stores, giving everyone the gift of fashionable skirts at reasonable prices.