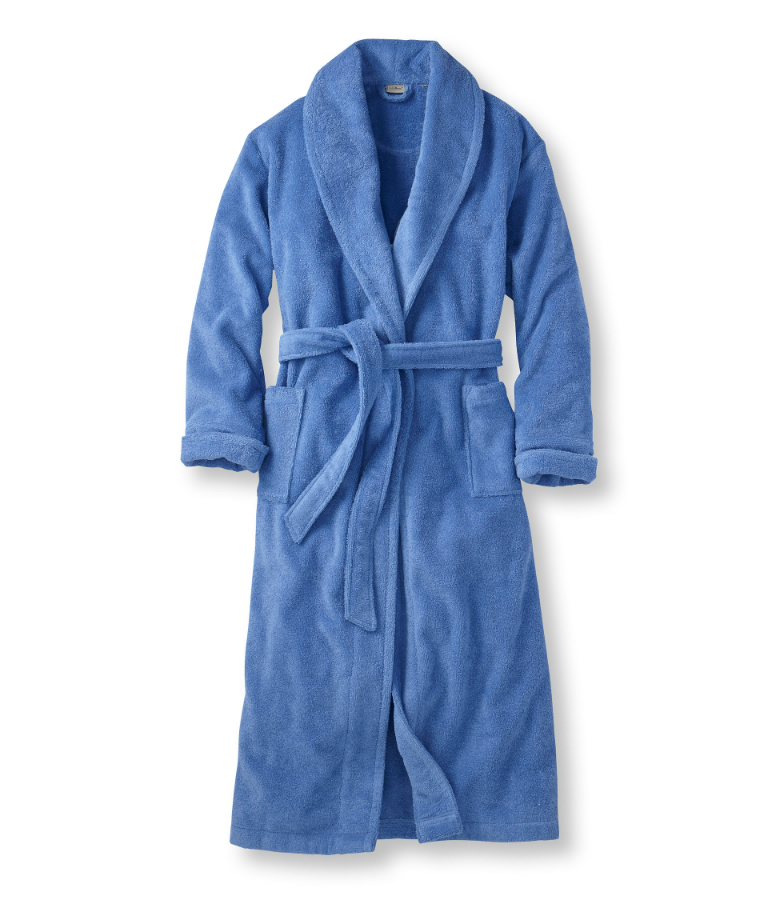 Having a robe that is not only stylish but also very comfortable is essential. Women's robes are cherished for their warmth and comfort they provide for the woman who is using them. Though they can be used in place of towels for those made of cotton, they are also worn before retiring to bed or even after waking up when one is carrying out errands around the house in the morning. With the advances in the manufacturing process of robes as well as the material science, buyers can access a wide variety of robes.
Robes are sold in a number of places such as shops, department stores and almost all clothing retailers. Online, eBay offers different varieties of women's robes at different prices. With a huge selection of robes available in the shops, it can be quite a challenge when it comes to buying the ideal robe yet offer the choice of choosing the right robe according one's preference. The following are some points to consider when considering to purchase the perfect robe for your wife, sister, girlfriend or even a friend.
Choosing the Right Fabric for a Woman's Robe
The most important aspect when it comes to choosing the right robe is the fabric. The fabric determines a number of factors such as: the weight, the feel, the touch and absorbency of the robe. There are different fabrics used for making robes such as microfibre, warm cashmere, cotton, and satin among others. The intended purpose of the robe will determine the best fabric for it. Here are some of the benefits for each type of fabric materials for robes.
Microfibre
This type of material is developed with a modern manufacturing process. The material contains fibre that is 0.0625 the size of human hair. This means that the microfibre is finer than the silk material. It is also more breathable and is more lightweight than any natural or synthetic fibre. Microfibres have an impressive water absorption quality and have a safe good feel. Microfibre robes are ideal robes for lounging and can be used throughout the year in all seasons.
Cotton Waffle
This type of material has a squared or a diamond pattern that is checkered, and 100% cotton material makes the robes absorb water very efficiently. It is important that cotton waffle robes are washed with pre shrunk treatments to avoid shrinkage. The robes are mostly used in the spa and the hotel industry as well.
Cotton Terry
Some of the best cotton terry materials come from Turkey and Egypt. The material absorbs water effectively especially when the fabric has a high density.
Cotton Velour
This material has a similar feel to velvet. It has a soft feel and is warm and also insulating. A cotton velour robe is perfect for lounging around the house especially on cold winter days.
Silk and Satin
Robes can be made out of a combination of these materials. The materials are soft to the touch and robes made out of silk and satin are ideal for lounge robes. They are highly light in weight and make movement a breeze.
Cashmere
Cashmere fabrics are of many varieties. Some of the cashmere fibres are made out of animal hair. The material is soft and very warm. Robes made out cashmere are a perfect choice for the winter season as they are lightweight and at the same time, great insulators from the chilly weather.
Microfibre and Cotton Terry
A combination of these two materials makes for great robes. The microfibre can be used on the exterior of the robe while cotton terry as an inner lining. The robe's silk exterior as a result of the microfibre gives it a sleek appearance while the cotton terry lining of the robe gives it a very good absorbent ability. In addition, it gives the robe a soft feel against the skin.
Choosing the Right Size
It is advisable for buyers to simply not settle for the robes that are of one size for all fits. This is because different women are of different shapes and sizes. There is no need for women to spend a lot of money investing in a good robe only to realise that it does not fit even though the robe was meant for all sizes. The right thing to do is to fit the robes before making a purchase. In general, regardless of where the robes are bought from, it is important that buyers make sure the shop has at least five sizes in order to get the best fit.
Women's Robes Sizing Chart
As mentioned above it can be difficult to find just the right size for a robe, and it's not beneficial to go with a one size fits all. This chart can help to give you a better idea overall of what size is best suited for your body type.
| | | | | |
| --- | --- | --- | --- | --- |
| Robe Size | XS/S | MED/LRG | XLG/1X | 2X/3X |
| | | | | |
| --- | --- | --- | --- | --- |
| Dress Size | 2-6 | 8-14 | 16-20 | 22-26 |
While it can be difficult to find out your proper size, the sizing chart above can help you get a generalised idea. This will make online purchases and shopping much simpler.
Robes As Gifts
Robes can be good holiday gifts for family and friends alike. Most holidays especially the major ones are not only fun but stressful as well: the planning, the preparations and the shopping. People get confused and stressed over the perfect gift to get for all their loved ones to make them feel special. For those who haven't a clue on what to get, then robes would make for really nice holiday gifts. They are the type of gift that can match a wide variety of lifestyles, personalities and sizes; be they for the elegant or simple person, the laid back or energetic person, the small or big person, the list goes on. Buyers can select a robe that matches the different traits and aspects of different people.
Robes for Different Purposes
It is important to get a robe that will match the different needs of different women. Finding robes that can fit tall women well can be quite a challenge. With careful selection, there are different types of robes that could be the perfect fit for tall women. Breastfeeding and older women also have their own needs and these needs should be considered when buying a robe. There are robes that fit different body shapes .There are robes that can be worn to casual outings as well.
Zip Front Robes
These robes come in different colours and styles. They are also available in both short lengths and long lengths. Buyers can choose a zip front robe depending on the type of fabric they fancy.
A benefit of these robes is that they give full body coverage. For those who don't like feeling exposed even in a small way, then the zip front robes are a great buy. They are also quite warm; once they zip up, the robes leave no spaces to let in air. These robes also come with the option of high collars for giving buyers extra warmth.
They are a perfect fit for older women. They can be easily adjusted and they don't take much effort to close. The zip robes do not have any sashes that could prove problematic for older women and they still maintain a classy look.
Sheer Robes
These types of robes cover women's bodies without obscuring what is underneath. They are light garments which create a sensual appeal for those wearing them. The fabrics used to make these robes are mostly nylon and rayon. Sheer robes come in a wide selection of colours. These robes make it appear as though the wearers have some slight tint. It is therefore advisable that buyers get sheer robes that best complement their skin tones. These robes have additions such as feathers and lovely lace accents.
Dressing Robes
They are also known as post shower robes. These robes should be soft to the feel. Some of the best dressing robes are made of cotton terry or other soft fabrics. Women can apply makeup and get ready to go out in these robes.
Snap Front Robes
These types of robes are ideal for women who are breastfeeding. This is because they are easy to slip in and out of. Snap front robes have been around for quite sometime, and many women of all ages can appreciate their comfort and ease of dressing.
Front Tie Robes and Sash waist Robes
These sash waist robes can be easily adjusted. They clinch a woman's waist nicely. They are found in many stores and come in different sizes. Tall women can easily find this type of robe that fits them. These robes are a perfect fit for women with an hourglass shape. The robes hugs their contours well complementing their body shapes.
Empire waist Robes
For women with apple shaped bodies, the empire waist robes are a really good fit for them since it hides their shape and make them appear like they have curves; a smaller waist and bigger bust as well as hips.
Finding Women's Robes on eBay
eBay has a wide variety of Women's robes which come in different styles, fabrics, sizes and colours. There are so many kinds of robes as discussed that are available for sale on eBay online shops. Therefore, it is important for the buyers to compare the prices of the different types of robes being sold in terms of material it is made from, styles, designs, colours and even prices. The wide range of women's robes being sold on eBay makes it easier for the woman to choose a robe of their choice that suits their preferences and matches their personality. After an extensive comparison, the best robe for the woman making the purchase can then be selected. If you have an idea of the type of robe you want, all you have to do is type in the search bar a few descriptive keywords. For instance, if what you want is a cashmere robe, type on the bar "cashmere women's robes."
Before finalising the purchase, find out from the seller if it is possible to get an exchange or refund for whatever reason. If that information is not available, it is best to contact directly the seller by accessing his/ her profile then clicking on his/her contact link.
Conclusion
A buyer who shops on eBay for robes should always be smart in order to get the best deal. She should therefore make an informed purchase. After all, customer satisfaction is normally the seller's priority. This way, the buyers will get good bargains for great robes. It is sometimes not enough to simply like the design of the robe; its functionality also plays a big role. It would be unbecoming for one to wear a robe made out of a warm fabric such as cashmere right in the middle of the sweltering summer heat.
Whatever choice that buyers make should reflect on first and foremost the purpose, then fit and finally style. Remember to always look out for any discounts or coupons that might be available for certain robes most so if you are on a budget. When these simple guidelines are adhered to, then individual buyers will find their ideal robes at eBay.