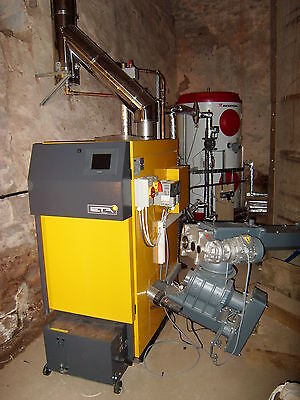 Add a caption
ETA Hack 50 (13.6 to 49.5kW) Wood Chip Boiler System and 1,000 litre Akvarterm accumulator tank.
Wood chip boilers are generally associated with larger commercial projects but do have applications in the domestic market.
Our Solutions
:
Wood chip boilers require a dedicated boiler room to house the boiler, accumulator tank with expansion vessel and all necessary products to provide heating and hot water to most types of buildings.
We currently specify two manufactures of wood chip boiler:
ETA Hack 20-200kW wood chip boiler (7 boiler sizes available)
Froling T4 24-110kW wood chip boiler (9 boiler sizes available)
Froling TX 150-250kW wood chip boiler (3 boiler sizes available)
All products in our Wood Chip range are all fully automated and self cleaning systems, requiring as little maintenance as possible to the end user. Wood chips do take up a greater volume than wood pellets and are less dense so require a larger storage facility. Storage can vary from grain silos to dedicated wood chip stores. The boilers also have the potential for weather compensated heating circuits through Lambda sensor technology. This results in the heating being determined by the external weather conditions and automatically adjusted accordingly.
What can you earn?
All wood chip boilers <45kW are MCS accredited for Domestic Renewable Heat Incentive (RHI). This is dependent on a Green Deal Assessment (GDA) being carried out at the dwelling. Our systems meet the new emissions certificates for the Commercial Renewable Heat Incentive (RHI) applications allowing 7.6p (October 2014) to be claimed for every kWh used by the heating solution.
Fuel Costs:
Wood chips are typically around £180-200/tonne dependent on quantity ordered. For clients who generate their own supply of wood chips, extensive fuel records would need to be kept for RHI payments. Case Studies for Log Gasification Boilers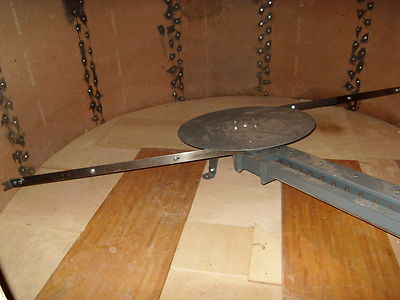 Add a caption
3.5 meter bespoke wood chip agitator – Customised from an existing grain silo.
CASE STUDY: Hill Top Farm benefit from Renewable Wood Chip Boiler solution
Devon Farm have a 50kw Wood Chip boiler installed by Blake Ecotec, alongside a bespoke Wood Chip Agitator.



The Client;
Mr. Daniel Webber.
The Property;
Hill Top Farm, Severn Crosses, Tiverton, Devon (Non-Domestic).
The Project Included;
ETA Hack 50 (13.6 to 49.5kW) Wood Chip Boiler System.

1,000 litre Akvarterm accumulator tank.
3.5 meter bespoke wood chip agitator – Customised from an existing grain silo.
Internet link up for remote control to allow the client to easily monitor boiler performance.
Full Project Management including design, installation, maintenance and RHI application.
Pay Back Period;
3-4 years.
RHI Payments;
A project of this size would gain approximately £189,000 in Government funded payments over the 20 year period.
Total Cost;
£36,600 including VAT.
The Project Requirement;
Deep in the Devon countryside, the owners of Hill Top Farm, near Tiverton, were looking to make the switch to green energy by integrating an intelligent and renewable biomass solution to heat two buildings, minimise reliance on fossil fuels and reduce CO2 emissions. Project Summary Following detailed and in-depth discussions we designed and installed a 50kw ETA biomass boiler solution to supply heating and hot water to two separate dwellings on the farm. Alongside this we also fitted a 1,000 litre accumulator tank and customised an existing 3.5 m high Gain Silo to act as a bespoke Wood Chip Agitator. Our experienced team designed, installed and commissioned the entire project, including the RHI application process. The solution works at 92% efficiency compared to the properties previous oil system which worked at only 80%. Mr. Webber also saves considerably on fuel costs; the biomass wood chip cost 2.7p per kilowatt of heat produced in comparison to a much higher 6p per kilowatt for the oil system. Working with over 40 metres of underground pipe to connect the new Biomass Boiler to the properties, we also integrated an existing oil heating system and our engineers configured the system to allow the oil system to work as a fail safe. Both work efficiently and interchangeably at the touch of a button.
The Renewable Heat Incentive (RHI);
Hill Top Farm's 50kw ETA Biomass Boiler is compliant within the 20 year Non-Domestic Renewable Heat Incentive (RHI) scheme. As well as delivering substantial net fuel cost savings of £114,385 over the 20 year scheme. Our installation will enable Mr. Webber to receive RHI payments of 8.6p per kWh of heat generated by the system through submitting quarterly meter readings to OFGEM. The project will gain approximately £250,000 additional income over 20 years. The RHI payments and the fuel cost savings made have already seen the initial outlay paid off in just 3-4 years, making the project both sustainable and financially viable.