Having your building's heating and hot water provided by wood pellets is a very viable option and there has been significant growth in this area of the market with many different solutions offering a range of practicalities, including:
Manual fed boilers for bagged delivery.
Automated boilers designed for blown pellet delivery.
Manual fed boilers
include either internal or external hoppers dependent on capacity, while
Automated boilers
need either sack silos, galvanised store or custom built pellet stores.
Our solutions work on either a manual clean system, requiring a weekly clean or a self cleaning solution. Some wood pellet boilers require an accumulator tank, others do not. All these factors and requirements will be discussed at the initial survey with a member of our experience team.
Our Solutions:
Wood pellet boilers have great applications for either the domestic or the commercial market. Capacities can begin as low as 7kW right up to 200kW. The pellet boilers that we recommend and install are produced by the following manufacturers:
Extraflame LP 14-30kW wood pellet boiler (3 boiler sizes available)
MCZ Red Compact 14-35kW wood pellet boiler (4 boiler sizes available)
ETA PU 7-15kW wood pellet boiler (3 boiler sizes available)
ETA PC 20-32kW wood pellet boiler (3 boiler sizes available)
ETA PE-K 35-90kW wood pellet boiler (4 boiler sizes available)
ETA HACK 130-200kW wood pellet boiler (2 boiler sizes available)
Grant Spira 26-36kW condensing wood pellet boiler (2 boiler sizes available)
Froling P4 8-100kW automated wood pellet boiler (10 boiler sizes available)
Froling P4 8-25kW manual wood pellet boiler (4 boiler sizes available)
What can you earn?
All wood pellet boilers <45kW are MCS accredited for Domestic Renewable Heat Incentive (RHI). This is dependent on a Green Deal Assessment (GDA) being carried out at the dwelling. Our systems meet the new emissions certificates for the Commercial Renewable Heat Incentive (RHI) applications allowing 7.6p (October 2014) to be claimed for every kWh used by the heating solution.
Fuel Costs:
Wood pellets are typically £260 a tonne for bagged pellets and can vary from £180-£200 for blown delivery, dependent on volume.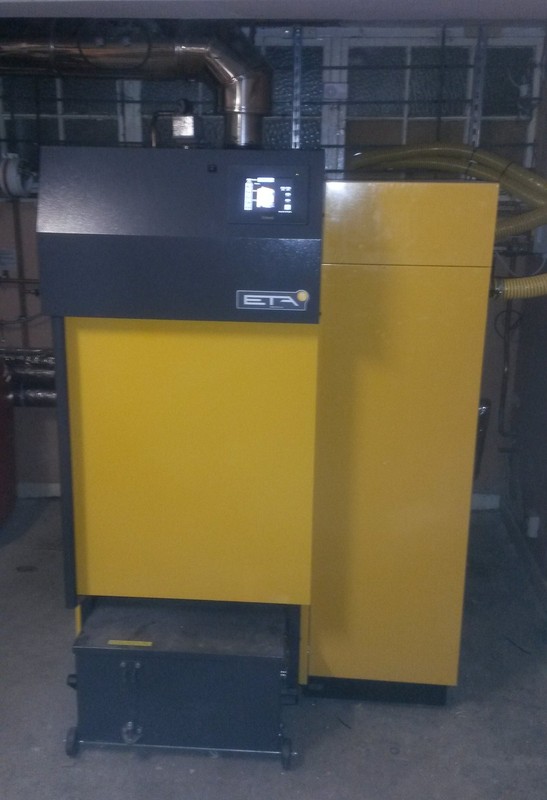 Paste a YouTube Video URL
CASE STUDY: District Heating Solution pays off for Wayside Farm
Blake Ecotec supply heating and hot water to Farmhouse, Offices and Holiday Lets for Somerset Farm
The Client;
Mr. Doug Ryall.
The Property;
Wayside Farm, Evercreech, Shepton Mallet, Somerset.
The Project Included;
ETA PE-K 70kW Wood Pellet Boiler Solution.
1,500 litre Akvarterm accumulator tank.
Our District Heating Solution provides heating and hot water to Mr. Ryall's personal property (140m2), 4 Holiday Lets (350m2), Offices (200m2).
All buildings on site have fail-safe Gas Boilers integrated into the solution.
Touch screen monitor to allow the customer to easily monitor boiler performance. Full Project Management, including design, installation, maintenance and RHI Application.
Pay Back Period;
4-5 years.
RHI Payments;
A project of this size would gain approximately £265,000 in Government funded payments over the 20 year period.
Total Cost;
£63,625.00.
The Project Requirement:
A stones throw from the famous Royal Bath & West Showground, Mr. Ryall's large Wayside Farm site encompasses a private dwelling, 4 holiday lets, offices, land and a lake. Mr Ryall required an intelligent, green energy solution to supply heating and hot water to all buildings across his site.
Project Summary:
The team designed, installed and commissioned a full domestic heating solution to provide heating and hot water to the entire site. A purpose built boiler room extension was constructed to house the 70kW ETA Wood Pellet solution, 1,500 litre accumulator tank and 180mm flue. Our District Heating solution means that a single boiler can provide to multiple buildings, removing the need for multiple boilers and dramatically reducing the costs on servicing bills. The ETA PE-K is a fully automatic, vacuum loading, self cleaning solution. The boiler has a 60kg capacity pellet bin that requires three to four ten minute feeds per day and the automatic cleaning system simply removes ash into a detachable ash box. The solution works at 92% efficiency compared to the properties previous oil system which worked at only 80%. Mr. Ryall also saves considerably on fuel costs; the biomass wood pellet cost 4.0p per kilowatt of heat produced in comparison to a much higher 6p per kilowatt for the oil system originally employed on the site. We installed over 200 metres of underground pipe to connect the new Biomass Boiler to the properties, and integrated a gas heating system to work interchangeably with the biomass solution, acting fail safe.
The Renewable Heat Incentive (RHI):
Compliant within the Non-Domestic Renewable Heat Incentive (RHI) scheme, Mr Ryall will receive payments over a 20 year period. The District Heating solution will deliver substantial net fuel cost savings of £127,896 across the 20 year scheme. Our installation will enable Mr. Ryall to receive RHI payments of 8.6p per kWh of heat generated by the system through submitting quarterly meter readings to OFGEM, a total of approximately £265,000 in RHI Payments alone. Add this to the savings made on fuel and the project will gain approximately £392,350 in additional income over 20 years. The RHI payments and the fuel cost savings will see the initial outlay paid off in just under 5 years, before turning a profit for the remaining 15 years of the scheme.