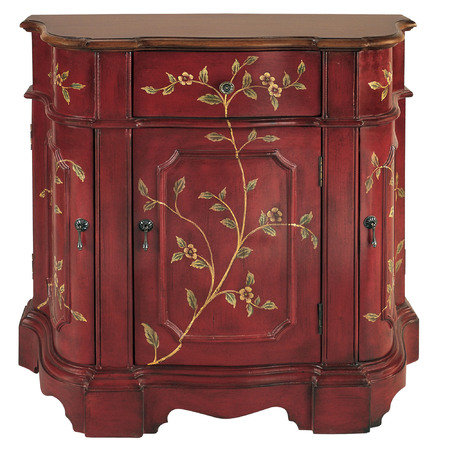 Online shopping has revolutionised the way shoppers can buy goods. For many items, ordering across the internet and receiving a delivery at home can save both time and money. This is certainly the case for home furnishings, where a single retail website such as eBay allows customers to browse a range of products with just a few clicks of a button, and large, bulky items are delivered to the home. This guide has been produced to allow both the first time buyer and the experienced web-shopper to hone their searches, and to ensure that they are able to find the ideal wooden cabinet on the Internet.
Purchasing Wooden Cabinets Online
There are several important issues that any customer should consider when browsing for wooden cabinets online. Every purchase is a compromise between the personal preferences in design and appearance with the necessities and technical specifications of a functional household product. A wooden cabinet can be used for storage, for display purposes, or even as a room divide, and its intended usage will play a part in any customer's selection. The following table provides a broad outline of some initial considerations.
| | | |
| --- | --- | --- |
| New: | A new item will arrive unused and in pristine condition, exactly the same as if it had been purchased from a bricks and mortar store. The customer will be confident that the item they receive will be in a perfect condition that will fit immediately into their home or office. | New items will generally be more expensive than pre-used items of a similar quality. It is unusual for very old items to be available in a new and unused condition, so for this reason, the buyer will be limited to choosing from only contemporary designs. |
| Used / Pre-Owned: | Purchasing pre-owned wooden cabinets can create substantial cost savings. Often, pre-owned items are in an almost new or as-new condition. However, because they have been unpackaged, they are no longer able to be sold as new. Cabinets listed as 'used' can, therefore, be amongst the greatest bargains available on the Internet, and should not be dismissed outright by any customer. Choosing pre-owned items will also allow the customer to select from a wider variety of both vintage and restored items, in many classic styles. Some vintage and older cabinets may be antiques, which have their own unique collectors' value. | Used items may naturally have suffered from general wear and tear through everyday use. This is understandable when purchasing functional items such as cabinets. They may even need some amount of repair work to be completed before they can be installed successfully in the home. It is important to find out from the seller of used cabinets the extent of any damage, as well as the overall condition of the unit. This information may significantly influence any purchasing decisions. |
| Pre-Built: | Pre-built cabinets are constructed by a craftsman, or in a factory or warehouse prior to delivery. Constructed cabinets will arrive as a single, assembled unit, which can then be installed immediately upon arrival. Cabinets that are sold as complete pieces of furniture, rather than as self-assembly kits, should be built to a reliably high standard, and forego the need for time consuming assembly on arrival. | Delivering a complete piece of furniture can raise certain logistical issues when ordering online. It is crucial that the buyer is able to transport the constructed furniture, and that the item will fit through doors and corridors when it arrives at the buyer's premises. |
| Self-Assembly Furniture: | Self-assembly items (often known as flat-pack, due to the method in which it is packaged for delivery) is usually a cheaper, and typically easier to transport, alternative to pre-assembled furniture. Some flat-pack cabinets will even allow for some level of modification: allowing for construction of a bespoke cabinet for the exact requirements of the individual's chosen location. | Some level of assembly and expertise will be required before the cabinet can be used. Construction can be a time-consuming task. Because self-assembly units are designed with home construction in mind, they are often of a more basic appearance, with fewer intricacies. Whilst this can make assembly more straightforward for the customer, it is often at the expense of style and aesthetic appeal. |
Selecting a Suitable Wooden Cabinet
A crucial step whenever buying furniture for the home or office is to take plenty of measurements of the intended location. It should be known precisely how the new wooden cabinet will be used within the home prior to completing any purchase. A cabinet should fit neatly into its location, and it should be easy to access, without becoming an obstacle or presenting a hazard. Always take into consideration the extra space required for opening cabinet doors, and the direction in which they will open out. A poorly planned installation may leave some storage compartments unusable if the doors are blocked by existing furniture or walls. Storage safety is of extra consideration if a cabinet is to be used in a functional capacity. A cabinet intended to act as a storage unit for heavy objects may not be ideal if it has very high shelves, which present a risk of falling objects. Similarly, a unit which is to contain fragile or dangerous objects (for instance, ornaments, trophies, or knives and kitchenware) may be most suitable if it has doors or glass panels to ensure items are not exposed to accidental damage or removal.
Accepting Delivery of a Wooden Cabinet
An important consideration when shopping for wooden cabinets on the Internet is the transit required for such a large, bulky piece of furniture. Someone searching for cabinets on eBay may notice that some of the items are listed as Collection Only. This is quite normal for pre-owned items of furniture, where shipping costs would be prohibitively expensive, and where the vendor is a previous owner of the furniture. Shops and furniture companies are more likely to offer a delivery service, as they will have access to suitable delivery vehicles. Note, however, that delivery services are generally an expensive additional cost to any purchase. Always take into consideration postage and delivery options when purchasing furniture online before completing a transaction. Will the buyer be expected to collect the item? If so, will they be able to transport the item personally? Will the item fit through narrow access points of the property, such as doorways and corridors? Is the item located nearby, or will the distance to the collection point substantially increase the cost of the purchase? These factors are entirely the buyer's responsibility, and must be considered prior to completing any purchase. When the vendor does offer a delivery service, however, contact the seller directly, and organise a delivery time which is satisfactory for both parties.
Finding Wooden Cabinets on eBay
Finding wooden cabinets on the web is simply a matter of utilising search engines, and navigating through the available options. A standard search engine should return appropriate results if the customer inputs technical specifications into the search bar. Important details including size, make, colour, and type of wood will all return relevant items. There is no simpler resource for shopping online than eBay. Using the item categories found to the left hand side of the screen, select All Categories, and then Home & Garden. Next, highlight Furniture & Living and choose Furniture. Click on the option Cabinets & Cupboards and every cabinet on eBay can now be browsed through. When it comes to paying for goods, Paypal is the perfect solution. Paypal offers buyer protection against online fraud, identity theft, and loss or damage of merchandise. Paypal is ideal for making purchases across the web, and is accepted on many of the largest online retail sites. Its service is fully integrated into the eBay website, allowing purchases to be completed with only a few mouse clicks. Every listing on eBay is required by site policy to offer Paypal as a payment method option, and it is strongly recommended that customers choose Paypal whenever possible.
Conclusion
Wooden cabinets may come in many shapes and sizes, and are usually designed with a specific function in mind. A new wooden cabinet may take pride of place as a focal point for ornaments, trophies, and books, or it may be installed as a functional unit in the kitchen or the bathroom, where accessibility is paramount. The key to a successful online purchase is to choose the right cabinet for the right price. This guide will be of assistance to anyone who is choosing a cabinet which not only looks stylish, but also suits the purposes for which it is intended. By following the above advice, the customer should be able to successfully: consider the manner in which the cabinet will be used; assess the area of installation, for dimensions, obstacles, and potential hazards; consider the cost benefits of purchasing flat-pack, pre-owned, and collection only units; and use online resources to conduct efficient searches that will return useful results.