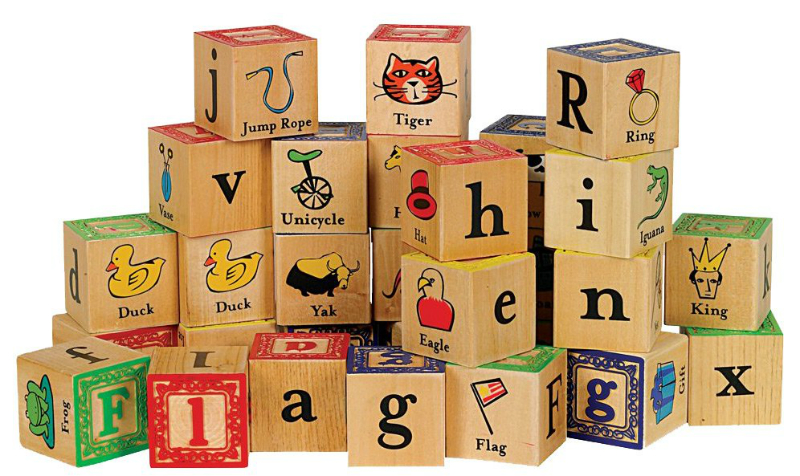 Some of the most enduring images of children at play are scenes associated with wooden toys:
building blocks
train sets
board games
pull-along toys
Wood makes beautiful toys that not only endure, but playthings that can even become more distinguished with the passing of time.
A huge range of wood toys, from new to vintage, affordable to collectibles, are available on eBay.. This guide will point buyers towards some considerations to help them narrow down their search for wood toys.
Old is the New New
There are few things as pleasing as natural materials when it comes to toys and in an age of increasing technological complexity, when many toys bleep, whirr and even connect to the internet. It's perhaps no surprise that wooden toys have remained a firm favourite with parents and children alike. Wood toys have endured the thrashes of fashion trends to remain near the top of parent's shopping lists for decades and staunch advocates of these classic toys seem to be onto something. There are numerous advantages to buying wooden toys compared with other toy types.
Go Green
Wood is one of our most abundant natural resources, but that's not to say we don't need to use due care when harvesting it.
Increasingly, standards that demonstrate wood has been collected in a sustainable and responsible way are being used across the timber industry.
Looking out for such marks can be useful if looking to make an environmentally sound purchasing decision.
When sourced properly, wood can have a number of environmental advantages over plastic toys which require the hydrocarbons of fossil fuels in their production.
Wooden toys are also very durable - with due care and a splash of occasional maintenance a toy can last for generations. The fact that toys made from wood can be cared for in this way, and repaired, means that wooden toys often outlast their plastic counterparts, benefitting the environment by producing less waste. On a similar environmental angle, wooden toys when discarded don't pose the same landfill headache as plastic toys as they biodegrade naturally.
Imagination Stations
The idea that less is more is a truism that has been passed down through the ages. When thinking about toys, this old wisdom remains as true as ever. There are innumerable types of modern toys hugely advanced in their functions. One drawback to this increasing complexity is the diminishing freedom of imagination that toys sometimes present to children. Complex functionalities often dictate that play is structured along very specific lines.
Due to their simplicity, it's rare that the same can be said of wooden toys. Simple wooden toys like building blocks are open-ended and can be played with according to howsoever a child imagines. In this way, wood toys can be brilliant at encouraging development of lateral thinking, problem solving and motor skills.
Would you be Able to Tell the Difference?
Woods are commonly classified as one of two types.
Hardwoods come from deciduous trees which typically take a long time to grow. This makes hardwoods - wait for it - hard, and paired with the amount of time it takes the wood to mature, hardwood often fetches a high price at timber yards.
Softwood on the other hand comes from evergreen trees that mature quickly, producing a softer wood that is typically less expensive than hardwoods.
Wood toys can be made with any type of wood, though it's good to note that soft wooden toys may be cheaper and hard wood toys may command higher prices due to their increased longevity.
Types of wood to look out for include:
White Pine - One of the most commonly used woods in the world, soft, easy to carve and plentiful in supply, it's easy to tell white pine from its white to butter yellow colour with thin brown grain.
Hickory - Hickory is slow growing and has a natural elasticity which helps it absorb heavy blows. Sturdy items such as axe handles are often made of hickory. In wooden toys is can be found in small parts that require strength, such as axels or dowels.
Black Cherry - Easy to work with, black cherry has a beautiful tone than darkens as the wood matures. It is also extremely smooth, all of which make it a popular choice for crafting artisan toys from.
Varnishing & Maintenance
If well sanded, wood can be left untreated. This has the advantage of preserving the beautiful grain and natural colour of the wood, but will not protect it from being dirtied or from soaking up moisture, which could cause the wood to swell.
If buying wood toys for children, the likelihood is that they'll be played with, and being played with, more often than not, means the toys will be dragged through all manner of things that could dirty them.
Varnishing or staining wood helps protect it from these fatigues. Many wood toys come already varnished and treated to help them last longer. Wood stains can come in many hues and are often used to colour the wood they're applied to.
Make sure that the chemicals used to treat the wood won't be harmful to anyone who will use it or come in contact with it. This means not only do the chemicals need to be non-toxic, but that they must also not trigger any allergies in those they come into contact with.
Though not the most common option, almond and walnut oils are natural preservatives sometimes used to seal wood that could trigger allergies in those who are highly allergic. If buyers have any questions about an item, eBay makes getting them answered very easy. Simply go to the seller's profile and click the "Ask seller a question" button.
Safety
The most important consideration when buying wood toys for children or infants is safety. As well as making sure the chemicals used to treat the wood are non toxic, there are a number of other considerations to make when assessing a toy's suitability for a child.
Firstly, ensure the toy has been sanded smooth on all surfaces and edges. This should prevent the toy splintering and small bits of wood cracking off which could then present a safety risk.
Secondly, check that the toy doesn't contain small parts which might separate easily from the toy and present a choking hazard. Things like small attached details and mechanisms are the things to be looking at here. Children can be particularly determined in disassembling objects, so it's best to give any parts you're worried about a bit of a tug to assure yourself they're firmly attached enough to withstand the determined attention of a child at play.
Though it is not a guarantee of safety, the 'CE' mark should feature on any toys imported into the EU. It shows that the manufacturer or importer judges the toy to abide by the toy safety standards laid down by the European Union in the 1995 Essential Safety Requirements of the Toy Safety Regulations. The 'CE' mark can be a useful first step in your checks to make sure a wood toy is safe for your child to play with.
How to Buy Wooden Toys on eBay
Now that you've worked out which wooden toys you want, find them quickly on eBay. To start shopping, go to the Toys & Games category. Click the Wooden Toys portal.
Categories: The Categories list on the left side of each page will help you narrow down your listings by item type. You'll find links to shop for Kids or Collectors & Hobbyists, and the ability to refine your search by Brands including Brio, Early Learning Centre & ,Chad Valley, Fisher Price, Mothercare and Marks & Spencer. As you refine your search you'll be able to narrow down your choice by subcategory.
Product Finder: Use the Wooden Toys Finder to quickly narrow down item listings by type of Sub-Type, Brand, Character Family, Age Level, Gender, Condition, Price and Item Location.
If you can't find exactly what you want, try browsing eBay Stores or tell the eBay Community what you're looking for by creating a post on Want It Now, or save a search on My eBay and eBay will email you when a matching item becomes available.
Buy Wooden Toys with Confidence
Make sure that you know exactly what you're buying and understand how eBay and PayPal protect you.
Know the Item
Read the details in the item listing carefully.
Remember to add delivery costs to the final price. If buying a high value item, check that the seller will insure it until it is delivered.
For more information, click the "Ask seller a question" button on the seller's profile or the "Ask a question" link at the bottom of the item listing page.
Always complete your transaction on eBay (with a bid, Buy it Now or Best Offer) otherwise you will not be covered by eBay Buyer Protection.
Never pay for your eBay item using an instant cash wire transfer service like Western Union or MoneyGram. These are not safe ways of paying someone you do not know.
Know the Seller
Research the seller to feel safe and positive about every transaction.
What is the seller's Feedback rating?
How many transactions have they completed?
How many positive responses do they have?
What do buyers say in their Feedback?
Are they positive about the seller?
Most top eBay sellers operate like retail shops and have a returns policy.
Do they offer a money-back guarantee?
What are their terms and conditions?
Buyer Protection
In the very unlikely event that you do not receive your item or it is not as described, eBay Buyer Protection covers your purchase price plus original delivery cost.