Looking for wool bedding, but not sure what to choose?
Wool is used for generations, as bedding, clothing and much more due to its superb qualities. But wool bed sets come in different types of wool; merino sheep (European or Australian), cashmere goat and camel are the most commen. Llama is also used for bed sets. They all have different qualities, feel and looks - so what should you choose?
Myself, I have bed sets in merino, chamere and also camel. From my experience they are very different from each other.
Merino (Schurwolle, schafswolle):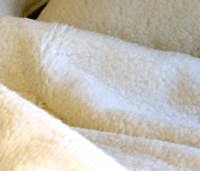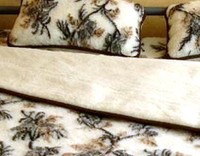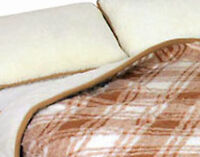 One of the qualities I really like when it comes to merino wool, is that it is warm in the winter and cool in the summer - and if you tend to have a temperatur that goes up and down during night, this bed set will regulate according to your temperatur and keep you dry and comfertably warm. This is due to the unique fact that this kind of wool can shrink and extend to adjust to the surroundings. Merino is not at all itchy, but it still has the good feel of real wool. In off white, and a variaty of patterns in natural coloring.
Cashmere (Kaschmir):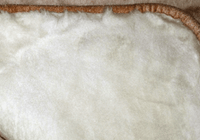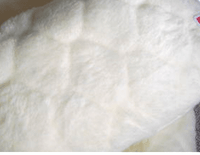 Its best quality is from my experience its soft feel, witch makes it very suitable if you have sensitive skin (and for baby bed sets). It does not regulate your temperatur the way merino wool does, but as said it has a softer and more silkier feel and it is somewhat warmer (very good in cold weather). Wool bedding from cashmere have shorter and thinner hair that merino wool bed sets. Cashmere is more expensive than merino wool, as it is more rare. Mainly in white/off white.
Camel (Kamelhaar):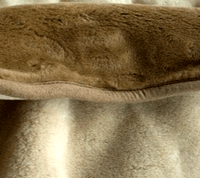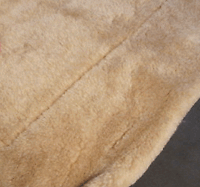 Bed sets made of camel hair is very durable, and will keep its looks almost forever. This is also very good in cold weather, due to its thickness and high density. Note that some, like myself, find camel to be a little firm in hair texture (due to its short and straight hair) - not actually itchy, but if you are sensitive, be aware of this. In different shades of natural cream brown.
In general, what experts/retailers say about wool:

They preserve natural body temperature, not allowing it to overheat. They make natural skin evaporation easier. They improve circulation and trophy of the organism. They eliminate the negative influence of watercourses. They eliminate the positive ions, which are harmful to men. They contain natural animal fat - lanolin – which prevents the development of bacteria and mites. Lanolin protects fibers from getting dirty, thanks to which woolen products are easy to clean. They can be laundered in 30°C in liquids for wool including lanolin.
Bottom line, in my words:

Wool bed sets are great when you find the correct type of wool/hair for you and your needs. They are easy to maintain (washing is rarely needed, they only need to be aired from time to time), they look and feel great, and from my experience they give you a much better sleep than ordinary bed sets. My personal favourite is merino, due to its superb ability to air away moist and regulate temperatur - my mom prefer cashmere due to its extreme softness to her sensitive skin - and my friend prefer camel due to its durability and exclusive looks. Now you just have to find your favourite - so I hope this short guide can be of help when you look for bed sets in natural wool (if you like this guide, please vote on it)! Note that I do not sell wool bedding, I just use it - so all of the above are based on my own and my familys experience with these Mother Nature products!