Works Mini Cooper S
This is one of many illustrated classic car guides I've created for the community. I hope you enjoy it. If you wish to find out more about the classic Mini Cooper art featured in this guide please click here.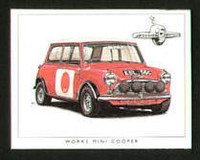 The Mini Cooper has been extremely successful in motor sport with Coopers and Cooper S enjoying overwhelming success in both racing and rallying - the 1275S won 23 rallies for the works between 1964 and 1969. The victories for the Coopers at Monte Carlo are perhaps the most widely acclaimed. In 1964 Paddy Hopkirk first won the great Monte Carlo, followed by another win in 1965 by Timo Makinen. In 1966 there was a disqualification from 1st place and in 1967 yet another victory was recorded. These were the greatest years for the Mini Cooper in competition and the Mini's standing as a legend in its own lifetime was firmly secured.
If you would like to see more guides on classic Mini Cooper cars please click!
Thank you for reading my guide and I hope you found it interesting!