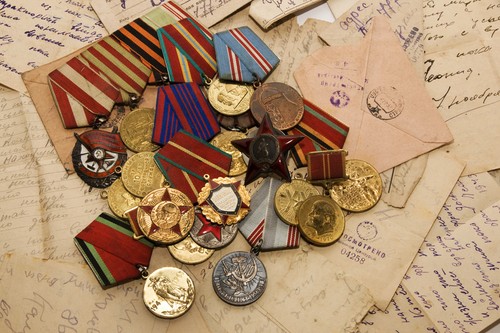 The end of World War I saw governments from the countries involved in the conflict hand out medals to those who served their country during the war. Not only were these medals distinguishable by the design of the medal, but also by the ribbon that it was attached to.
World War I ribbons may need to be purchased for a multitude of reasons. For example, whilst an original First World War medal may be in good condition, its ribbon may not be of the same quality. If a medal and ribbon are both in good condition then it is considered to be a lot more valuable. Others may want to purchase a World War I for nostalgic reasons and some buyers may simply just be collectors of military medal ribbons.
Either way, there is an extensive range of First World War ribbons available online for prices that are reflective of their true value. eBay is one of the most authoritative sellers on the Internet for World War I medals.
This guide will help with the deliberations that occur and the options available to those wishing to purchase World War I ribbons.
Country of Issue
With a number of countries fighting in World War I, there were a high number of medals, and therefore ribbons, given out. Whilst most medals were kept by the soldiers who earned them, there are some that have been passed on and are now available for purchase from the likes of eBay.
To make the search for World War I ribbons easier and more specific, this part of the guide will discern the ribbons available by the country that issued them.
Britain
Being the victors of World War I meant that the British government handed out a higher percentage of medals and ribbons than the other fighting countries. This means that there are now more World War I ribbons from Britain to collect than any other fighting country.
A number of different ribbons were given out, often as pairs or trios, to commemorate a variety of different soldiers and accomplishments. Here is a table outlining and explaining the various types of ribbon available to buy from auction sites such as eBay at reasonable and sensible prices:
| Ribbon | Significance |
| --- | --- |
| The 1914 Star | The ribbon for the 1914 Star medal features the colours red, white and blue in stripes from left to right. The medal this ribbon was attached to was to soldiers who fought in Belgium or France between the 5th August 1914 and midnight of the 22nd November 1914. The nickname for this medal is the 'Mons Star'. |
| The 1914-1915 Star | The ribbon for this medal features exactly the same colours and design as the 1914 Star. 2.36 million of these were issued to soldiers who served in any way for the British forces between the 5th of August 1914 and December of 1915, unless they already qualified for a 1914 Star. |
| British War Medal | The ribbon for the British War Medal features a thick orange band with smaller white, black and royal blue stripes either side. These colours were thought to be of no significance to the title and purpose of the medal. The ribbon is 32mm in width. 6.5 million of these medals were issued by the British government to those who had represent British and Imperial Forces at any point between the outbreak of the war on the 5th of August 1914 and its end on the 11th of November 1918. |
| Victory Medal | The Victory Medal ribbon features a double rainbow pattern with the violet from each rainbow on the outside edges meeting at the red stripe in the middle. These ribbons were wider than most, being manufactured at a width of 39mm. These medals and ribbons were not issued individually but rather as part of a trio along with the 1914, or 1914-1915 Star and the British War Medal. These three medals together are known famously as the trio of medals and are of a high collectability when all found together. |
| Territorial Force War Medal | The ribbon for this medal features two thin green stripes placed towards at the edge of a predominantly yellow background. The ribbon was a standard 32mm in width. This medal was awarded to service men and women who served overseas in the Territorial Force and the Territorial Force Nursing Services. Medals and ribbons of this nature are extremely rare and highly collectable. |
| Mercantile Marine War Medal | The ribbon for the Mercantile Marine War Medal is 32mm in width and is coloured green and red with a thin white stripe in the middle of the two. The colours are said to be a representation of the starboard and port running lights with the white strip being a portrayal of the masthead light. The reason for the nautical theme of the ribbon is that these medals were handed to soldiers who served in the Merchant Navy on at least one voyage that entered into a war or danger zone during the First World War. |
Germany
Medals were also handed to the German soldiers who fought in the First World War. These medals also had ribbons attached, and whilst they are not as brightly coloured, they are still very distinctive in their design. The most famous of the German Military medals that were issued during and after World War I is the Iron Cross. The ribbon for the Iron Cross is predominantly black but has two white stripes at either edge. A huge number of these medals and ribbons were given out, meaning that their value in terms of collectability is not as high as other medals.
A rare German War medal that was handed out during World War I is the 'Saxe-Meiningen' medal. The ribbon for this medal feature a black strip down the middle, a yellow one either side of that, a thinner white strip outside of the yellow and then a thin green strip down the outer edges. These ribbons are fairly hard to track down online and can reach high asking prices.
France
The French Government issued a number of medals to their respective soldiers. The more popularly collected and widely found ribbon includes one with a grey background and several thin red stripes on it which is attached to a medal named the 'Croix Du Combattant'. There are also several different coloured ribbons attached to medals known as 'Croix De Geurre' that can be purchased from the likes of eBay affordably.
There are also ribbons and medals available from the United States and Russia but these do not feature regularly on the likes of eBay.
Buying World War I Ribbons Online
When buying World War I ribbons online, it is important to note the condition it is in before confirming a purchase. Here are some things to look out for that can devalue a World War I ribbon:
Fraying: The edges of ribbons may become frayed and split over time. Whilst this is usually down to natural wear and tear, it can affect the value of the ribbon in question.
Stains: Some ribbons may have stains on them. Again, this can wholly affect the price that should be paid for them.
Use World War I memorabilia forums to find out the best way to go about restoring and repairing damaged ribbons. Also use these sites, as well as specialist World War I Collectors sites to find out more about specific ribbons. It may be worth paying a visit to these sites to also get insider advice and tips from expert collectors on the best kind of ribbons and medals to go for if one is looking to start an investment-worthy collection.
Buying World War I Ribbons on eBay
An auction site such as eBay may be the best port of call when looking to purchase original ribbons from the number of countries that fought in the First World War.
To find a World War I ribbon that meets specific requirements it is best to visit the Collectables category on eBay. From here, one can click on the Militaria link to gain access to a page of listings dedicated purely to military paraphernalia from a wide range of conflicts and countries. To narrow down the search yet further, chose the World War I filter tab at the side of the page and then the Medals/Ribbons tab to reach listings for all the ribbons available for purchase from the First World War.
After finding the required ribbon, or medal with ribbon attached, one should meticulously fine comb the seller and their profile. Read through comments and feedback that previous buyers have left in regards to the condition of their products and over transactional behaviour. Also go through the product description and images that should be provided and compare them to ribbons of a similar nature on specialist collector sites so as to gain an insight into the intentions of the seller.
Once both a product and a seller have been settled on, it may be time to place a Bid. However, due to the high value and worth of some World War I ribbons, a seller may only allow for the Buy It Now option so as not to get undercut. If there are any enquiries regarding the transaction, one can always contact the seller or visit the Buyer Tips page for more information on how to go about a purchase on eBay. eBay does, however, provide a Payment Protection Program that goes a long way to ensuring that purchase is protected and smooth.
Conclusion
The purchase of World War I ribbons may not be as simple as being able to buy a singular, perfect condition ribbon. One may have to make compromises. These compromises can come in the form of a ribbon's condition, be it through fraying or staining.
Another way a buyer may have to compromise, which is a little more common, is by having to buy the medal just to get to the ribbon. If this is the case, it is advised to focus on the quality and condition of the ribbon whilst trying to find a medal that is not in too good of a condition that the purchase is not a sensible one.
Regardless of whether a ribbon can be purchased individually or alongside a medal, auction sites such as eBay offer fantastic opportunities to get World War I ribbons at reasonable prices that reflect the true sentimental and monetary value of the product.