MY DOG GIRL GREYHOUND NAMED SHELLY.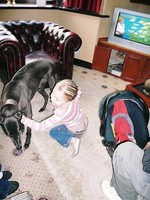 Rescued her from Lancaster Animal Sanctuary When She Was 8 Years Old.
In The Animal Sanctuary She Was Called Nellie.
But I Renamed Her Shelly.
Now Approaching Her 17th Birthday In February 8 2012.
Greyhounds Usually Pass Away When They Are 14 Years Of Age.
She Had Been From Pillar To Post.
Been Abused.
Been Over -Pupped.
She As Been Invited To Christies At Manchester To Befriend Terminal Ill Children.
They Are Known As" Stroller Dogs".
I Believe From What 2 Independant Vets:-" That She As Raced As Hurdler Greyhound In Scotland."
3 Years Ago She Was Flying Over 5 Barred Gates.
Clearing By 6 Inch.
She Is Only A Small Girl Greyhound.
Prior To Being Recued By The Lancaster Animal Sanctuary.
She Was Selling The "Big Issue" With Another Greyhound.
Greyhounds Dont Need A lot Of Srong Walks.
Some Greyhounds Can Be Wild And dont communicate with people.
Shelly Loved Fireworks.
Not Many greyhounds are like that.
Some greyhounds are over pupped.
Some greyhound are killed by the owners when they fail to win when racing.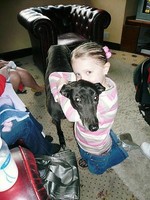 As You Can See Brilliant With Children.
All The Bowling Green Members Love Her.
Its Been Good Sharing A Few Moments With Shelly.
Cheers Tony.