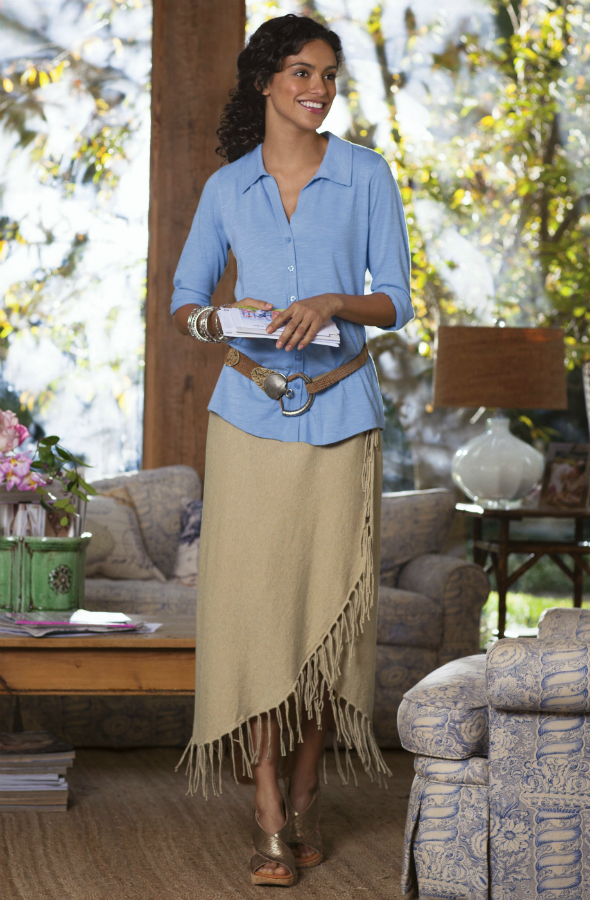 Wrap around skirts are usually a square piece of fabric wrapped around the waist and tied on one side of the waist, hence, the name. Also known as the sarong or hip wrap, it is used as a skirt or as a cover-up when wearing a swimming costume or a bikini. Cover-up hip wraps are generally made out of a thin and light fabric and go on top of swimwear, but this is not the only way to wear a wrap around skirt. These skirts can be worn almost anywhere and come in a variety of lengths, sizes, colours, and designs.
Many countries in Asia have been using wrap around skirts for generations. Thailand and Malaysia use them as traditional garments, while the Aeta women, descendants of the original inhabitants of the Philippines, use them as everyday clothing. Nowadays, the wrap around skirt can be seen on women, not only in Asia, but all over the world. wrap Around skirts are now worn for almost any occasion and purpose and has become a hot fashion item.
What to Consider When Buying a Wrap Around Skirt
There are a number of factors to consider when purchasing a wrap around skirt. These skirts are made of a variety of materials and come in a rainbow of colors and a plethora of patterns. The buyer also needs need to consider the length of the skirt.
Wrap Around Skirt Fabrics
With the number of designers out there that makes different styles of wrap around skirts, it is easy to find the garment in almost any kind of fabric. The buyer should consider where the wrap around skirt will be worn. When at the beach, light fabrics like rayon or silk are great choices. When wearing this skirt to work a heavier fabric like cotton would suffice. The wrap around skirts commonly worn to cover swimwear are usually thin and small while most other designs are generally thicker and go around the waist like a regular skirt would, providing more coverage.
Materials used for wrap around skirts are not limited to just silk, rayon and cotton. There are many designers that use leather, like Ralph Lauren, Rag & Bone, and Jones New York, just to name a few. These skirts are also made with wool and denim, and from many other types of fabric.
Depending on the material, a wrap around skirt can offer warmth or be very breezy. A light wrap around skirt is appropriate for the beach, while thicker material is needed for skirts worn when it is cool outside or at night.
Different Lengths
Skirts will be skirts. Even the wrap around skirts can vary in length from half a hip, which are commonly seen on the beach, to the more formal long skirt that reaches down to the ankles. The length can vary from design to design. Besides the thin beach wrap around skirt, the skirt also comes in different lengths such as micro mini, mini skirts, half skirt, over the knee, below the knee, and ankle Length. There are so many to choose from. It all depends on where and for what occasion the skirt will be worn.
Colours and Patterns
Wrap around skirts also come in a wide variety of colours, patterns and designs to choose from. Solid colours are the most basic ones, but the variety of colours and patterns is endless. Designers from Gap, Banana Republic, Old Navy, Jones New York, H&M, Ann Taylor, Burberry, and so much more often come up with something new every season, depending on what is 'popular' at the time or what new trend they want to start. The classic forms and colours, of course, never go out of style.
Wrap Around Skirt Designs
Because of the number of designers out there, you can always find different styles of wrap around skirts to fit your every mood, your lifestyle and any occasion. Whether a woman is going for the plain and simple look, a sophisticated look, or if she's going for a formal or casual party look, there is a wrap around skirt to suit almost every occasion.
If she is are simply spending the day outdoors, at a park, or shopping on the high street, the classic wrap around skirt would be the perfect garment. If a woman is going clubbing, the mini leather or the micro mini leather wrap around skirt will give her an edgy look. The mid-length wrap around skirt is suitable for the work environment, while the long and light wrap around skirt would be a comfortable garment when it's warm outside. Even the more familiar beach wrap around skirt comes in an assortment of styles. Nowadays, they can be tiny to provide barely any coverage and look almost like a bandanna folded in half and tied around the waist, or they can be bigger pieces of light fabric that wraps around once and then tied at the side.
The traditional wrap around skirts are, of course, the plain squares of cloth that are wrapped around the waist, or those that are simply slipped on. Some come with pockets, ruffles, edge designs, and many other embellishments. Again, the designs are just endless.
They are even available for those who enjoy wearing them in cosplay conventions. This is when people dress up as their favorite gaming, comic book or movie character. Needless to say, one wrap around skirt can go with so many different outfit combinations.
Different Wrap Around Skirt Sizes
Most wrap around skirts are generally made as one size fits all. But the skirt can be worn in different ways depending on the amount of coverage that you want. This applies to the traditional wrap around Skirt that one manually wraps and ties around the waist. Many pre-fitted wrap around skirts come with a gartered waistband to fit different sizes. They do come in pre-sized forms, too, from child to adult and plus sizes. Needless to say, the wrap around skirt is a versatile garment but it is still important to choose one that fits the body perfectly.
How to Find Wrap Around Skirts on eBay
Finding wrap around skirts on eBay is as easy as just doing a quick search for "Wrap Around Skirts". Simply type keywords that describe the wrap around skirt you are looking for into the search bar. You will find this search bar on any page on the eBay website. This action leads to a results page with multiple results. You can easily modify your search to give you a more specific list of results. You can search for a specific colour, design, designer, length, and size, or any combination of these. You do this simply by selecting and deselecting the options in the menu on the results page.
Take the time to read the item description very carefully. If you feel that you need more information about the wrap around skirt, you should consider contacting the seller. To do so, simply go into their profile and locate the contact link. While you are in their profile, you should note their feedback score. You should also read some of the feedback left by previous buyers. Those sellers who have the highest scores are referred to as top-sellers. If you would like to only do business with top-sellers you can always sort the listings for wrap around skirts to only show the listings posted by top-sellers.
To purchase an item on eBay, you will need to sign up as a member first. Registration is free.
Conclusion
There's a wrap around skirt for every woman of any age or size. Before going to a clothing store or online to shop, it always helps to know exactly what you are looking for. Whether it is for a day on the beach, going to a club or wearing a wrap around skirt for work, one can find a style of wrap around skirt that is suitable to the occasion.
Knowing the right size, style, length, and design that one wants will make finding the perfect wrap around skirt, and shopping in general, stress-free and enjoyable. A buyer should first consider where they will wear the wrap around skirt. If it is to the beach, the skirt should be made of a light and colourful material. How much they'll need to cover up determine the length of the wrap around skirt. If the skirt is to be worn at night, the buyer should consider a thicker material that will offer warmth. If the skirt is for work, a woman should consider a solid colour and consider the choice of patterned wrap around skirts carefully.
Getting a great deal on eBay is always a good thing. Whenever one is out shopping or simply spending some time at the shops, it doesn't hurt to check out and try on different wrap around skirts so that one can make a more informed decision when shopping online. eBay offers women a variety of wrap around skirts to suit a variety of different occasions.