If you purchase an XBOX 360, you are doing so in the knowledge your warranty would be valid. Microsoft have stringent procedures in place to ensure validation of warranty as there has been an noticeable increase in warranty stickers tampered with or new consoles being switched for old consoles. Sellers are being advised to make note of serial and warranty number prior to dispatching consoles.
The following information below should help you to determine if your console has been tampered with.

Damage/Missing Tamper Label
There are two Microsoft-certified Tamper labels currently in use in the Manufacturing and R&R facilities worldwide. Figure 2 shows the two different labels, one slim metallic featuring the word Microsoft across it (Dash 001 label), and the other a more complex multi-colored label with the word Microsoft, the Xbox 360 Logo and other features (Dash 002 label). The Dash 001 label is the first Tamper Label developed by Microsoft and is currently being replaced in Manufacturing and R&R by the Dash 002 multi-colored Tamper Label. Both the Dash 001 and Dash 002 Tamper Labels are considered acceptable for the Primary Tamper Criteria. The criteria for Tamper Labels are defined in Document H806265 "Label, Tamper."
A label is determined to be "damaged" when:
A.It is not properly placed on the front of the console case across the seam. The locations in Figure 2 and Figure 3 below are appropriate for the Dash 001 Label (above/below LED Ring).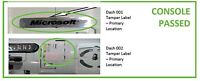 Figure 2: CONSOLE PASSED – NOT TAMPERED – Microsoft-certified Tamper Labels used in Mfg and R&R facilities

Figure 4: WARRANTY EXCLUSION – PRIMARY TAMPER CRITERIA - Tamper Label removed or reapplied

Figure 5: WARRANTY EXCLUSION – PRIMARY TAMPER CRITERIA - Tamper Label peeled back past console seam
Figure 6: WARRANTY EXCLUSION – PRIMARY TAMPER CRITERIA - Tamper Label peeled back to seam, damaged past seam
Figure 7: WARRANTY EXCLUSION – PRIMARY TAMPER CRITERIA - Tamper Label Removed showing delaminating and residue
Figure 8: WARRANTY EXCLUSION – PRIMARY TAMPER CRITERIA – Dash 002 Tamper Label attempted removal

Figure 9: WARRANTY EXCLUSION – PRIMARY TAMPER CRITERIA - Dash 002 Label Tampered
Microsoft Confidential
H08608 Rev B Visual Aid/Process Alert – Retail Console Tamper Criteria