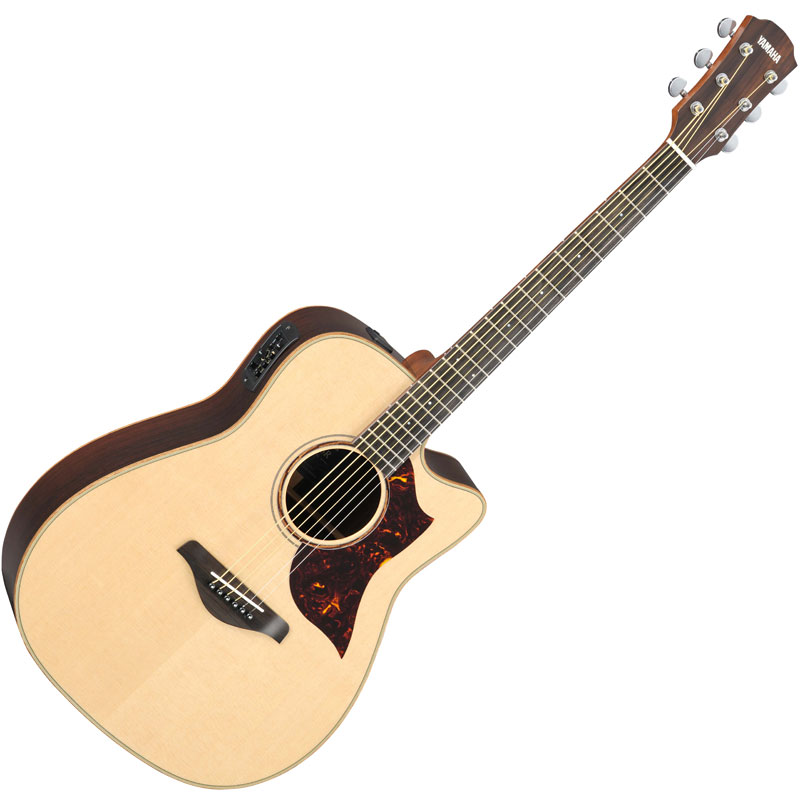 The iconic shape, sound, and design of an acoustic guitar makes it very difficult for some people to make the switch to electric guitars, but buying an electro-acoustic model gives the player the best of both worlds. As beautiful as an acoustic guitar sounds, it can sometimes be hard to hear in large spaces, over other instruments, or in gigs with large audiences. The ability to amplify the sound of an acoustic guitar means that same distinctive sound can be produced at much higher volumes. Despite this extra power, electric versions are almost identical to their purely acoustic counterparts; the only real difference will involve the electric versions having some form of pickup system in place.
In many cases, the decision on whether to buy a standard electric guitar or an electric acoustic version will rest with the individual's own taste. However, the different sounds both of these instruments create mean that they are, to all intents and purposes, different instruments altogether. The purists will baulk at the thought of plugging a beautiful acoustic guitar into an amplifier, but some musicians simply do not have a choice if they intend to have their instrument heard properly. Yamaha is a brand name synonymous with both motorcycles and keyboards, so some people may be a little surprised to discover that they are respected manufacturers of electro-acoustic guitars as well. As with all their products, Yamaha electro-acoustic guitars are made to very high standards, and many professional musicians trust them to deliver every time.
The Types of Wood Used in Yamaha Electro-Acoustic Guitars
An electro-acoustic guitar is fundamentally the same as its acoustic alternative. Acoustic guitars are hollow inside, which sets them apart from their electric counterparts. Although most woods deliver a similar sound to the untrained ear, those who work in music will be able to identify the slightest of nuances between guitars produced with different woods.
The wood that best suits the individual really depends on playing style. Those who use intricate finger strokes will need a guitar that captures every single note. A player who plays aggressively with a plectrum will need a guitar that makes the most out of this style. The top of the guitar is considered to be the most important when it comes to the sound generated, but other areas such as the fret board, the bridge, and the bracing will also have an impact. Most guitars by Yamaha will be made from more than one wood.
| | |
| --- | --- |
| Spruce | The most common wood used in the production of electro-acoustic guitars is spruce. Spruce is lightweight yet strong, and it can deliver sound of the highest quality when played with force. |
| Cedar | Cedar is also a popular wood for guitar tops. It is a favourite with 'finger' players as it delivers a warm and balanced response to even the most delicate flicks of the strings. |
| Mahogany | Mahogany-topped guitars are relatively rare, and they can be very expensive. However, they are very popular with jazz and blues musicians because of the punchy tone they create. |
| Maple | For musicians who like to explore the top range of notes in their music, maple guitars are ideal. They deliver lower response rates than other woods, and they also have a higher level of internal damping. |
| Rosewood | In complete contrast to Maple-topped guitars, Rosewood models are perfect for exploring the low notes. |
What to Consider When Buying Yamaha Electro-Acoustic Guitars
| | |
| --- | --- |
| Body Style | Yamaha have three main types of body: dreadnought, jumbo, and classic. However, there are a number of different varieties of these three main classifications. The shape of the body and its size will dictate the instrument's projection. A double cutaway design will provide better access to frets – which is helpful for players with short arms. |
| Electronics | The main difference between an acoustic guitar and the electric variety involves the inclusion of a pickup system and preamps. Not only will an electro-acoustic model be able to connect to an amplifier, it will also be possible to connect it to an electronic recording system – usually managed through an audio interface. Some of the leading models will include preamps, mics, pickups, equalisers, and tuners. |
| Neck | The choice of neck will either depend on players' preferences or the size of their hands. The overall design of the guitar along with the number of frets it contains will usually determine the length, width, and thickness of the neck. |
| Bridge and Finger Board | Many Yamaha electro-acoustic guitars will have bridges and finger boards made with different woods to those used on the guitar's body, but the difference in sound this creates will be barely noticeable. |
Some of the Most Popular Yamaha Electro-Acoustic Guitars
| | |
| --- | --- |
| CPX | The CPX range of Yamaha electro-acoustic guitars is of the highest quality. They feature spruce tops and maple backs, and they are designed to allow easy playing on stage. With relatively deep bodies, they are great, all-round performers. |
| APX | APX guitars offer increased playability, and their thin, cutaway bodies provide easier access to the full range of frets. |
| FX | FX guitars are popular with professional musicians as they can be plugged into almost any system without any modifications. They feature thin bodies and a selection of attractive toned woods. |
| LJX | LJX guitars are ideal for people who strum with their fingers as they have a softened mid-range and a rich tone. |
| The A Series | The A Series of Yamaha electro-acoustic guitars is the culmination of decades spent innovating and improving. The perfect mix of classical tradition and modern technology has been employed in the development of A Series guitars. The result is a guitar that is just at home in a packed arena as it is in a studio recording session. |
Selecting the Most Appropriate Strings
It is relatively easy to change the strings of a guitar, so it is not unusual for musicians to change the strings of a new guitar before even playing their new instrument. Selecting the best strings for the individual will be a simple matter of trial and error, but the choices are usually restricted to bronze-wound, steel, nickel-wound, and nylon. The majority of electro-acoustic guitars from Yamaha are sold with metal alloy strings, and that means they often erode over time due to the acidity in the player's fingers. It is because of this phenomenon that many professional musicians will completely replace their strings every few days. Strings sold as 'nines' will be nine thousandths of an inch, and 'twelves' will be twelve thousandths of an inch.
Finding Yamaha Electric-Acoustic Guitars on eBay
The simplest way to find Yamaha electro-acoustic guitars on eBay is to use the text-entry search box near the top of the homepage. However, this will not necessarily give the user the most pertinent results. A more accurate way to search for the perfect guitar is by performing a category-based search. Such a search should begin by clicking the All Categories drop-down menu near the top of the homepage. From the subsequent menu, the Musical Instruments category should be selected, and the 'Search' icon should then be clicked. A list of sub-categories will appear on the left of the next page, and the Guitars link should be clicked. A further list of sub-categories will then appear, and the Electro-Acoustic link should be selected from that list. The user will then be presented with a number of check-boxes, and under the heading of 'Brand' there will be an option for Yamaha; check this box and a comprehensive list of Yamaha electro-acoustic guitars will be displayed.
Conclusion
Most musicians would prefer that the beautiful sounds they create on their acoustic guitars could be heard in the purest way possible, but modern performers need to be heard and recorded. The latest innovations mean that the sounds created from electro-acoustic guitars are now more accurate than ever before. Buying a respected brand such as Yamaha is a great way for beginners to ensure that their instrument is of the highest possible quality. Professional musicians buy Yamaha electro-acoustic guitars because they can deliver in every environment imaginable.