Yamaha FB01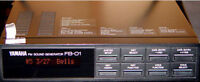 The FB01 is a multi-timbral DX voicing module which has the essential features of the DX100 as well as some setup and configuration information of its own.
Some of the main controls of the unit are detailed on the top - which is not much good if it is slung in a rack mount!
There are only 8 buttons to control the entire unit - but these have multiple functions,navigation of the many menus is therefore a tad confusing.
The basic strategem of the FB01 is to have a SETUP and CONFIGURATION memories,and then otherwise it is laid out pretty much like other 4-operator DX synthesizers,save for the fact that you can split two sounds left or right of the stereo field.
The rear panel sports MIDI In,Out and Thru as well as two mono jacks for the stereo output and a power switch as well as a switch for the internal battery.
Editing is not particularly easy - and generally speaking dropping voices from the internal ROM selection into where you want them seems to be a better idea,even that takes a lot of button pressing. I found the FB a tad overly complex for what it was meant to do - once you've set it up and maybe backed up your voice selections via SYSx,I suspect it would be left alone. Indeed it seemed to make a lot of sense to act like the TX7 does to a DX7 only with a 4op such as a DX100,21 or 27 as a sound enhancer.
The details and user manual of this unit can be found at [templarseries.atspace.com/fb.html]
Niggles: Navigation of the menu system is confusing - and in some cases it is necessary to press an up or down button in order to get the unit to realise that something has been altered - which is bad programming. The unit is 1U high for rack mounting - but only 1/2 the standard width - meaning you'd need two straddled together to fit into a standard rack and indeed the internal memories assume that you might use two in tandem -however I wonder just how they'd sit side by side.
Good Points: The FB01 has its own power supply so it is not necessary to go looking for those walmart £5 jobs. The orange backlit display is eminently legible. You can in fact alter which controller alters parameters- so even though it does not have a breath controller input - you can choose that as an option as a MIDI control signal,oddly though that does not control the timbre.
Expect to Pay: £35+