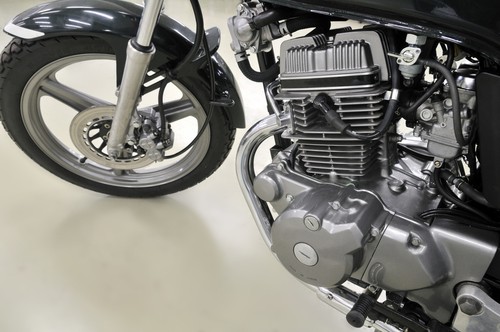 When the economy is struggling, or when buyers simply want to save money, a motorcycle or motorbike proves to be a convenient, cost-effective way to get from one place to another. Yamaha motorbikes, in particular, are known for their high quality and great performance on the road.
Like cars and other vehicles, Yamaha motorbikes suffer wear and tear that eventually results in a part or two needing to be repaired or replaced. Motorbike owners can save even more money by replacing some major parts, such as wheels, brake pads, and seats, by themselves. However, in order to do this, buyers need to know where to find the right parts for their Yamaha motorbikes. Shopping on eBay or visiting a local dealership or repair shop is usually an easy way to find the appropriate parts and components to fix a Yamaha motorbike. As they shop, buyers need to follow certain general principles that can help them locate and purchase quality parts at affordable prices.
About Motorbikes and Yamaha
The term "motorbike" is sometimes used to refer to any type of motorcycle. It is also used to designate a lightweight type of motorcycle. In this sense, a motorbike is more streamlined and is designed for use around town rather than for cross-country touring. Motorbikes use less fuel than cars, can park in smaller spaces, and cost less to maintain.
Yamaha Motor Corporation was founded in Japan. Since its inception, it has become a trusted name amongst motorbike owners. In addition to motorbikes, Yamaha manufactures all-terrain vehicles, watercraft,, outboard motors for boats,, snowmobiles, and outdoor power equipment. The company also makes accessories that enhance the features of their vehicles and equipment.
Understanding OEM and Aftermarket Parts
Before buyers begin to shop for Yamaha motorbike parts, they should understand two important terms that relate to parts and accessories for cars and motorbikes. A motorbike part from the original manufacturer is known as an OEM part. OEM parts are designed specifically for a particular make and model of car, motorcycle, or motorbike. They fit the vehicle perfectly and are typically available for purchase through the manufacturer, from a dealership, repair shop, or from another seller. For instance, an OEM seat for a Yamaha motorbike is a seat developed and manufactured by Yamaha for that specific bike model.
In contrast, aftermarket parts are created by companies not affiliated with original equipment manufacturers. These companies may make cheaper versions of standard parts, or they may specialise in high-performance or custom-made parts and accessories. If buyers are attempting to save money by selecting an aftermarket part, they should ensure that it is of excellent quality. They may want to check consumer reviews to see if other buyers have been pleased with their purchases from the aftermarket manufacturers under consideration.
Some motorbike parts, such as mirrors, wheels, seats, and similar components, can be purchased from either the original equipment manufacturer or from an aftermarket company. Other parts, however, should be purchased directly from the original company. These parts include engine components and other parts related to major systems of the motorbike. The owner's manual for a Yamaha motorbike should come in handy when buyers are trying to determine part compatibility.
Buying Wheels for a Yamaha Motorbike
Motorcycle wheels,, like car wheels, undergo heavy use, especially if the bike is used daily. The wheel is the metal part around which the motorcycle tyre fits. As the bike speeds along the road, small pieces of rock, asphalt, metal, glass, and other debris are sometimes thrown up, potentially damaging the wheel and causing significant wear and tear over time. A minor accident can dent or bend the wheel, making it unusable. Yamaha motorbike owners who rely on their bikes for transportation need to replace damaged wheels as soon as possible.
Replacing worn out or dented wheels is one task that Yamaha motorbike owners can do on their own. Buying the wheels and doing the switch themselves saves owners the extra costs of labour otherwise incurred at a repair shop.
Choosing the Type of Yamaha Motorbike Wheels
Motorbike wheels are sometimes interchangeable between brands. For a basic part that is specifically designed for a Yamaha motorbike, owners should choose Yamaha wheels.. However, if they want to increase their bikes' performance, they may want to consider some aftermarket parts offered by companies that provide wheels with enhanced features.
Checking Specifications of Motorbike Wheels
Whether buyers choose OEM or aftermarket parts, they should ensure that the wheels they purchase fit the Yamaha motorbike perfectly. An ill-fitting wheel can throw off the ride of the bike and render it unsafe. To ensure that they are getting the right wheels, buyers should check the owner's manual for the exact specifications of their original wheels. This information serves as a guide while buyers shop for new wheels.
Buying Brake Pads for a Yamaha Motorbike
The brake pads on motorbikes squeeze together to create friction and stop a motorbike's wheels from rotating. As time passes, the heavy friction wears down the brake pads, making them thinner and less effective at stopping the bike. If the pads are not replaced when they grow thin, the bike's brakes may squeak or grind. Braking may take longer, and eventually the bike's braking system can fail altogether.
Brake pads are not usually very expensive, and they are fairly easy to replace on motorbikes. Yamaha motorbike owners should ensure that the brake pads are the right size and shape for the bike. They should purchase brand-new pads made by an aftermarket company or choose Yamaha brake pads..
Buyers have a number of choices for their new motorbike brake pads. The chart below shows a few of the popular options.
| Type of Brake Pads | Description | Benefits | Drawbacks |
| --- | --- | --- | --- |
| Organic Brake Pads | Made from glass, rubber, Kevlar, and resins | Quieter, earth-friendly | Softer, quicker to wear through |
| Ceramic Brake Pads | Made from ceramic fibres | High-performance, long-lasting, and lightweight | Expensive |
| Metallic Brake Pads | Made from copper, steel, iron, and graphite | Durable, affordable | Heavy, hard on brake rotors |
With each type of brake pad, a motorcycle owner needs to weigh the benefits and drawbacks in order to make an informed decision that supports his or her riding style.
To install new brake pads, a consumer needs a wide space to work, along with some basic tools. Putting on new brake pads usually involves removing the bike's wheels entirely. If a consumer is nervous about taking on this task on his own, then a friend should be enlisted for the project.
Buying a Seat for a Yamaha Motorbike
A motorbike seat is another part that is simple to replace. If Yamaha motorbike owners ride their bikes every day, then they may want to upgrade to comfortable seats with better padding. For someone who has purchased a pre-owned bike, the seat may be splitting at the seams or wearing through in patches. In such cases, the bike owner many choose invest in a new or lightly used seat for a better ride and to maintain the sleek look for the bike.
Buyers should think about their riding habits when choosing the right type of seat material for their Yamaha motorbikes. A genuine leather seat is stylish and long-lasting. It develops a rich, smooth finish with regular wear. However, it does not always hold up well if the bike is exposed to severe humidity and extremes of hot or cold. If owners want genuine leather seats, they need to take steps to care for the seat properly.
A faux leather seat or a seat with some other kind of synthetic material is easier to clean, and it holds up well against climate changes. However, some types of synthetic seat cover material are more easily scraped or punctured than real leather. Buyers should weigh the advantages and disadvantages of each type of seat material they consider. If possible, they should try out a new Yamaha motorbike seat before purchasing it.
Buying Yamaha Motorbike Parts on eBay
When you shop on eBay,, you can find low prices on various OEM and aftermarket parts for your Yamaha motorbike. Start on the eBay home page and type your search query into the bar. For instance, if you need a motorbike seat, type "motorbike seat&" or "Yamaha motorbike seat&". A results page should populate quickly, allowing you to peruse the available listings. If there are too many listings, you can narrow your search using eBay's search filters. Simply select from the available seller options, shipping options, item condition, item location, and other choices available. You may save a search,, and eBay emails you every time a seller posts a new Yamaha motorbike part that matches your saved search.
Watch for the eBay Top-rated seller seal on listing pages. This seal means that the seller has received top feedback scores from other eBay buyers and is likely to offer courteous, swift service and quality products. Even if you do not choose a Top-rated seller, look for sellers who offer return policies, free shipping, package deals, and other incentives.
Conclusion
Motorbikes save their owners money and provide convenient transportation to and from work, home, and other locations. When a Yamaha motorbike malfunctions, owners can try to purchase and swap out the faulty part on their own, saving themselves the cost of labour at a regular repair shop. If buyers have never repaired a Yamaha motorbike before, they should ask knowledgeable family members or friends to assist them.
Each part of the motorbike has different specifications and requirements. Buyers must pay close attention to these factors when purchasing new parts. If they decide to purchase aftermarket parts rather than parts made by Yamaha, buyers should ensure that the aftermarket parts are from a reputable company that is known for good quality and fair pricing.
With its large network of sellers and wide product range, eBay can help in the process of finding and purchasing Yamaha motorbike parts. Once the new parts are in place and the Yamaha motorbike is restored to its full power and functionality, the owner can continue to enjoy the benefits of inexpensive and quick transportation.